Home >
> Vocal studies at TSU
Vocal Music

Vocal music studies at TSU

Vocalists at TSU may take advantage of a rich and diverse program with many opportunities to hone their skills both on and offstage. We believe that a well-rounded and well-trained musician will never lack for career opportunities, and that singers require the same foundation skills as any instrumentalist. Vocalists study a second instrument in applied lessons, and also study basic piano skills as well as music theory, aural skills, and music history.
The TSU Choir has performed at the Kennedy Center in Washington for the annual Kennedy Center Honors, backing up Broadway and film star Jennifer Hudson in a tribute to Oprah Winfrey. The group was also featured at the reopening of the Opryland Hotel after the Nashville flood of 2010, and continues to be one of the Department of Music's flagship ensembles. Students may also choose to join the Jazz Vocal Ensemble, Meistersingers, Opera Workshop (pictured right), or participate in one of our several Commercial Ensembles.
_________________________________________________________________
US Army's Cantares at TSU

The Unites State Army's Cantares vocal ensemble performed at the E. T. Goins Recital Hall in the Performing Arts Center on the TSU campus October 29, 2014.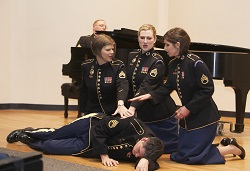 _________________________________________________________________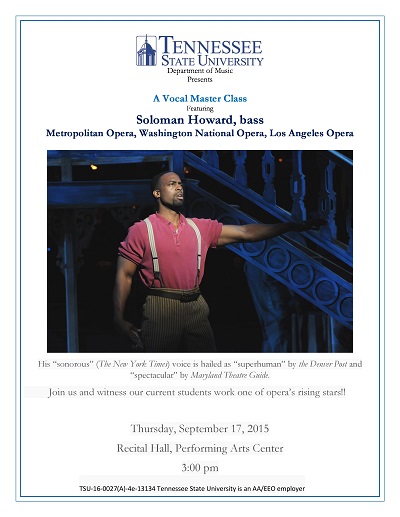 _________________________________________________________________
_________________________________________________________________
For more information contact:
Dr. Darryl Glenn Nettles: dnettles@tnstate.edu
---
webpage contact:
Music