Home >
> Community Academy of Music & Arts
Community Academy of Music & Arts
Affordable Music Instruction & Classes for Children & Adults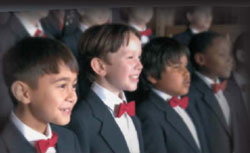 The Community Academy of Music and Arts offers affordable private music lessons and group classes, in a addition to a variety of summer programs (listed below) for children.
For more information regarding the CAMA program, please contact CAMA Director Dylan Griffith or call 615-963-5356.
---
Private Lessons/Class Lessons
Weekly-based and Prorated Based on the 15-week Semester
Experienced TSU Faculty, Metro Teachers and Accomplished Performers
Voice, Piano, Instruments, Boy's Choir
---
Summer Schedule (coming soon).
---
 Water Marbling Class
New Offerings
Drama Classes
Children's Musical Theater
Dance
Class Piano (6:00 on Tuesdays)
Reading Program
Recording Workshop
---
Registration Forms
Lights! Camera! Action! Read! Write!: Application Form | Reference Form
---
Past Programs
Time To Make A Change (an adaptation of "The Wiz" by Keith Addison)
Disney's "101 Dalmatians"
---