Home >
> Community Academy of Music & Arts
Community Academy of Music & Arts
Affordable Music Instruction & Classes for Children & Adults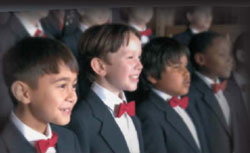 The Community Academy of Music and Arts (CAMA) is a community based program offering a diverse program of fine arts education for students of every age, gender, and race fostering artistic expression, performance, growth and appreciation of the arts in the greater Nashville area by providing the highest quality arts instruction. Our program is learner centered and service centered to create awareness of TSU in the community.

TSU Summer Camps Give Youngsters Fun, Educational and Real-World Experience
For more information regarding the CAMA program, please contact CAMA Director Dylan Griffith or call 615-963-5356.
---
Summer Camps 
Blues Kids Camp |July 3rd- 7th, Ages 12-18
Tennessee State University, Music for L.I.F.E. and the Blues Kids Foundation proudly present Fernando Jones' Blues Camp this Summer. Blues Camp is free for student musicians ages 12 to 18. To be part of this incredible opportunity you must audition. All instruments are welcome.
Visit Blues Kids Camp website for more information and registration.
---
Lights! Camera! Action! Read! Write!: Application Form | Reference Form
---
Past Programs
Time To Make A Change (an adaptation of "The Wiz" by Keith Addison)
Disney's "101 Dalmatians"
---