Home >
> Community Academy of Music & Arts
Community Academy of Music & Arts
---
In memory of Roderick Bronaugh

The Music Department announces the passing of Professor Roderick Wayne Bronaugh. Professor Bronaugh will be deeply missed by his student and the faculty. He was dedicated to the community, the University and the Music Department. 
---
Affordable Music Instruction & Classes for Children & Adults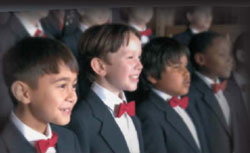 The Community Academy of Music and Arts offers affordable private music lessons and group classes, in a addition to a variety of summer programs (listed below) for children.
For more information regarding the CAMA program, please contact CAMA Director Roderick Bronaugh or call 615-963-5356.
---
Private Lessons/Class Lessons
Weekly-based and Prorated Based on the 15-week Semester
Experienced TSU Faculty, Metro Teachers and Accomplished Performers
Voice, Piano, Instruments, Boy's Choir
---
Spring Schedule (coming soon).
---
 Water Marbling Class
New Offerings
Drama Classes
Children's Musical Theater
Dance
Class Piano (6:00 on Tuesdays)
Reading Program
Recording Workshop
---
Registration Forms
Registration Form (pdf)
Lights! Camera! Action! Read! Write!: Application Form | Reference Form
---
Past Programs
Time To Make A Change (an adaptation of "The Wiz" by Keith Addison)
Disney's "101 Dalmatians"
---
Future Projects
Cinderella
Beauty & The Beast
---