Home >
> Community Academy of Music & Arts
Community Academy of Music & Arts
Affordable Music Instruction & Classes for Children & Adults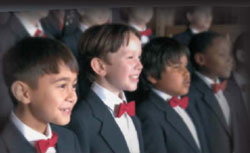 The Community Academy of Music and Arts (CAMA) is a community based program offering a diverse program of fine arts education for students of every age, gender, and race fostering artistic expression, performance, growth and appreciation of the arts in the greater Nashville area by providing the highest quality arts instruction. Our program is learner centered and service centered to create awareness of TSU in the community.
For more information regarding the CAMA program, please contact CAMA Director Dylan Griffith or call 615-963-5356.
---
Summer Camps 
TSU Piano Camp | June 5th- June 9th 8:00am-4:30pm, Ages 12-17  
(Breakfast, lunch and snack provided)
TSU piano camp is a five-day camp in which middle school and high-school-age pianists with prior piano experience will bolster their fundamentals, techniques, improvisation and sight reading at the piano through exercises, pieces, and daily group sessions. This course is instructed by Tennessee State University piano faculty.Private Lessons/Class Lessons
Weekly-based and Prorated Based on the 15-week Semester
Experienced TSU Faculty, Metro Teachers and Accomplished Performers
Voice, Piano, Instruments, Boy's Choir. 
Register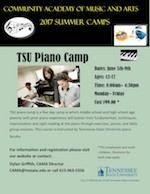 Safari Arts Camp | June 5th | June 9th Ages 4-11
(Breakfast, lunch and snack provided)
Safari Arts Camp is a one week five day summer program for children to experience the arts through music, dance, drama, visual, and literary arts. Students will be exposed to array of different artistic mediums, crafts, and songs. The program concludes with a final performance for parents, relatives, and friends showcasing the children and their experience.
Register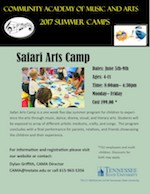 Contempo Kids- Music Creation Camp | June 5th- June 9th Ages 9-14
Be the Composer! Create original music! Express your musical voice! Work collaboratively, refine listening skills and have fun! ContempoKids is a composition curriculum developed by Intersection to get students writing and creating music and developing their unique musical voice. It focuses on music creation encouraging and guiding students to compose and create original works. While rooted in Western classical music, ContempoKids will explore other styles and musical expressions, notation and other methods of creation, tools and technology. Through the curriculum, students will have a deeper understanding of musical components, intention, and communication. Students will have access to visiting composers and musicians from Intersection. Curriculum is designed for students of varying levels.
Visit Intersection contemporary music Ensemble website for more information and registration.




F.J.A Future Journalist of America | June 5th- June 9th 8:00am-4:30pm, Ages 12-17  
(Breakfast, lunch and snack provided)
The F. J.A Future Journalist of America is a one week five day long summer camp that will give students an opportunity to write a newspaper, produce a TV newscast, and record news updates for the radio station. Students will conduct interviews, take pictures and shoot video of campus events happening during the week. Through the curriculum student will be able to develop interpersonal, public speaking, and visual journalism skills.
Register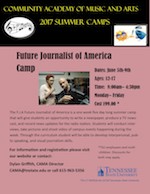 All Star-Music Camp | June 5th- July 7th
The All Star Performance Summer Band Camp is designed to give young aspiring music students insight into the music profession and what it takes to become a successful artist, while strengthening the student's' overall musicianship. Activities include visiting music-publishing companies, working with professional musicians, studio sessions, performing at public events, and learning to create music. The summer band camp schedule is filled with a variety of professional musical experiences that will aid the student to reach the highest possible standards for both rehearsals and performances which will be of great benefit when the student returns to school in the Fall.
Visit From The Heart website for more information and registration.
Recording Workshop-Pro Beat Making | June 19th-23rd 8:00am-4:30pm, Ages 14-19 
(Breakfast, lunch and snack provided)
The recording workshop is a one week five day program. This program is an opportunity for young students to be introduced to the basics of audio recording for music and the business surrounding these activities. Classes will consist of songwriting and recording. This program includes visits to a state of the art recording facilities, as well as, the use of Tennessee State's recording facilities led by the faculty of the commercial music program. 
Contact Dr. Jeffrey Tackett for more information.
Register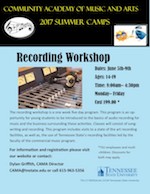 MET Summer Academy | June 12th-30th
MET Summer Academy is a three-week (formally two week) Choral retreat for public, private, charter and home-schooled children as well as students who participate in the MET Singers. Singers encounter cultural and vocal performance training, varieties of musical styles, and tips from special guest artist from the NAtional Museum of African American music. Barbershop Harmony Society, the Nashville Symphony, CME and more.
Visit Choral Arts Link website for more information and registration.
Edward L. Graves band Camp | June 24th- July 1st
The Tennessee State University Edward L. Graves Summer Band Camp is designed for rising 9th through 12th graders to help foster the musicianship and marching expertise of today's young musicians. Students will learn what it takes to be successful in today's collegiate band programs. The camp will close with an exciting performance designed to showcase what the students have learned through the course of the week.
For more information please contact Melva Townsend.
Blues Kids Camp |July 3rd- 7th, Ages 12-18
Tennessee State University, Music for L.I.F.E. and the Blues Kids Foundation proudly present Fernando Jones' Blues Camp this Summer. Blues Camp is free for student musicians ages 12 to 18. To be part of this incredible opportunity you must audition. All instruments are welcome.
Visit Blues Kids Camp website for more information and registration.
Music Theater Camp | July 10th-21st 8:00am-4:30pm, Ages 9-18 
(Breakfast, lunch and snack provided)
A two week ten day summer program for children to experience performing in a musical production! This experience includes ser building, voice, dance, student musicians, and acting. The program will conclude with a final performance for parents relatives and friends showcasing the children and their music theater experience. 
Register


New World Rhythm/Fundamentals Percussion Camp | July 10th- 14th, Ages 10-17
This five day camp focuses on the exciting rhythms (ritmo) of the Caribbean and the fundamentals of drum and percussion. Students will be introduced to the percussive sounds of the Caribbean through drum circles, ensembles, guest performers and more. The students will see how this music has impacted our own popular styles such as blues, jazz, rock r&b and other.
Register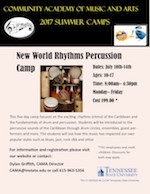 ---
Lights! Camera! Action! Read! Write!: Application Form | Reference Form
---
Past Programs
Time To Make A Change (an adaptation of "The Wiz" by Keith Addison)
Disney's "101 Dalmatians"
---