News
Dr. Lin Li published a new book "Hydraulics of Levee Overtopping" in CRC Press. This book presents a cutting-edge approach to understanding overtopping hydraulics under negative free board of earthen levees, and to the study of levee reinforcing methods. Combining soil erosion test, full-scale laboratory overtopping hydraulics test, and numerical modeling for the turbulent overtopping hydraulics, it provides an analysis that integrates the mechanical and hydraulic processes governing levee overtopping occurrences and engineering approaches to reinforce overtopped levees. Topics covered surge overflow, wave overtopping and their combination, full-scale hydraulic tests, erosion tests, overtopping hydraulics, overtopping discharge, and turbulent analysis.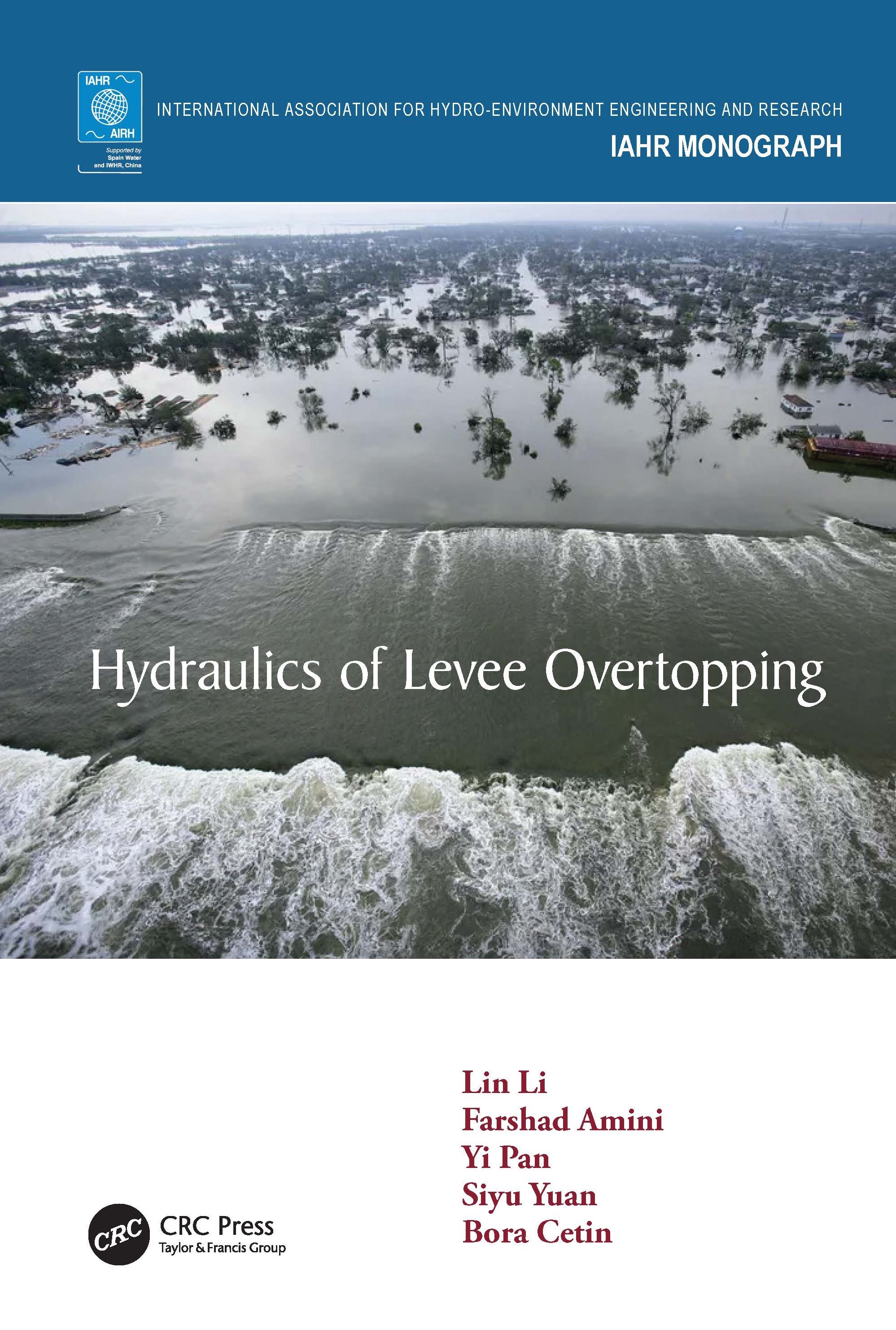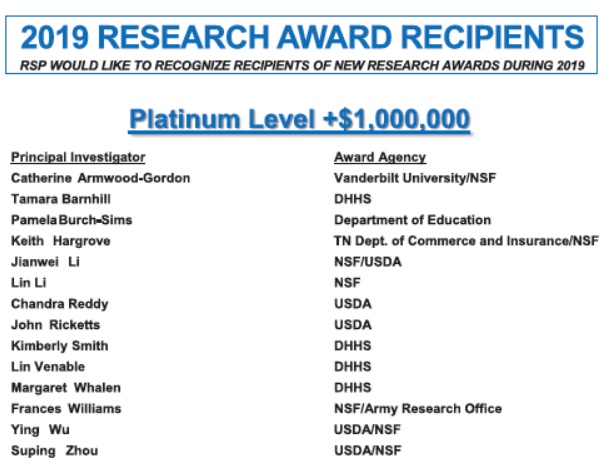 Dr. Armwood-Gordon has attracted over $1,000,000 in 2019 based on RSP office report today. Congratulation to her achievement!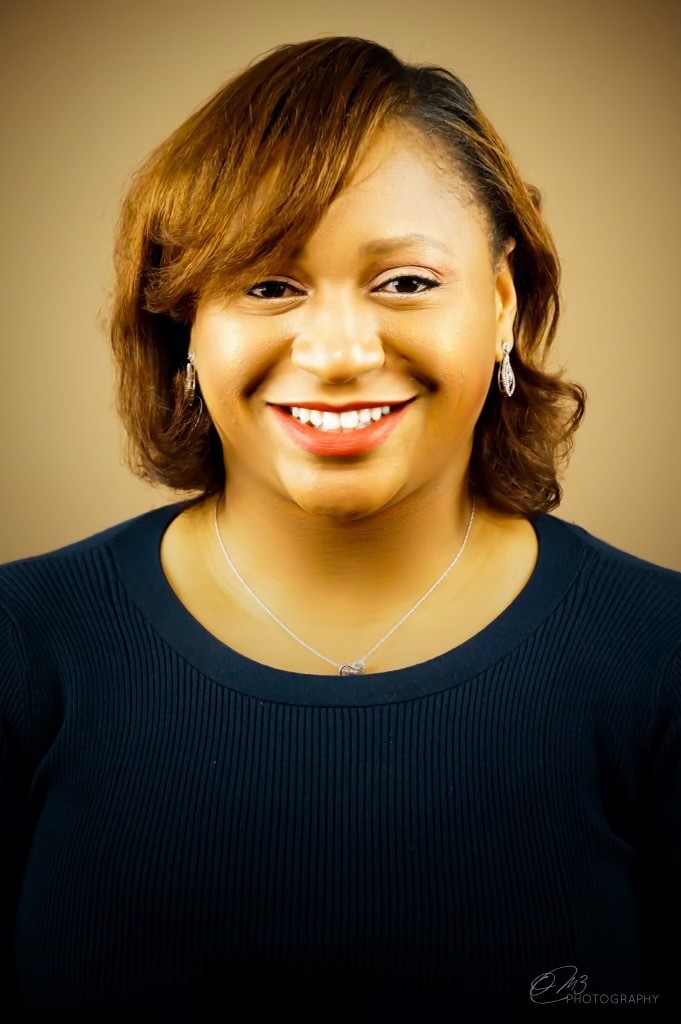 Dr. Chimba just won the FHWA's Dwight David Eisenhower Transportation Fellowship Program (DDETFP). His award will support our students in a scholarship of up to $10000 per year of scholarship money including attending and presenting at TRB meeting.  Go Tiger Transportation!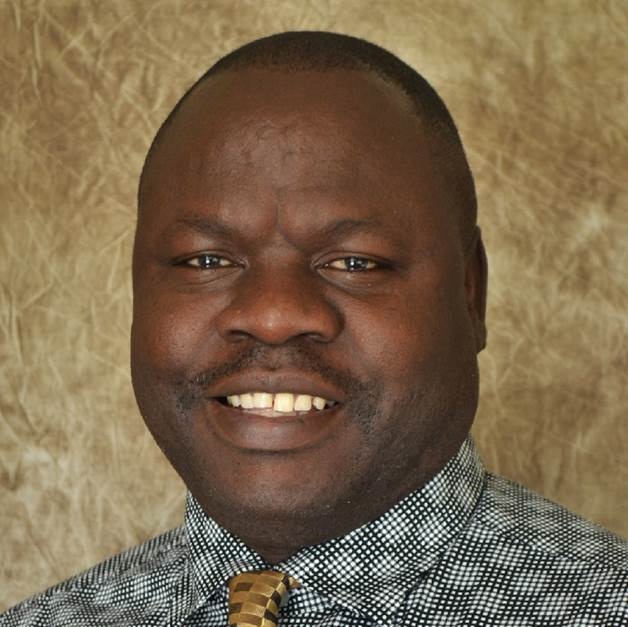 2020-2021 ASCE Scholarship Program: The Nashville Branch is pleased to announce the following civil engineering TSU students as this year's recipients: Congratulation to Maya and Beatrice:
Maya Mayes

A native of Atlanta, Georgia and studying at Tennessee State University. She serves as the executive chairman of ASCE, the publications chair of National Society of Black Engineers, and the revamp chair of Society of Women Engineers. Maya is interested in a career in transportation engineering.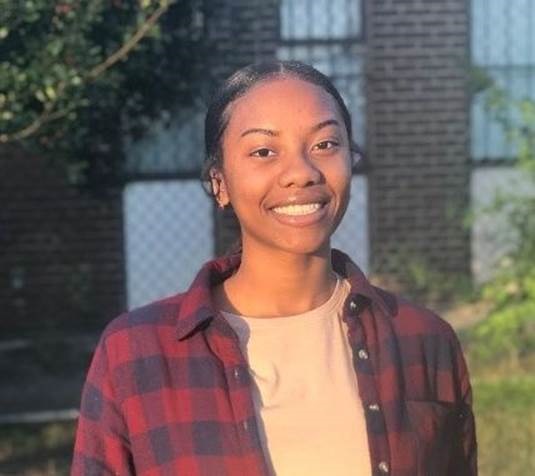 Beatrice M. Cherop
Born in Nairobi, Kenya and currently in a Transportation Engineering graduate program at Tennessee State University.  Her studies include research on traffic crashes on two-way lanes in Davidson and Shelby counties, and a bio-mediated geotechnical program. Beatrice plans to incorporate innovative technology into safer and more convenient transportation facilities.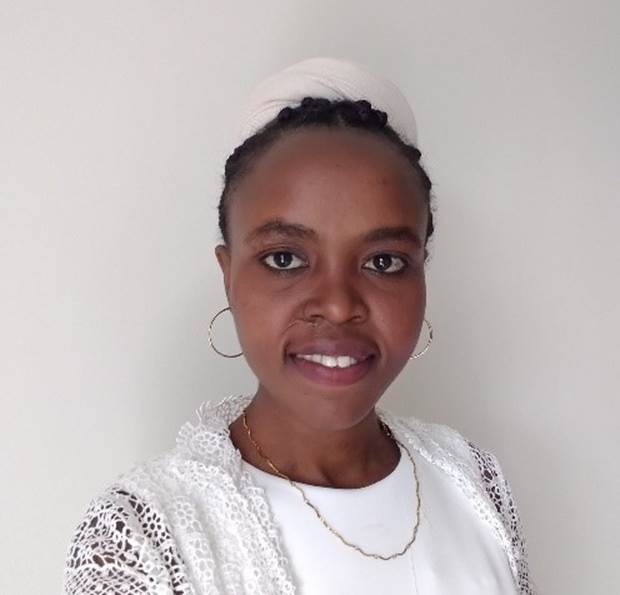 TSU Concrete Canoe Team (Wyatt Baxter, Joshua Stokely, Daniel Reed, Mina George, Vatsal Patel, and Khalid Alasem) finished the canoe on 3/11/2020 and shipped to Orlando to attend the 2020 ASCE Southeast Student Conference. However, due to COVID-19 pandemic, the conference was cancelled.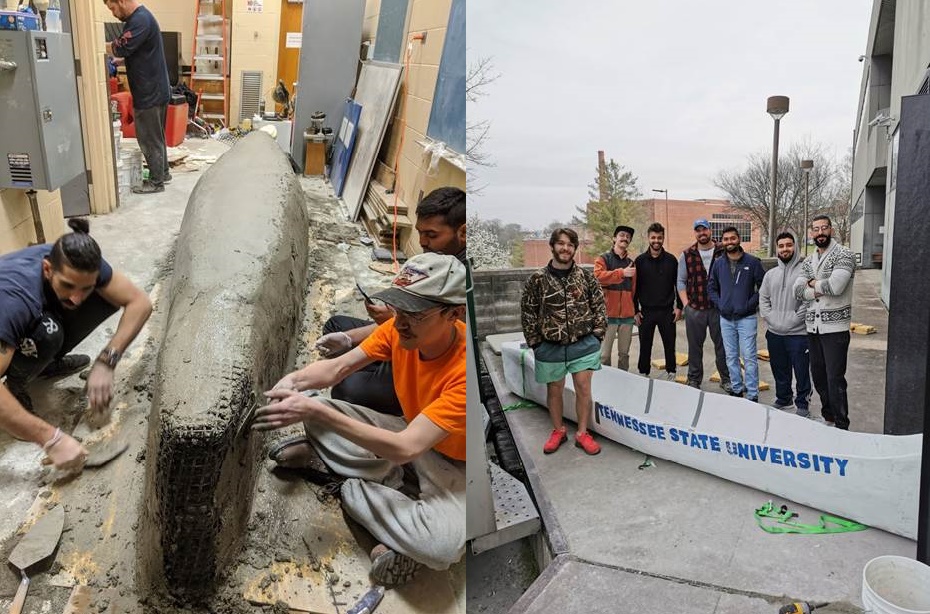 Dr. Lin Li, graduate student Beatrice Cherop and former student Jacki Wen presented their paper "Enhancement of Bio-Sandy Brick through Discrete Randomly Distributed Fiber" at ASCE GeoCongress 2020 Conference at Minneapolis on February 28, 2020. Ms. Cherop also discussed with ASCE student chapter leaders to organize a graduate student chapter at TSU.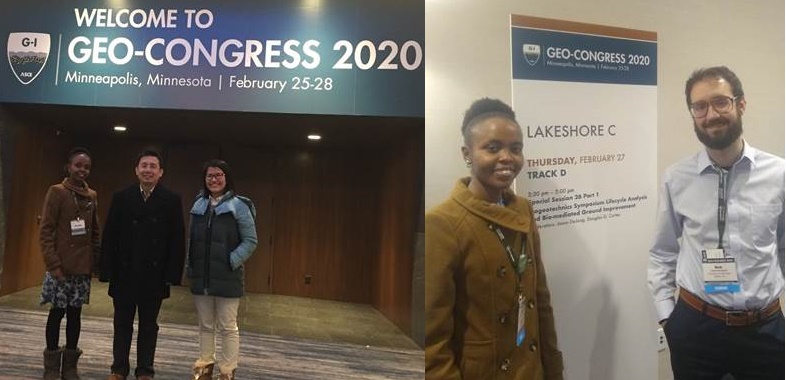 Dr. Painter met Dr. Yadong Li from Jackson State University to discuss their NSF Neonicotinoid research on March 9, 2020. Dr. Lin Li and graduate student Emily Harris and Amani Al Janabi joined the meeting at the Environmental Engineering Laboratory.
Undergraduate research assistant in Dr. Nathan Group: Alydia Young and Joshua Stokely attended the ORNL Conference in January 2020 and presented their poster.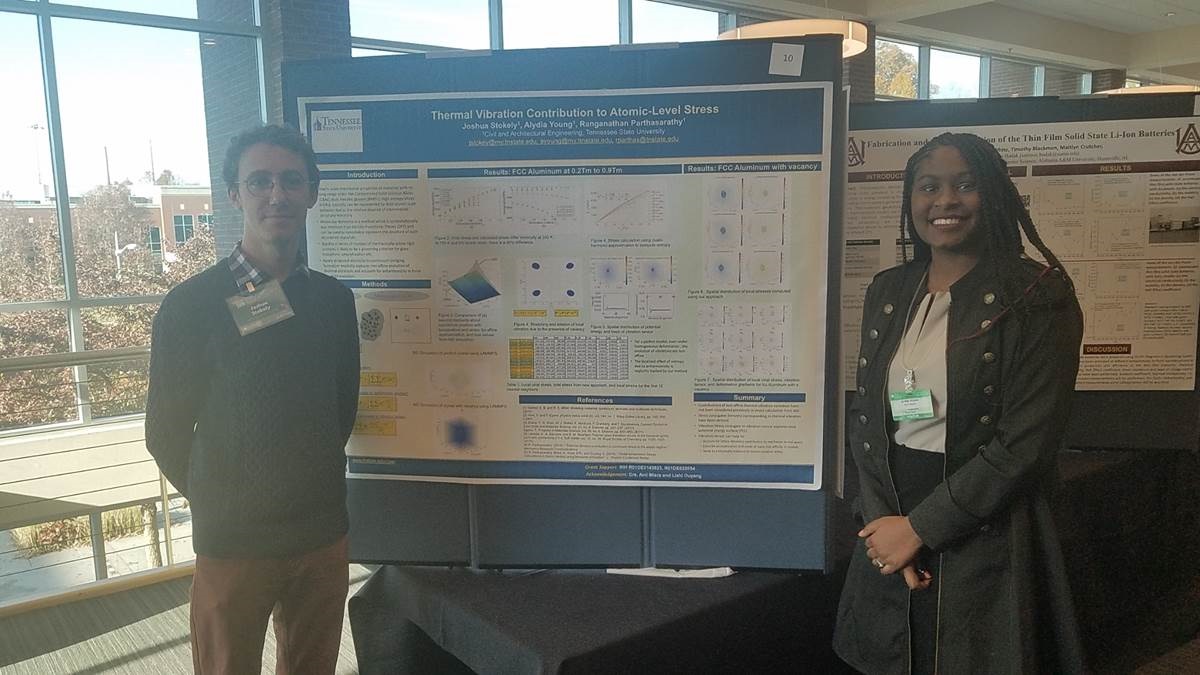 HDR hosted an event to bring TSU students into their office to discuss the engineering career with them on February 3, 2020. TSU Alumni Addie Case helped to bring the connection. HDR HR and Engineers answered students' questions and talked about what they do- civil, architectural, mechanical, electrical engineering. Dr. Armwood-Gordon attended this event with students. Great trip.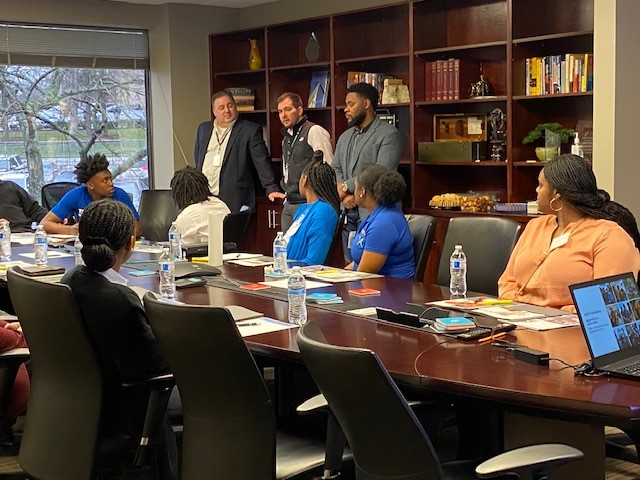 TSU Students Named Fellows of National Transportation Research Board Minority Student Program.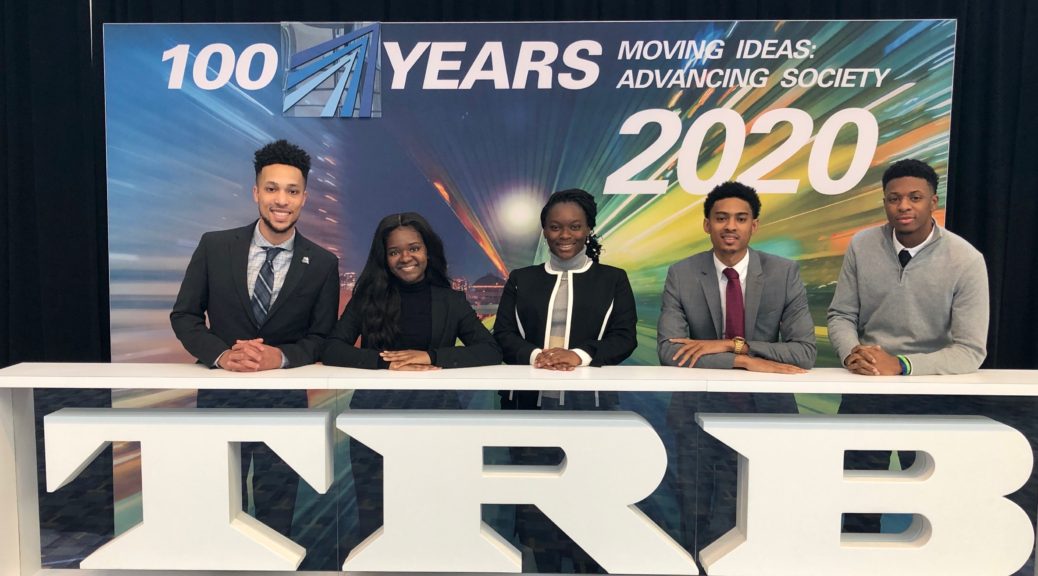 Civil Engineering graduate student Kahlil Andrew at TSU has been selected as TRB fellow and presented his research at the 99th annual Transportation Research Boarding Meeting in January 2020 at Washington DC.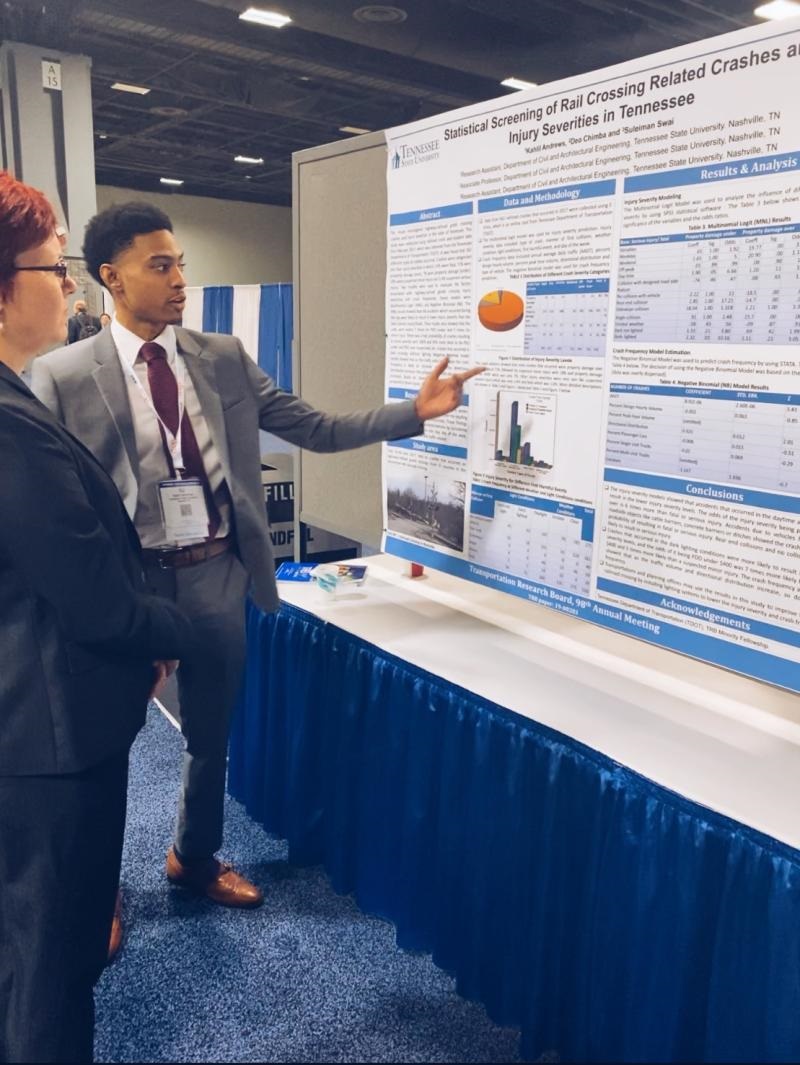 ASCE Student chapter at TSU organized civil engineering students to visit TDOT Region 3 Office and Material Lab on January 28, 2020. The faculty advisor Dr. Li attended this event with students. Ms. Melanie Bumpus at TDOT arranged students to visit TMC, emergency truck, material labs. TDOT engineer Joseph Kerstetter and Michael Doran spoke to students for the lab activities and career opportunity in the materials division.

Dr. Chimba brought undergraduate student (TRB minority fellow) and graduate students (Suleiman Swai, Beatrice Cherop) to attend TRB conference at Washington DC. It is a honor to be selected as TRB Minority Fellow in the country wide. TSU is always the top university to have TRB Minority Fellow. Thanks for funding support from federal transportation agency and TDOT.

On October 25, 2019, TSU AE Alumni Alan Boleware from Barge Design Inc. and Jonathan Clark (PE, NCARB, AIA, LEED AP) met with architectural engineering students in their AEI monthly meeting and discussed the job career and the projects experiences. They encouraged students to take more engineering related design intern and seriously consider the FE exam. There were 15 students attending this event. Students asked many questions regarding to the software they used, and the career path they took.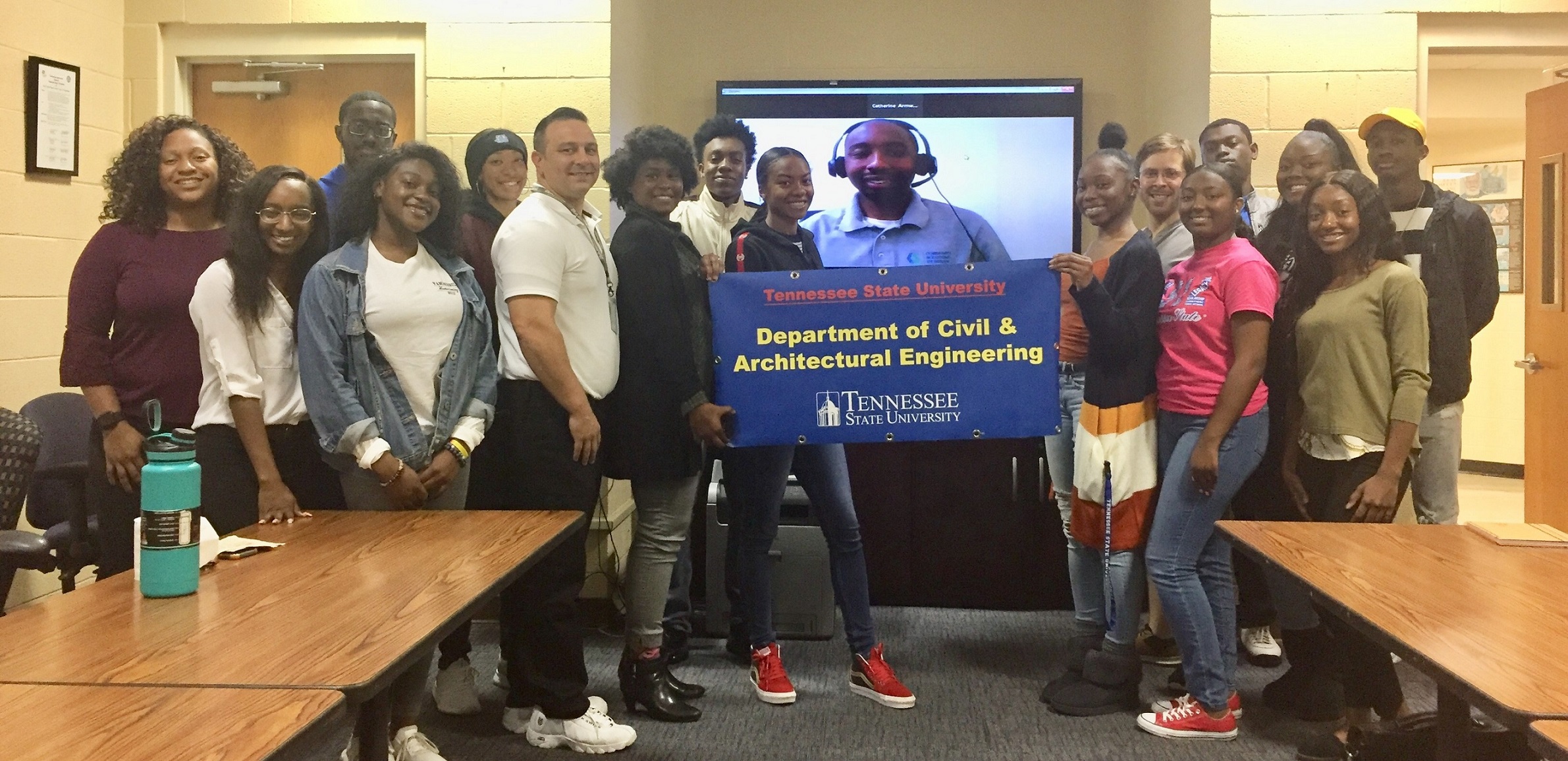 On October 3, 2019, Kenneth Perkins, currently the President Elect for the Nashville Branch of ASCE and also the Technical Committee chair for the Tennessee Section of Institute for Transportation Engineers (TSITE), came to TSU to meet with senior students in the department. Kenneth is also TSU Civil Engineering alumni. He shared his experience in professional engineering career and the importance of licensure.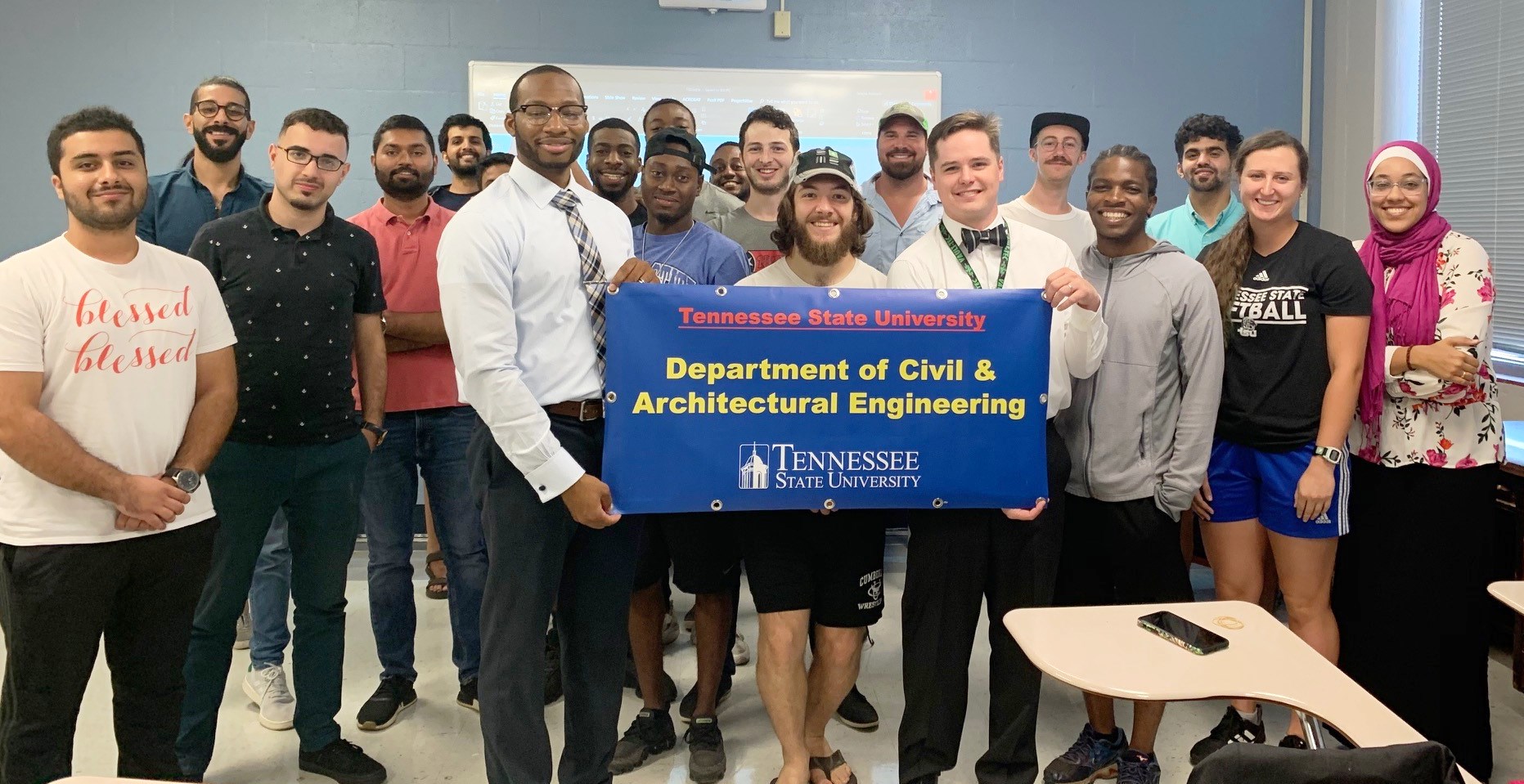 TSU Architectural Engineering Professor Martin brought six AE students to attend Penn State AE Career Fair on 9/24/2019. There is over 150 AE company in this career fair. The six students met the Penn State AE Dept. Head of Dr. Sez Atamturktur.  After the phone and onsite interview, some of six students received job offer.
TSU civil engineering graduate student Tinotenda Jonga published his bridge photo in the 2020 ASCE Bridge Calendar - December.  Representing TSU! Please see the link  https://ascelibrary.org/page/bridgescalendar.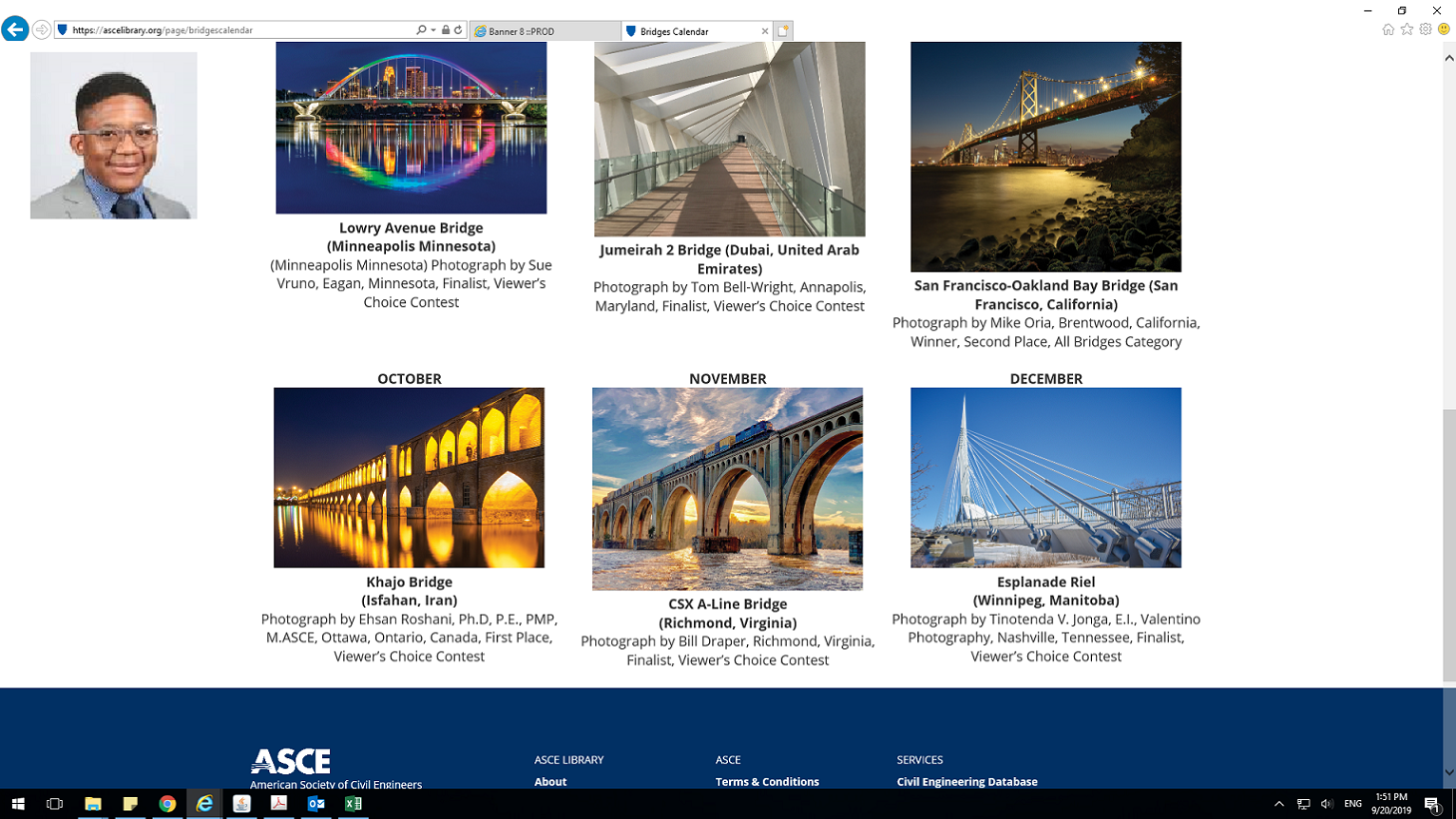 On 9/19/2019, Architect John Tettleton and Dr. Armwood-Gordon brought 14 TSU Architectural Engineering Students to visit the TSU Health Science Building at TSU Main Campus.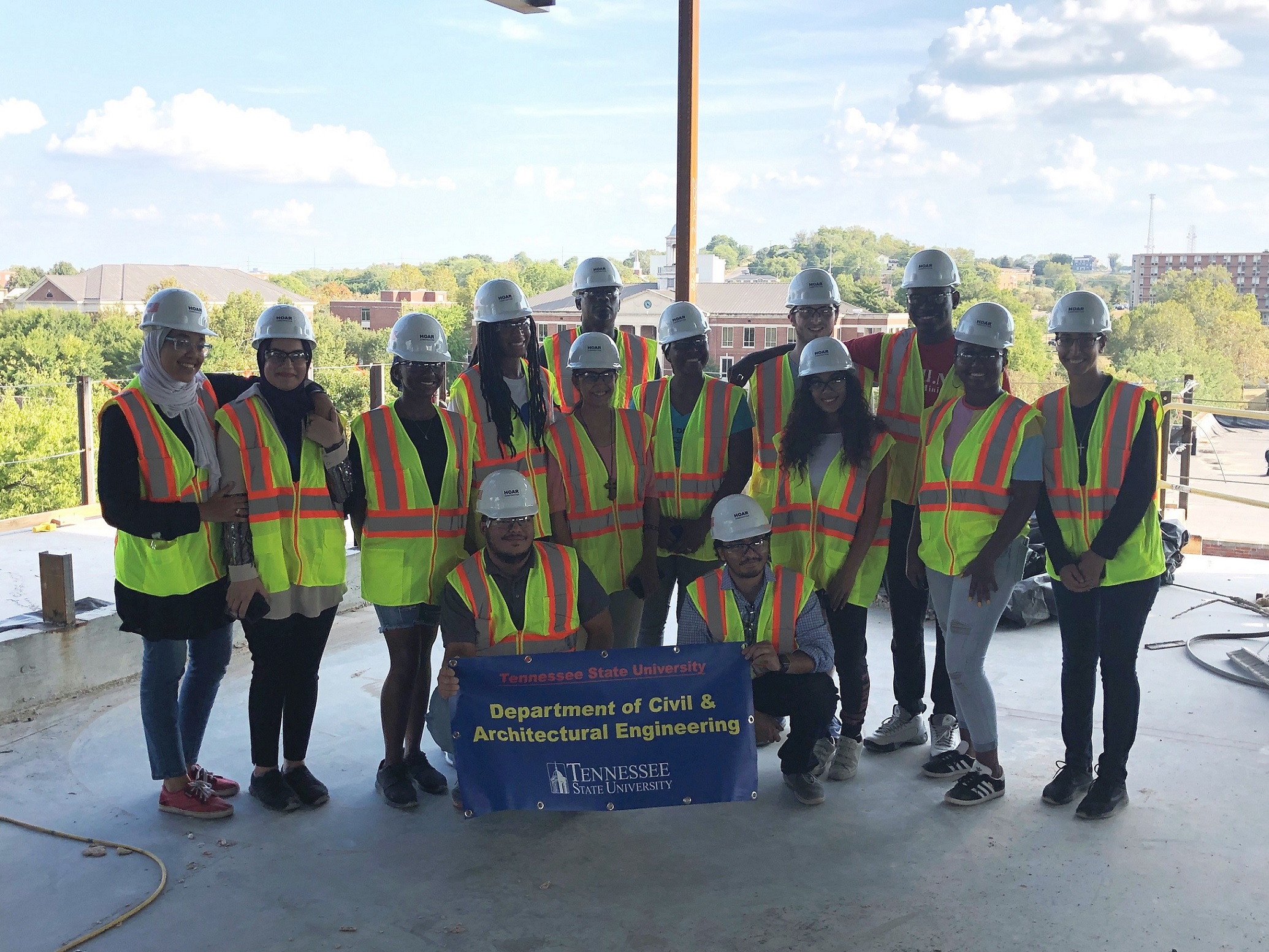 On 9/20/2019, the Department holds the first time Open House with CE and AE students. Dr. Li host this event. Dr. Chimba, Dr. Painter, Dr. Nathan, and Dr. Gordon introduced themselves and advised students for more research opportunities. ASCE, NSBE, SWE, AEI student chapter representatives introduced their student chapter activities. Ms. April from PNNL introduced the summer intern program.


Dr. Lin Li and Dr Roger Painter Receives NSF Excellent in Research Grant along with Dean Lonnie Sharpe and Jackson State University in $1 M grant in "Fate and Transport of Neonicotinoid Insecticides in Environment". Dr. Li is PI of the new grant from 2019.08-2022.07. Research assistant ship is available for any interested MS and PhD students. Please contact with Dr. Li at lli1@tnstate.edu. 
Dr. Armwood-Gordon joins with Washington State University to win a $7.5 million grant from the U.S. Department of Transportation to lead a national university transportation center focused on improving the durability and extending the lifespan of the nation's transportation infrastructure. The grant is from 2019 to 2022.
Dr. Lin Li, as Co-PI, win $1M NSF HBCU-RISE Award to conduct bio-inspired soil improvements and self-sealing research in civil and structural engineering. The project is to support PhD student to study advanced functional materials and devices for biotechnology applications. Research assistant ship is available for any interested MS and PhD students. Please contact with Dr. Li at lli1@tnstate.edu.
4/10/2019, Senior Mechanical Engineer Mrs. Fengjuan Wang (PE) from Power Management Corporation gave a guest lecture for the MEEN 4200 Heating & Air Conditioning a guest lecture of HVAC practical design and career development. Professor Muhammad Akbar invited her to teach.
On April 2, 2019, Dr. Lin Li and Dr. Nathan invited 12 undergraduate students of Civil Engineering Program to visit Tennessee Department of Transportation Material and Testing Division at Nashville. Students toured their lab facilities to see structural materials, geomaterials, asphalt pavement materials laboratory.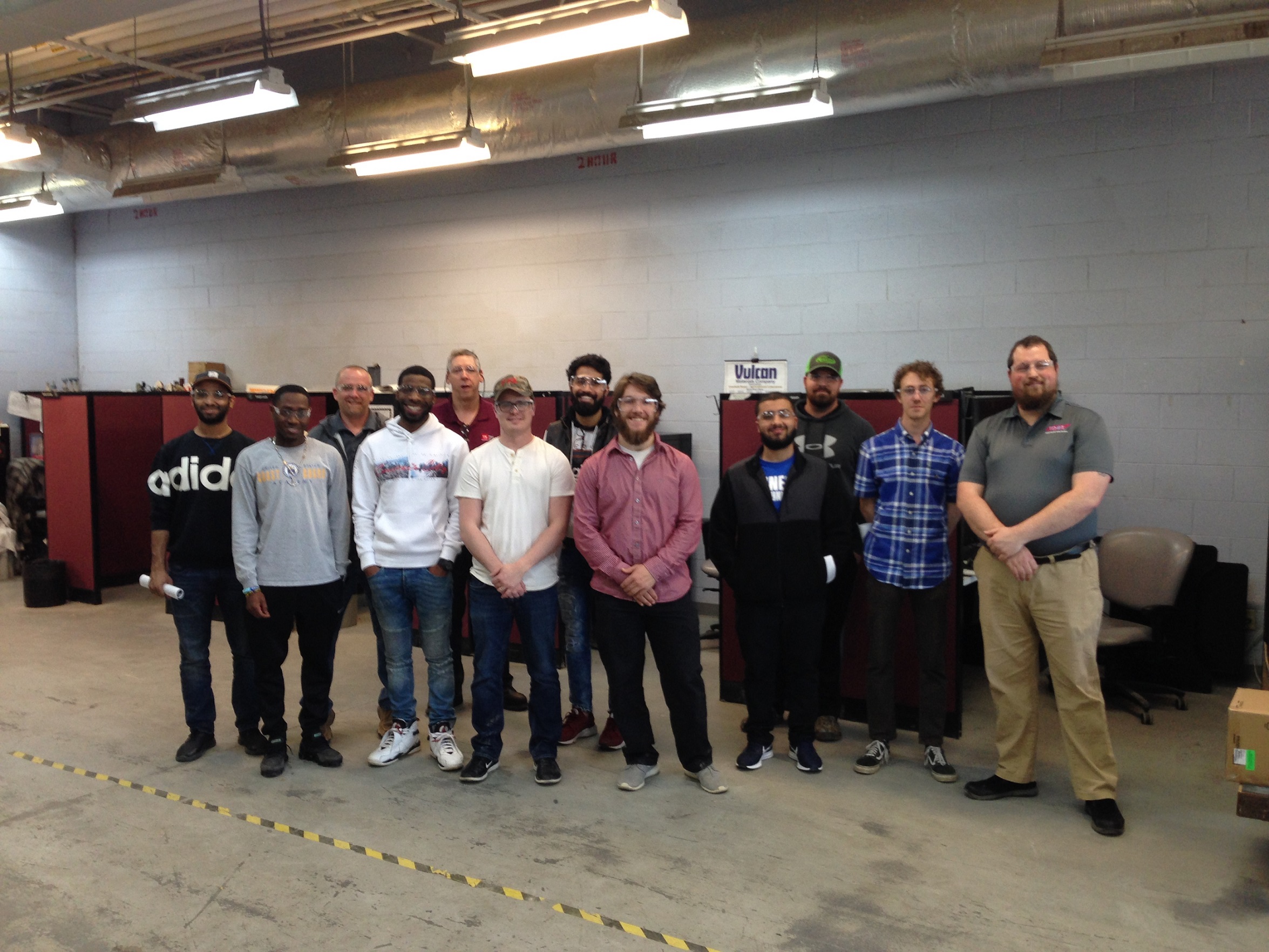 Dr. Armwood, as Co-PI, win $1M NSF Award to enhance Graduate Engineering Education. Any new graduate student who want to apply NSF graduate fellowship, please contact with Dr. Armwood at carmwood@tnstate.edu
On March 12, 2019, Dr. Lin Li and Dr. Armwood invited 20 undergraduate students of Civil Engineering Program and Architectural Engineering Program to visit Turner Construction Site at Downtown Nashville. Students toured a 27 floors high-end apartment building to see the structural components and mechanical parts during the construction phase.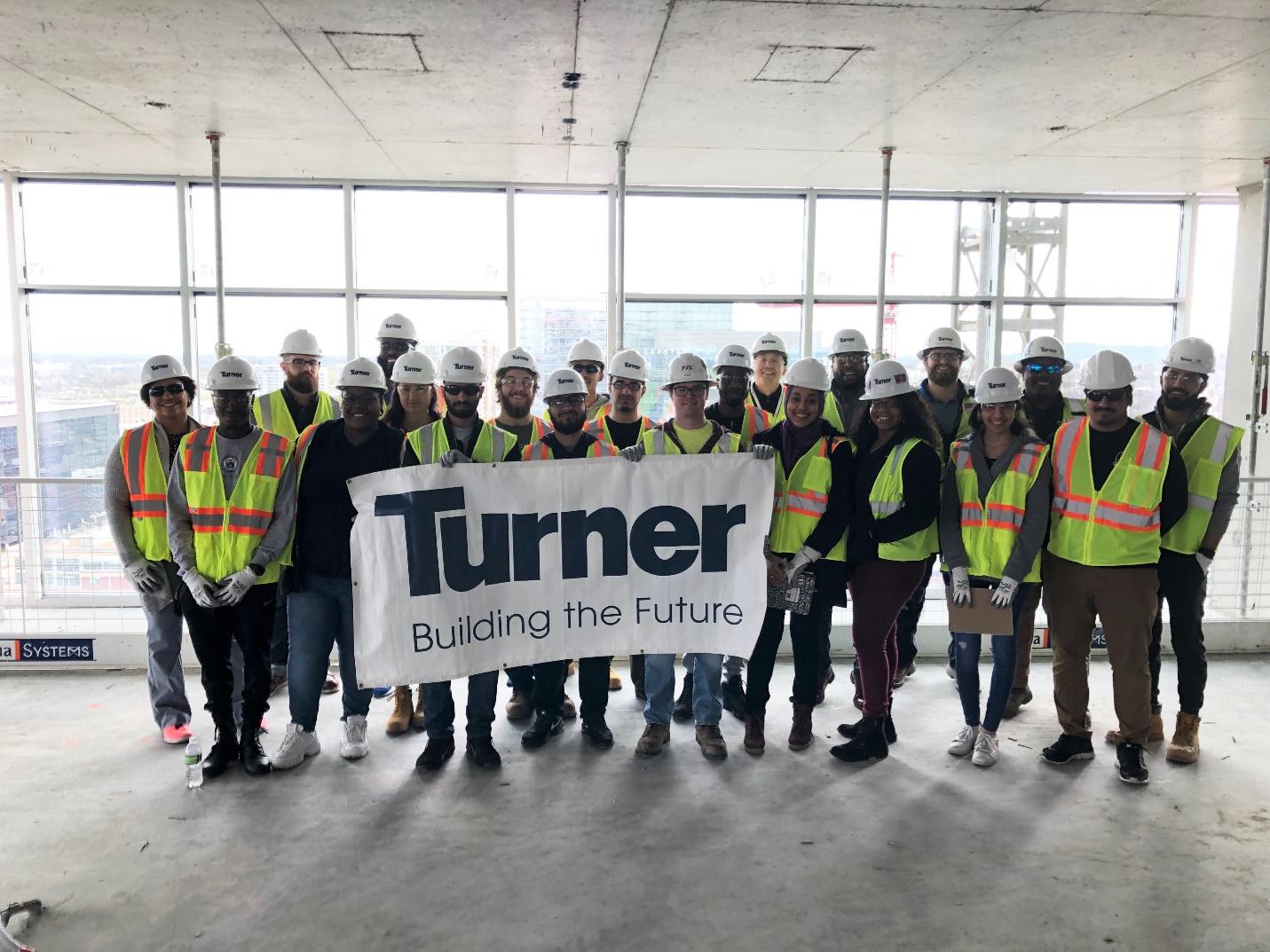 TSU Civil and Architectural Engineering Dr. Ranganathan Parthasarathy Collaborates with University of Kansas Institute of Bioengineering Research to study Dentin Adhesives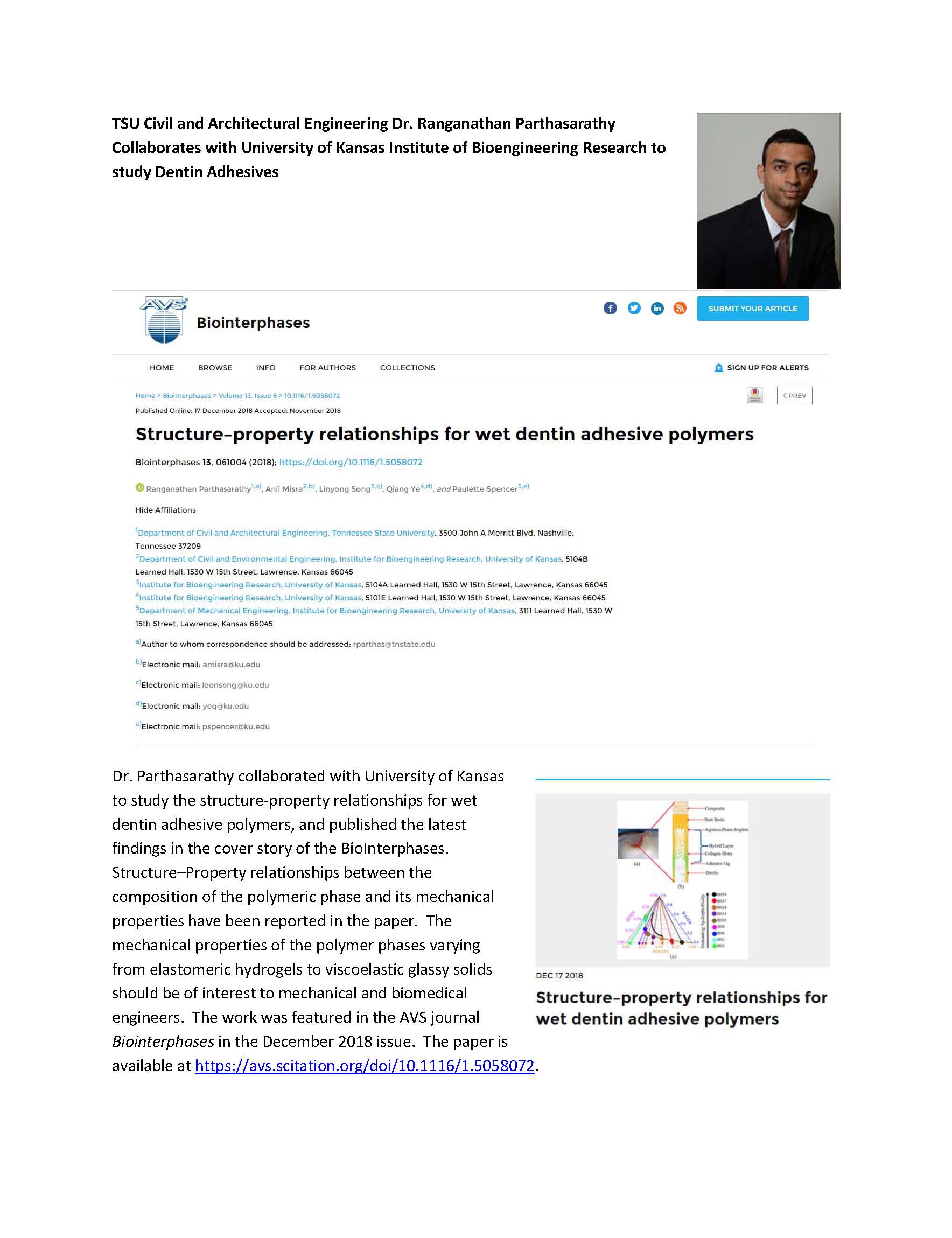 AE Student Kennedy McCurry "TSU HIGH ACHIEVING FRESHMAN SETS SIGHT ON NATIONAL EXPOSURE, ENGINEERING ENTREPRENEURSHIP"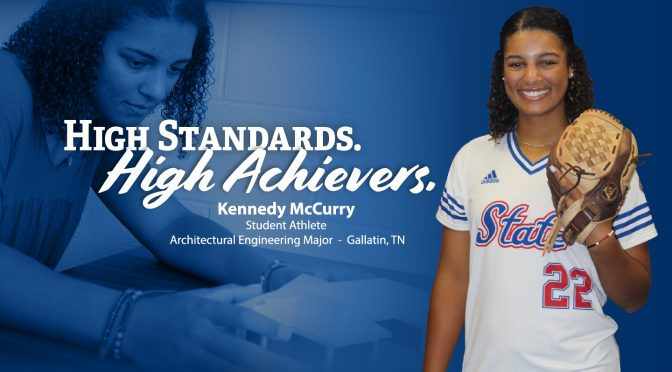 Prof. Chimba Research is reported in TDOT Research Roundup in September 2018 for his research "Freight Intermodal Connectors Study"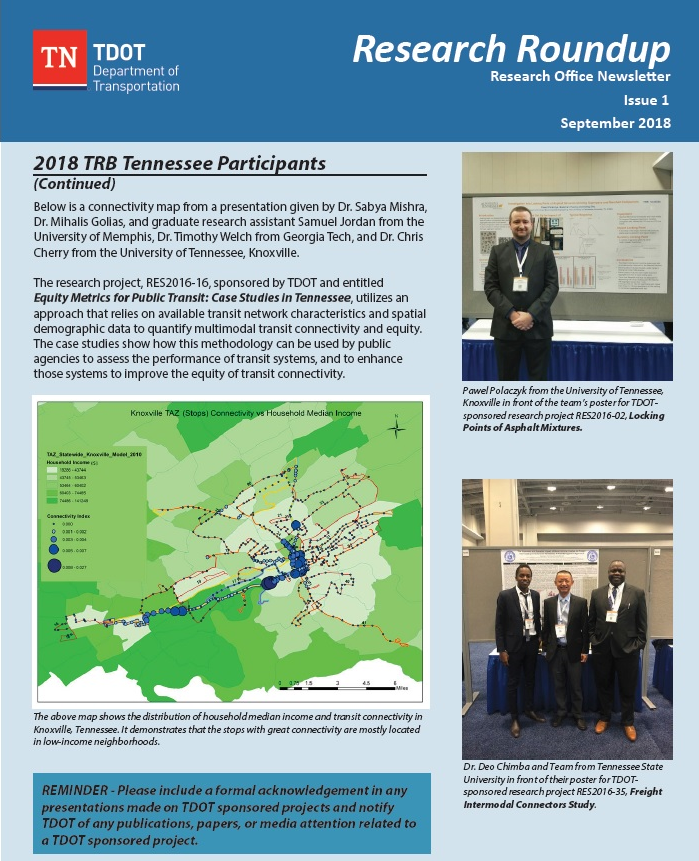 Prof. Chimba engages research in his Transportation Engineering, Planning and Safety Lab (TESP-Lab)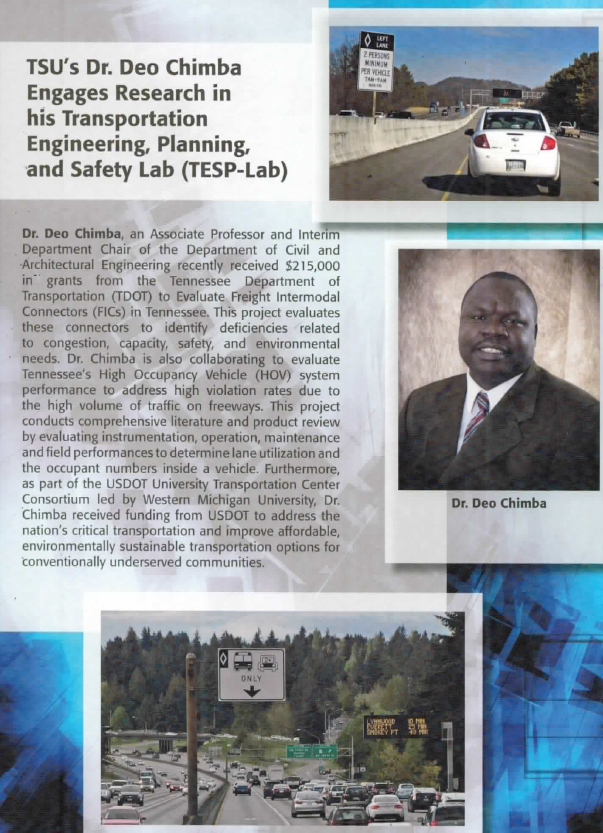 Civil Engineering, No. 1 in Job Growth