Home >
> Outstanding Alumni
Outstanding Alumni
* USACE Galveston District Spotlight on Mario Beddingfield (BS 2005, MS 2008, Civil Engineering, TSU)
https://www.army.mil/article/127039/usace_galveston_district_spotlight_on_mario_beddingfield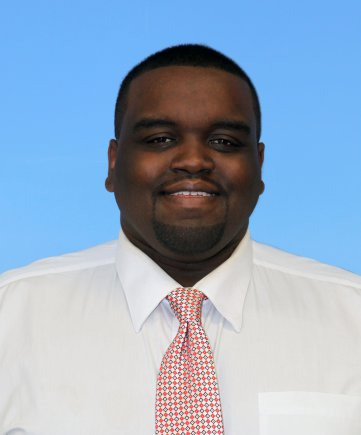 (Photo Credit: U.S. Army) GALVESTON, Texas (May 30, 2014) -- When Mario Beddingfield's sixth grade science teacher asked him if he had ever thought about becoming an engineer, he replied that he wasn't interested in learning how to drive a train. Luckily for the U.S. Army Corps of Engineers Galveston District, curiosity got the better of him and he quickly became captivated with engineering after researching the subject. "I have always been fascinated with the whole construction process, but over time I have found a good niche in water resources," said Beddingfield, a hydraulic engineer in the Hydrology and Hydraulics/Water Control Branch. As the program coordinator for the district's Flood Plain Management Services Program, he oversees water control forecasts and operations for the Wallisville Lake Project and Addicks and Barker reservoirs and dams. The Addicks and Barker flood risk management structures are located in southeast Texas in the San Jacinto River basin approximately 17 miles west of downtown Houston. While both reservoirs are normally dry, when a rain event occurs the gates are closed on the dams to reduce flooding below the reservoirs and protect the Houston metropolitan area from flooding. "These structures have saved taxpayers an estimated $6.74 billion (2013) in potential flood prevention," said Beddingfield. "I enjoy my career because I feel that the work I do prevents families and communities from experiencing the tragedies associated with flooding." Assisting with implementing interim risk reduction measures at the dams to reinforce spillways and repair joints in the water-discharge tunnels, he explains that previous work to fill voids beneath the watercontrol outlet structures, construct a granular filter to capture fine embankment and foundation material and install lighting and emergency generators at the outlet structures have all helped to reduce the risk of catastrophic flooding of the downstream areas until a permanent solution can be executed next year. "I enjoy the problem solving aspect of my work," Beddingfield said. "A customer comes to you with a flooding problem and ask you to fix it. It is really rewarding when you can design something that prevents destruction of personal and public property and possibly save lives." Beddingfield knows firsthand the significance structures such as the reservoirs and dams have in communities, serving as a hydrologic and hydraulic technical expert for the Unit Operations Center Crisis Action Team at USACE Headquarters in Washington, D.C., during the 2010 Nashville and the 2011 Missouri River floods. "Nashville experienced a record flood that caused billions of dollars in damage and casualties," Beddingfield said. "As bad as things seemed to be, I realized that without the projects and work that we do at the Corps, it would have been a lot worse. It really helps put into perspective the importance of what we do on a daily basis and I was able to see how the Corps handles disasters from a national level." A native of Nashville, Tenn., Beddingfield earned a Bachelor of Science in Civil Engineering (2005), a Master of Science in Environmental Engineering from Tennessee State University (2008) and is a licensed professional engineer. In 2014, he was awarded the Black Engineer of the Year Awards (BEYA) Conference Modern Day Technology Award. Previous to moving to Galveston, he was an adjunct professor for the Civil Engineering Department at Tennessee State University, teaching fluid mechanics, environmental engineering and structural testing labs. In his free time he volunteers to promote Science, Technology, Engineering and Math fields within local high schools and colleges and is a huge fan of the Tennessee Titans and Tennessee State Tigers.
* 2018 Young Engineer of the Year to John Brew (BS & MS in Civil Engineering, TSU)
https://www.greshamsmith.com/news/gsps-john-brew-named-young-engineer-of-the-year-by-tspe/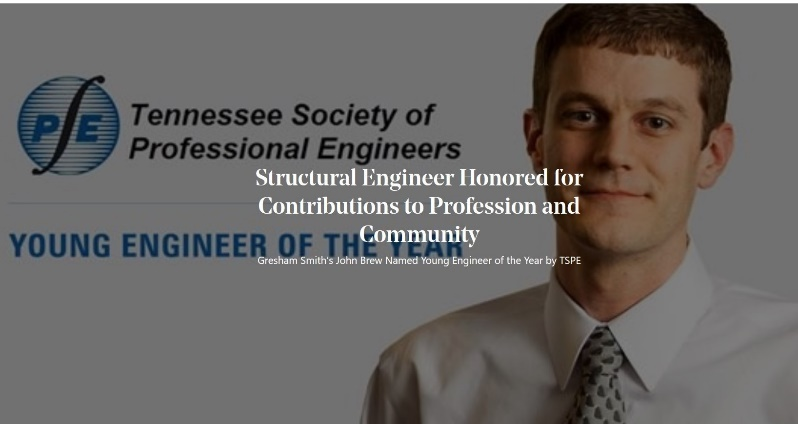 Structural Engineer John Brew, P.E., has been named "Young Engineer of the Year" by the Tennessee Society of Professional Engineers (TSPE). The award is presented annually to a member of TSPE, aged 35 or younger, who has made significant contributions to the engineering profession and their community during the early years of their career. "We are fortunate to have talented young professionals like John at Gresham Smith," commented Al Pramuk, chairman and chief executive officer, Gresham Smith. "We are proud that TSPE is honoring the hard work and dedication we see from him every day. John is an exceptional young leader who exemplifies our firm's commitment to professional and community organizations." Brew joined the firm in 2004 and has nearly 15 years of structural engineering experience. He has worked with the firm's Aviation, Transportation, Corporate + Urban Design, Industrial and Healthcare markets on various projects, including the Maynard H. Jackson Jr. International Terminal at Hartsfield-Jackson Atlanta International Airport, the award winning TDOT SR-254/Otter Creek ABC Bridge and the on-going Rutherford County Judicial Center. In addition to TSPE, Brew is also a member of the Tennessee Structural Engineers Association and the Tennessee Section of the American Society of Civil Engineers (ASCE). He was named "Outstanding Practitioner Advisor" in 2013 and "Outstanding Younger Member in Community Activities" in 2014 by the ASCE Eastern Region and "Young Engineer of the Year" in 2016 by the ASCE Nashville Branch. Brew is a graduate of Tennessee State University where he earned both master's and bachelor's degrees in Civil Engineering. TSPE is the state society of the National Society of Professional Engineers (NSPE). It is a professional association with more than 1,000 members comprised of professional engineers, engineering associates, engineering interns and engineering students. The organization promotes the ethical and competent practice of engineering and advocates licensure to enhance the engineering profession and to protect the health, safety and welfare of the public. TSPE is organized geographically into seven local chapters, while an elected board of directors conducts the business of the society.