Agricultural Leadership, Education, and Communication
Learn     Lead     Serve
Welcome

You have found the homepage for Tennessee State University's Agricultural Leadership, Education and Communication (ALEC) programs.  Our programs are housed in the Department of Agricultural and Environmental Sciences in the College of Agriculture, Human and Natural Sciences, but we also work closely with other programs on campus to offer you a degree that moves you to the front of the line for good paying, high demand jobs in our industry.

In addition to receiving a quality education, you will be part of a family-like atmosphere in ALEC. You will attend many classes together with other ALEC students at the university. Faculty members in ALEC use student-centered approaches to show you how to successfully function in today's fast-paced, technologically advanced job market. Our instructors know their students and are available to help them with class projects, advising and job applications. Support like this helps make the transition to campus life at TSU an easy one. You are our priority. 

If you'd like more information about our programs in Agricultural Leadership, Education, and Communication, just CLICK HERE to enter some personal information and we'll send it out to you asap.

LEARN 


TSU Agricultural Leadership, Education, and Communication will prepare you for a variety of rewarding careers. Students graduating in our Concentration learn valuable leadership, communication, presentation, and education skills that make them a hot commodity on the job market. They are able to lead and help others understand how agricultural and environmental sciences impacts people and how people impact it.

SAMPLE CAREERS
Following are some sample careers students from our degree option have entered:

Agricultural Educator/Teacher
Training and Development Officer
Consultant, Extension Agent, Extension Specialist
Professor, Human Resources Specialist
Agribusiness Manager
Social Scientists
Program Leader/Coordinator
Marketing Specialist
Educational Supervisor
Farm/Ranch Manager
International Agriculture Consultant
Production Agriculture Manager
Sales/service Representative
Wildlife Educator
Museum Educator
Zoo Educator
Natural Resources Officer
Agritourism Manager/Educator
Marketing Communications Manager
District Sales Representatives
Advertising Manager
Reporter, Editor
News Producer
Account Manager
and Program Director

If you want to learn more about our exciting field and the awesome career availability, contact Dr. John Ricketts at jricket1@tnstate.edu.

LEAD

In Agricultural Leadership, Education, and Communication we place big value on leadership skills. The organizations that hire our students value those leadership skills too! Why not work on becoming the best leader you can be while you are at TSU! TSU has amazing faculty members who conduct research on leadership, write and teach about leadership, and advise our students with building a better leader in mind.

At TSU you can take courses on leadership with our faculty. You can get internships to develop your leadership potential. You can also develop your leadership skills through student organizations like the Collegiate FFA and 4-H club housed in ALEC.

Collegiate FFA and 4-H empowers values-driven students to lead and serve in schools, businesses and communities. The organization seeks to make a positive difference in the lives of members by developing their potential for premier leadership, personal growth and career success.

     Collegiate FFA and 4-H is:

Open to all students (no FFA or 4-H experience necessary)
A great way to network with people in our industry
A service, project based organization
A great opportunity to share and build leadership skills
A great way to start or extend a career in our concentration area

Contact the president of our club, Eligia Stafford, if you are interested in joining and participating.

SERVE

Employers value graduates who have a record of service almost as much as they value your leadership skills. Our degree option gives you ample opportunities to give back and serve our community. You can serve youth by being a mentor to certain students in 4-H or by assisting FFA members in local high schools as they prepare for Career and Leadership Development Events. The opportunities are endless. Below are some of the partners that provide us opportunities to serve.

Green Leaf Learning Farm @ Knowledge Quest (Memphis, TN)
Metro Nashville Public Schools (Nashville, TN)

Academies of Nashville
Glencliff, McGavock, John Overton, Whites Creek,
Stratford High Schools

Tennessee 4-H
Tennessee FFA
Farm Credit of Mid-America
Tennessee Farm Bureau

 

Congratulations

This year we expect 4 Agricultural Education masters students to graduate with top quality theses. We are proud of each of these students and their hard work.

Morgan Beaty (former UTK graduate), Thesis: Impact of a Poultry and Egg Education Workshop on 4-H Youth

Sarah Murphy (former MTSU graduate), Thesis: Agritourism Needs and Preferences: Determining How Extension Education Can Help


John Fite (former MTSU graduate), Thesis: Critical Thinking Dispositions of Undergraduate Agriculture Majors: Contributions of Pre-collegiate Complete Programs of Agricultural Education

Quintin Robinson former TSU graduate), Thesis Leadership Styles, Behaviors and Experiences of Agricultural and Environmental Science Undergraduates at Tennessee State University


 

 

 

 
 

 
Featured Events 
NEW CURRICULUM

We have just published a new interactive curriculum for youth on Poultry and Egg Safety. The curriculum was funded by the USDA-NIFA Capacity Building Grants program. Click the cover page below for lesson plans, PowerPoints, and videos.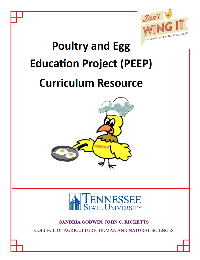 CASE AFNR 2017

06/12/2017 through 6/22/2017
Registration opens Dec 1. We are excited to announce that we were again selected to serve as a Curriculum for Agricultural Science Education (CASE) host for an Agriculture, Food, and Natural Resources (AFNR) next summer. We are the only 1890 or HBCU offering this intense STEM-rich teacher professional development opportunity. Go to our tnstate CASE website for details.
Let us know how we can help.

Our faculty in Agricultural Education are excited you are here, and we will do whatever we can to help you succeed. Contact us anytime. 
Our team includes Dr. Tom Broyles (4-H Program Leader, Extension, and Ag Ed), and Dr. John C. Ricketts (Ag Leadership, Education, and Communication)
Follow Us
Got JOBS?
One of the greatest things about our area of study is the job market. Check with our faculty for jobs in School-based Agricultural Education, Extension Education, and Leadership and Communications in the agriculture industry.