Home >
> TSU DPT Program News
Program News
Faces and Phases
---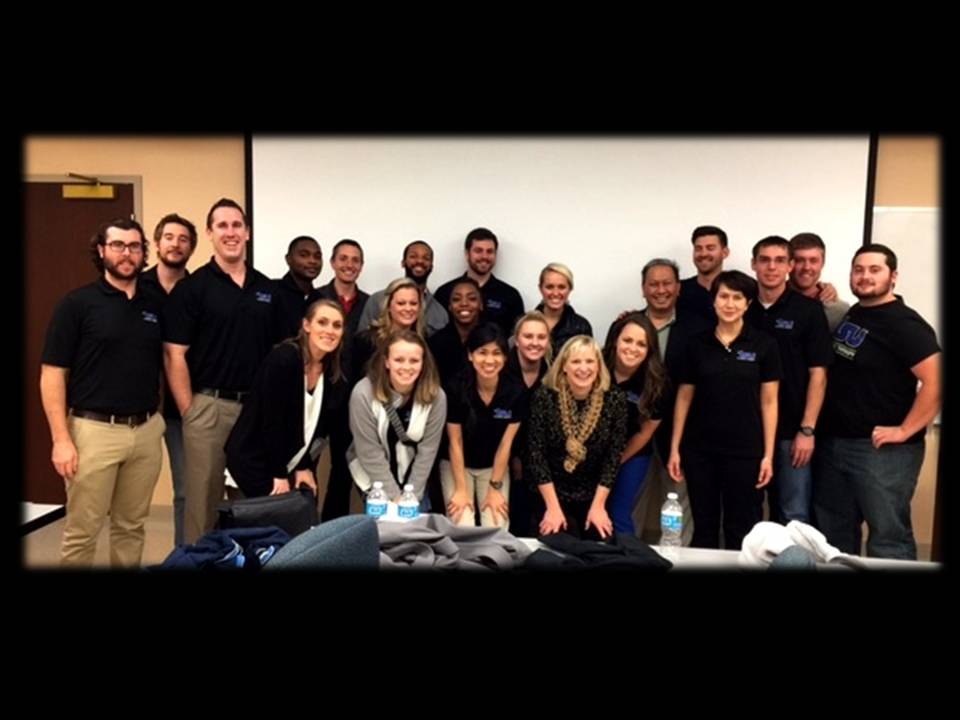 Students from the DPT Class of 2018 showed a strong presence at the TPTA Nashville District Meeting on November 12, 2015. Conducting the business meeting was Dr. Karen Coker, Nashville District Chair. Delivering the evening's presentation was Dr. Ronald Barredo. Also present in the meeting were graduates of the TSU PT program (not pictured), including: Edwin Wilkinson (Class of 1998), W. Winn Harton (Class of 2008), and Robert Felts (Class of 2015).
---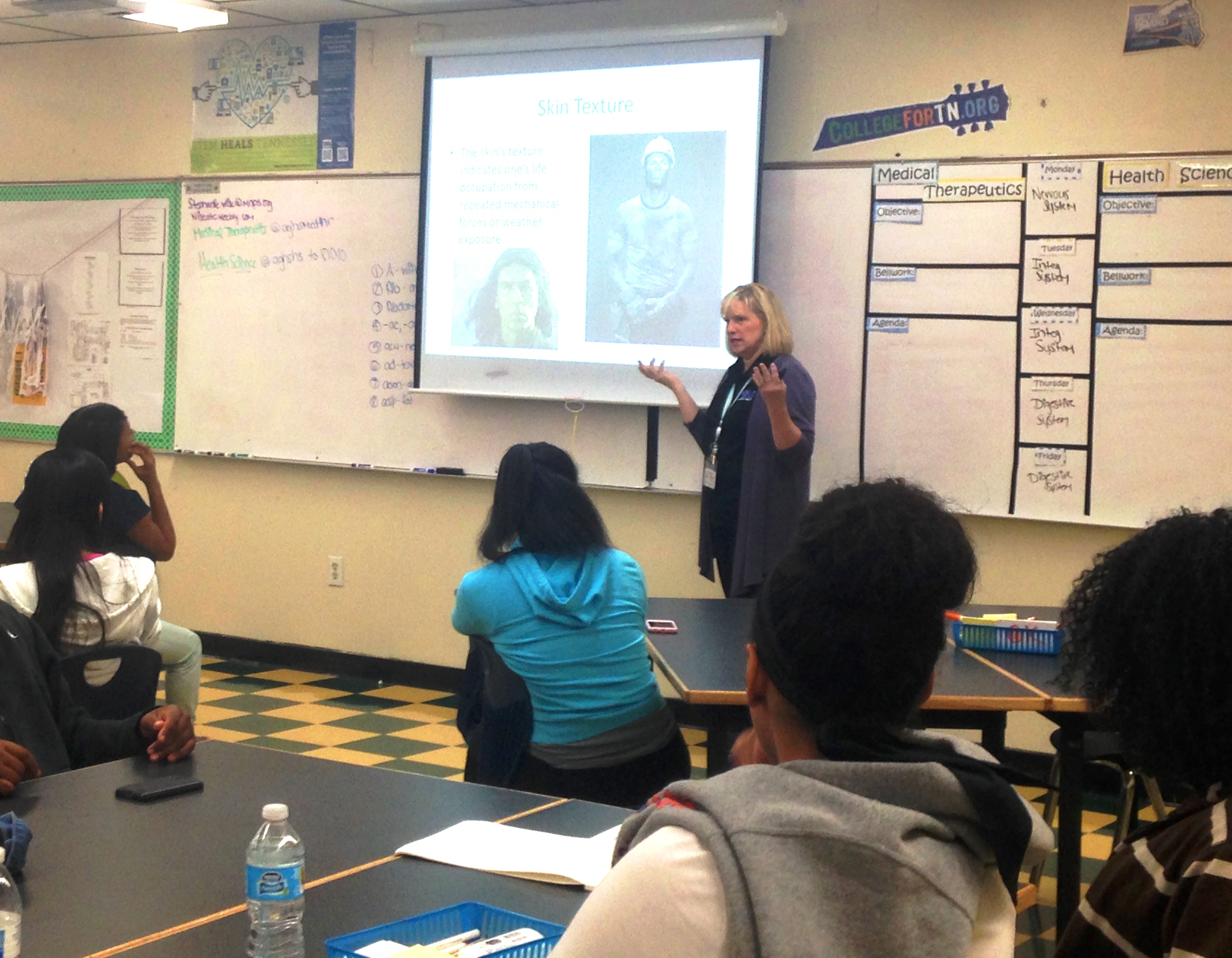 Dr. Karen Coker gave a presentation on the Integumentary System to juniors at Hillsboro High School on October 27, 2010. 
---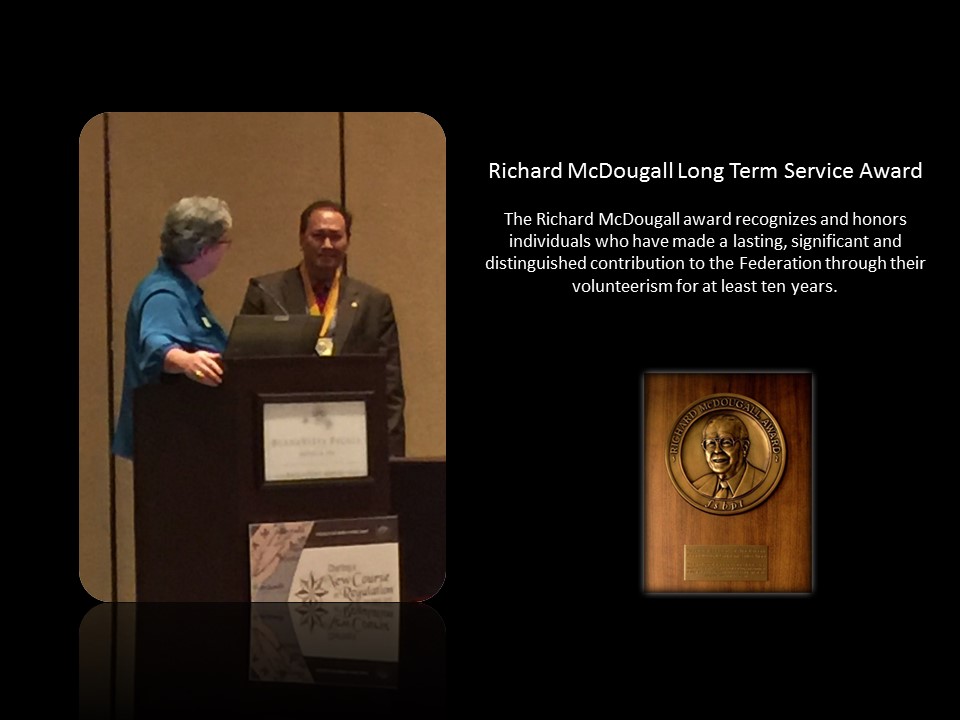 Dr. Ronald Barredo was awarded the Richard McDougall Award by the Federation of State Boards of Physical Therapy (FSBPT) during its annual meeting in Orlando FL on October 17, 2015. The Richard McDougall Award is the highest service award given by the FSBPT to individuals who have made lasting, significant, and distinguished contributions through volunteerism for at least ten years.
---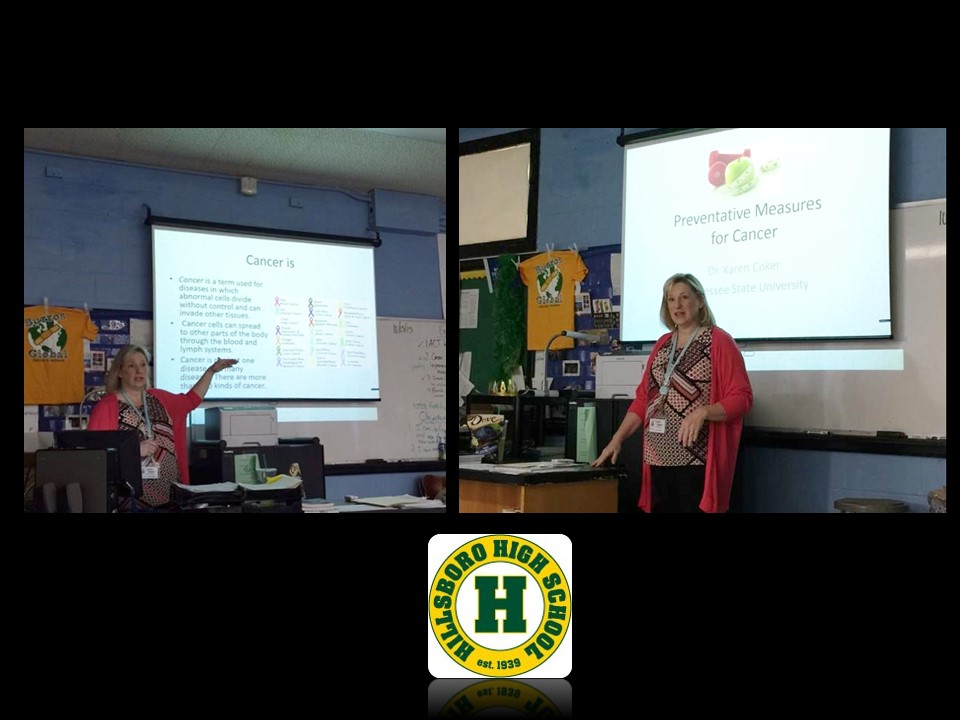 As part of National Physical Therapy Month and APTA's Day of Service, Dr. Karen Coker spoke on Cancer Prevention with the seniors of Hillsboro High School's Global Academy Program on October 2 and 15, 2015. 
---
Students in the DPT program had a strong presence at the Blades and Bikes Duathlon held at Shelby Park in Nashville on September 20, 2015. Of the 55 volunteers present in the event, 51 were first and third year students of the DPT program. Newly-elected TPTA Nashville District Chair, Dr. Karen Coker, spearheaded the volunteer contingent from TSU.
---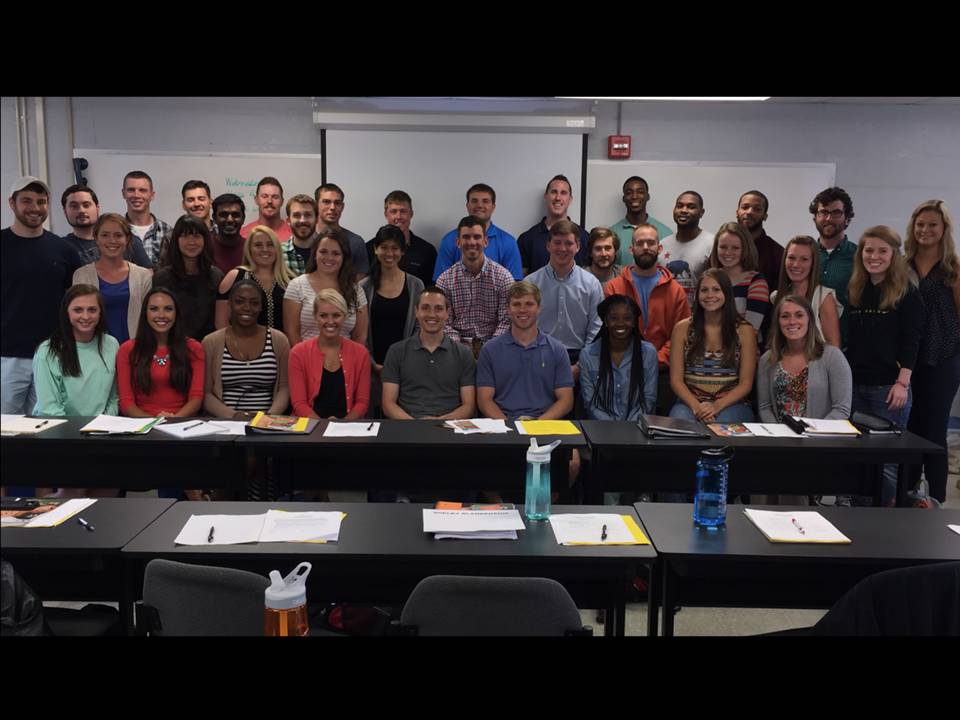 Welcome to the DPT Class of 2018! June 1 marks the beginning of your three-year trek to becoming physical therapists. Best wishes on your professional journey!
---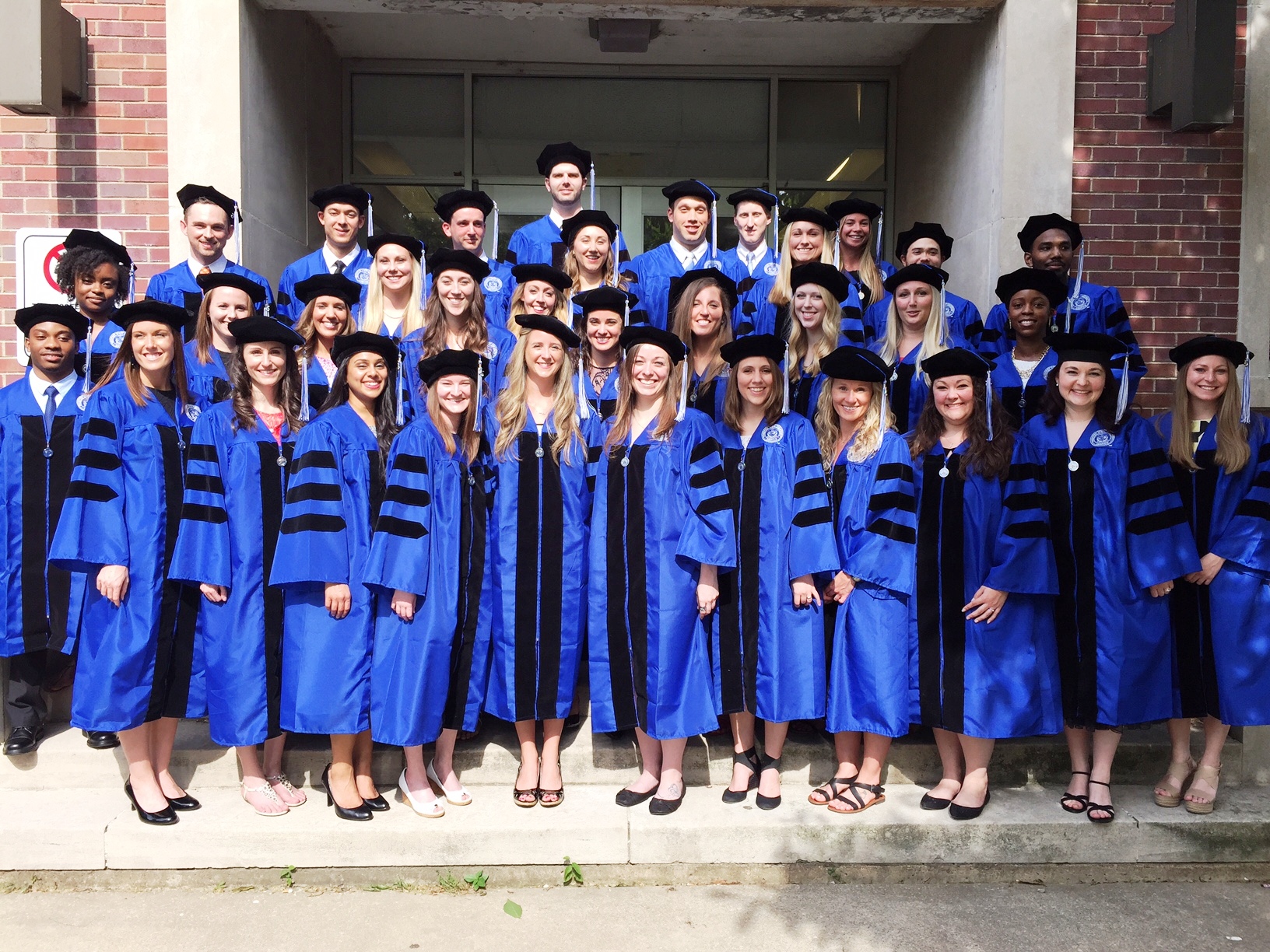 Congratulations to the 35 students in the DPT Class of 2015 who graduated on May 8, 2015... Best wishes on your professional endeavors!
---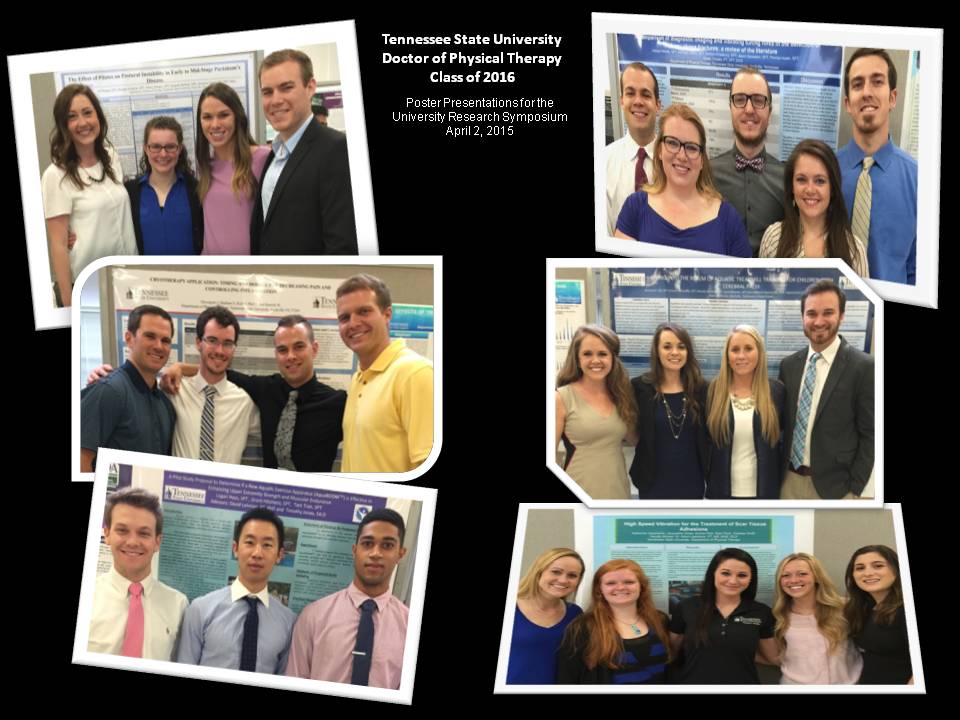 The DPT Class of 2016 participated in the University-wide Research Symposium. Research posters were presented on April 2, 2015. Not pictured were members of the class who delivered oral presentations.
---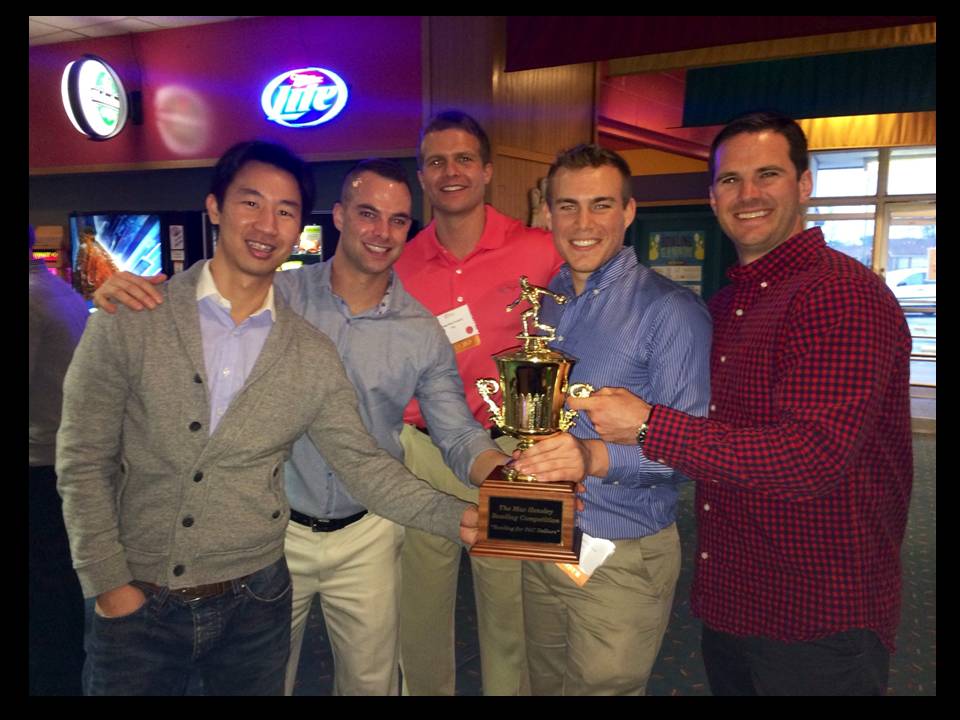 TSU students from the DPT Class of 2016 won the 1st Annual Mac Hensley Bowling Competition held at the Donelson Bowling Center on Friday, March 27, 2015. The TSU delegation (L to R: Tam Tran, Scott Dunham, Drew Kiel, Jeff Berger, and Lucas Wall) bested all teams from other districts in the state. The traveling trophy will be displayed in the Department of Physical Therapy for a year until the next bowling tournament winners are crowned.  The Mac Hensley Bowling Competition benefits that TPTA-PAC.
---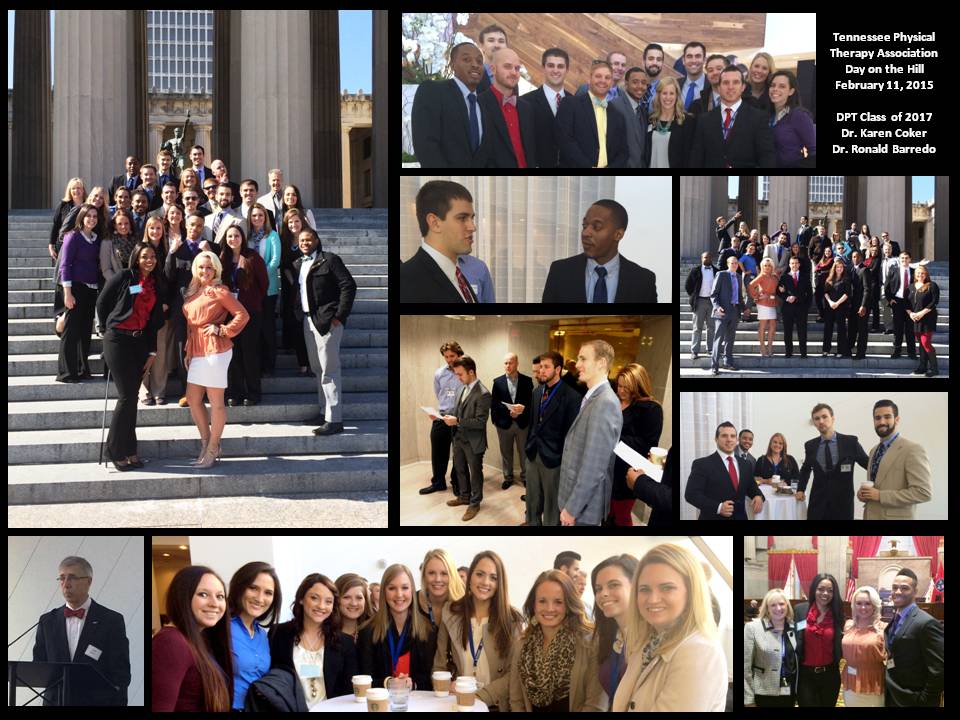 TSU students from the DPT Class of 2017 participated in the TPTA Day on the Hill held at the State Capitol on February 11, 2015. The students were accompanied by Dr Karen Coker and Dr. Ronald Barredo.
---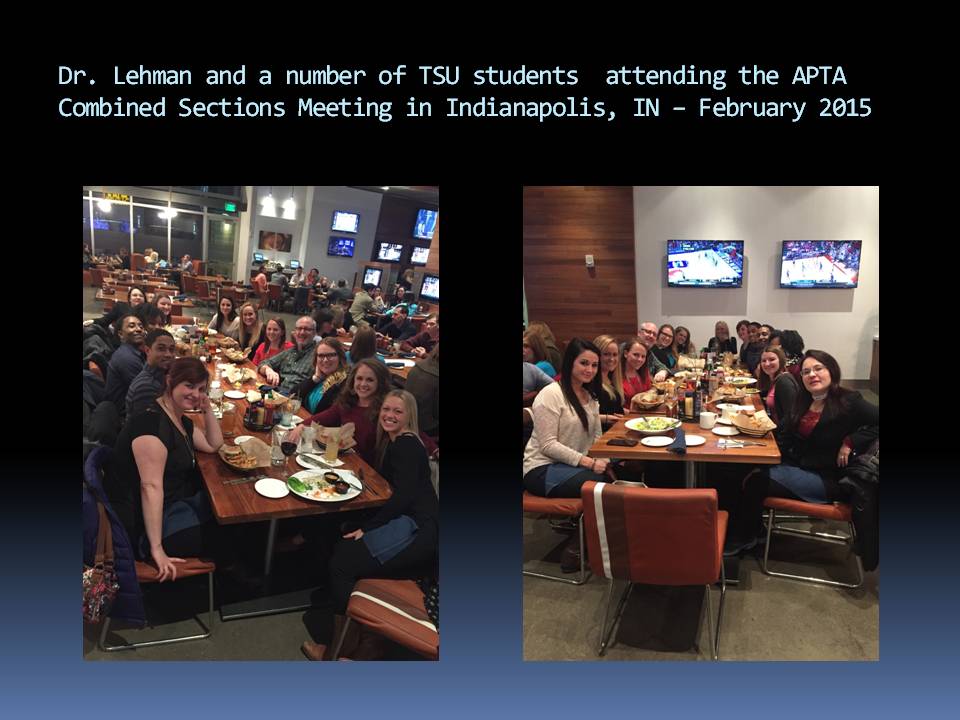 TSU students from the DPT Class of 2015 and 2016 join Dr. Lehman for dinner at the APTA Combined Sections Meeting in Indianapolis, IN - February 2015.












 
---
webpage contact:
Physical Therapy