Home >
> Trademark/Logo Licensing
Trademark/Logo Licensing
TSU Logos and Marks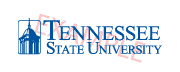 The purpose of Tennessee State University's Trademark/Logo Licensing Program is to protect the use of its marks and logos on all products.
Learfield Licensing Partners operates and manages the University's trademark/logo licensing program. The University requires that all vendors of product bearing University trademarks and logos be licensed through Learfield Licensing Partners, LLC.

To become a licensee, please contact:

Learfield Licensing Partners
8900 Keystone Crossing, Suite 605
Indianapolis, IN 46240
Tel: 317.669.0808
Fax: 317.669.0810

Website: www.learfieldlicensing.com
For questions or additional information, contact the Licensing Administrator at 615-963-6281.
Usage of Logo
For questions about using a TSU logo on publications, please visit the TSU Publications website.
---