Hundreds Attend Memorial Service For Legendary Track And Field Coach Edward S. Temple
Hundreds of people attended a memorial service for legendary track and field coach Edward S. Temple, a man heavily praised, mainly for being a game changer.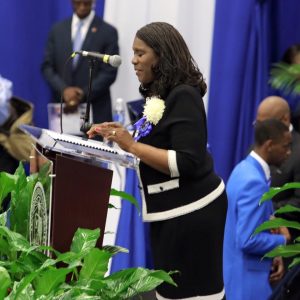 "Coach Ed Temple helped to put TSU on the international stage," TSU President Glenda Glover said during the Sept. 30 service in the university's Kean Hall. "He made TSU a household name."
Temple died Sept. 22 at the age of 89. Among those attending his service were Gov. Bill Haslam, Nashville Mayor Megan Barry, a number of Temple's famed Tigerbelles, and representatives from the U.S. Olympic Committee and United States of America Track and Field Association.
"I get the honor everyday to represent 6.6 million Tennesseans. And on special occasions, I get the opportunity to recognize some very special Tennesseans," Haslam said. "And there is no doubt that we're here today to honor a man who is one of those. Your coach deserves to be in the very top level of our heroes of Tennessee."
Barry said she has a small replica of a statue of Temple on her desk, to remind her of the "incredible impact that one person can have."
U.S. Olympic Committee representative Tracy Sundlun knew Coach Temple for more than 40 years. He said Temple was "always willing to share with those of us who came after him."
"He was a very generous man," Sundlun said. "He gave without hesitation, or reservation."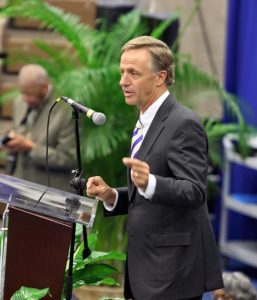 During his speech, Sundlun read a letter from the U.S. Olympic Committee and the U.S. Olympians and Paralympians Association that said in part: "We believe Ed to be the most prolific women's track and field coach in the history of the sport," which caused an eruption of applause.
Before the service, Davidson County Criminal Court clerk Howard Gentry, Jr. expressed similar sentiment during an interview when he called Temple "an icon, not to be duplicated in any form."
"He built a team of world class track participants who changed the landscape of women's track forever," said Gentry, who was TSU's athletic director when Temple retired.
Temple was head of TSU's women's track and field program from 1950 to 1994. Under his coaching, the Tigerbelles won 23 Olympic medals. In all, he led more than 40 athletes to the Olympics. His athletes also accumulated more than 30 national titles.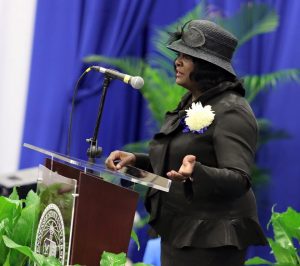 Dwight Lewis, who is co-authoring a book about the Tigerbelles, said there were a few countries like Germany that dominated track and field, particularly at the Olympic Games, up until the mid-1950s. But then the Tigerbelles made their presence known at the Games in Melbourne, Australia, in 1956 when they won several bronze medals.
They continued that domination at the Olympic Games in Rome in 1960, highlighted by Wilma Rudolph's three gold medals, the first American woman to win that many gold medals in track and field during a single Olympic Games.
"Since 1960, it's been America dominating," Lewis said. "And it was the Tigerbelles who started that wave. Coach Temple would often say, 'They paved the way for other women in sports.'"
Olympic gold medalist Ralph Boston, who was among the athletes that Temple trained, agreed his legacy lives on.
"He certainly made a difference in the track and field world," said Boston, who got a gold medal in the long jump competition during the 1960 Olympic Games in Rome.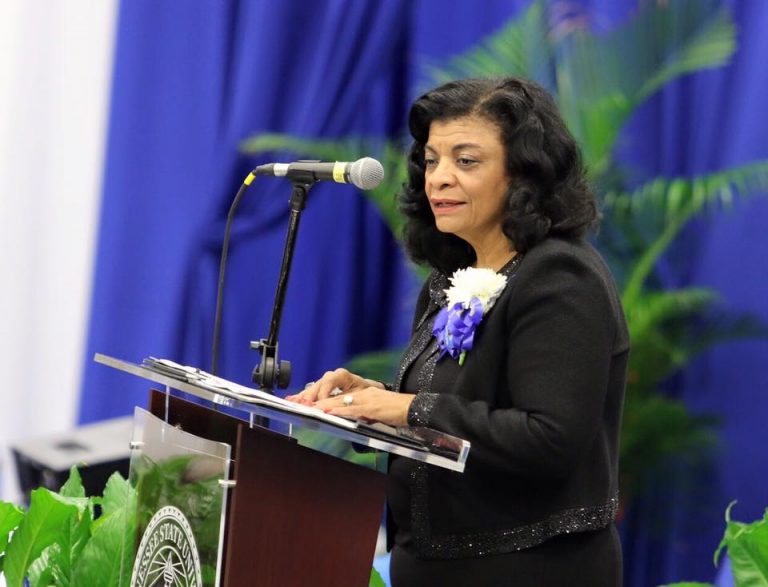 Boston and others say Temple's accomplishments were even more impressive coming in the midst of severe racism and discrimination that permeated the United States during the 1950s and 1960s.
"He did it in some of the toughest times that our nation faced," Gentry said. "And so to see that occur in the 50s and the 60s, and then moving into the 70s, was an amazing feat by one person. But also a true inspiration for all who had the ability to experience it."
Monica Fawknotson, executive director of the Metro Sports Authority, of which Temple was a founding member, said Temple had a "profound influence."
"He not only embodied excellence, he expected it from us and, like all great coaches, called it out of us," Fawknotson said. "He taught us that greatness is not about one's color or gender, but about hard work and the spirit of a person."
In 2015, a 9-foot bronze statue was unveiled in Temple's likeness at First Tennessee Park in Nashville. The visionary for the statue was Nashville businessman Bo Roberts, who said the project had been in the works for well over a decade, and that he was glad the unveiling could finally take place for one of his longtime heroes.
"We hope locals and visitors will come to this statue to learn about and honor one of the city's most important citizens," Roberts said.
Coach Temple's legacy is now on display for the world to see as exhibits in the Smithsonian Institution's new National Museum of African American History and Culture in Washington, D.C. The TSU collection includes Temple's Olympic jacket, replicas of gold medals, and other artifacts or memorabilia.
---