Home >
> Give to TSU Psychology Department
Give to TSU Psychology Department
There is much good news to share from the Department of Psychology. As one of two HBCUs in the nation with an APA-accredited doctoral program in Counseling Psychology—we play a valuable role in increasing workforce diversification and supporting the advancement of students from underrepresented and marginalized groups. It's what we do--not only in the field of Counseling Psychology, but also School Psychology, Professional School Counseling, and a variety of career paths taken by our BS Psychology graduates.
With support from a National Institute of Neurological Disorders and Stroke (NINDS) grant*, the "TSU-NERVE" Program is providing Psychology and other majors mentorship and paid coursework and research experiences at Vanderbilt, Princeton and other universities, for the purpose of preparing TSU students for admission into PhD programs in Neuroscience. Here are thoughts from one of our TSU-NERVE students: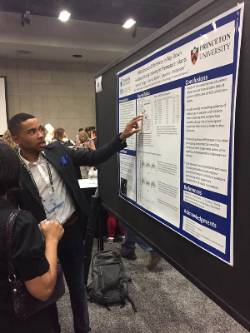 "The TSU Psychology Department has literally provided me with opportunities that I would have not received at any other HBCU. Their ability to provide research opportunities across the country, and their ability—with their diverse set of faculty—to build close relationships with their students, make their program one of kind."  -Romin Geiger, TSU Psychology Major c/o '17, Princeton summer research experience, TSU-NERVE Program participant.
In alignment with our HBCU status, our PhD Psychology Program's concentration in Counseling Psychology focuses on Social Justice and Diversity. We aim to diversify the field and be a leader in preparing culturally competent psychologists. Our Department is also a major supplier of both School Psychologists and Professional School Counselors to Metro Nashville Public Schools and other districts. 
Our important mission is costly and resources are limited.  Here is a taste of some of our expenses for which we could use your support:
                $5000 – to purchase psychological tests (e.g., MMPI-2) for training Psychologists
                $3750 – American Psychological Association (APA) accreditation fees (annual cost)
                $3000 – operating costs (e.g., replacing computers, purchasing printer ink)
                $1400 – annual renewal of software we use to manage research studies online
                  $75 – to print one student's research poster for conference presentation
Would you consider donating $100 to help us achieve our mission?
We thank you in advance for your support! Your donation is greatly appreciated and will be used to support student success. You can either DONATE HERE or call the TSU Foundation at 615-963-5481. 
Gifts by check should be made payable to Tennessee State University Foundation with "Psychology" in the memo section of the check. Check can be mailed to:  TSU Foundation, 3500 John A. Merritt Blvd., Campus Box 9542, Nashville, TN 37209. 
The TSU Foundation can process credit cards, record gifts, and help you receive tax credit as well as recognition for your gifts. Donations will go into the Psychology Department account within 24 hours. 
*Grant Number: 5R25NS091004-02, Project Title: Enhancing Neuroscience Diversity with the Tennessee State University-Neuroscience Education and Research Vanderbilt Experience: TSU-NERVE