Occupational Therapy

Helping Individuals Regain/Improve Skills
Note:  The TSU application timetable has changed Please see "Admissions, Retention, and Credentialing"  

Tennessee State University's OT program started in 1991. The program's educational goal is to train and prepare students to enter the clinical practice of Occupational Therapy. Successful completion of the program earns the student an MOT degree in Occupational Therapy and eligibility to sit for the National Board Certification Examination.  For more information, write: Department of Occupational Therapy, P.O. Box 9515, Tennessee State University, 3500 John A. Merritt Blvd., Nashville, TN 37209, or call (615) 963-5891, FAX:(615) 963-5956 or click here to send an e-mail. 
The TSU Occupational Therapy program is fully accredited by the Accreditation Council for Occupational Therapy Education (ACOTE) C/O American Occupational Therapy Association, 4720 Montgomery Lane, Suite 200, Bethesda, MD, 20814-3449  (301) 652-2682 ext 2914.  NBCOT Exam Data        Program Outcomes
NOTE:    Students can obtain their undergraduate degree in Health Sciences, here at TSU, and then enter the graduate program in Occupational Therapy.  For students who received their undergraduate degree from another university please click on "Admission Requirements". You can file your application while in the process of  completing your last three of the nine prerequisite courses.  However, these three courses must be completed by the beginning of the semester you enter the MOT program.  

Follow Us on Facebook


Location of the Occupational Therapy Department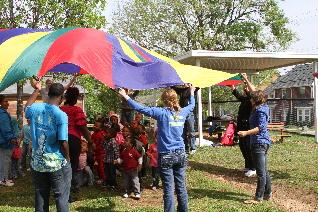 OT students performing a service learning activity at Grace M Eaton daycare.