Home >
> Research Projects
Research Projects
Building Research in the Learning Sciences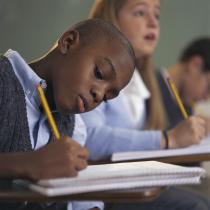 Since 1984, the Center has been an integral part of Tennessee State University's research contributions at the state and national levels. The Center aims to conduct research that addresses the needs and priorities of the educational community. The world today is more technologically complex and economically competitive which requires an approach to education that promotes the development of creative individuals who can develop new knowledge and continually further their own understanding.  
Learning Sciences focuses on student learning processes, instructional techniques, the creation of learning environments, and understanding the layers of knowledge that are essential for learners to improve their performance on cognitive tasks. The Center is committed to growth in the research in Learning Sciences by combining STEM education with experiential learning in the classroom. Our solid reputation is built on significant research, collaboration, and public service.
Recent Research Projects
A Study of the Scientific Epistemological Views of Undergraduate Students
Principal Investigators – Leigh S. Ariño de la Rubia, Ed.D. and John Mark Hunter, Ed.D. 

This research looks for potential correlation between student's view of science as a desired major and student's scientific epistemological views, or SEVs of STEM majors at HBCUs. In addition the study will investigate differences between student ethnic group classification and SEV in order to provide information about the diversity of epistemic thought in science classrooms and seeks to contribute to the evidence the students approach science differently based on their backgrounds. A pilot study has been completed using this instrument and design methodology and statistically significant differences in epistemologies of science were found between STEM majors/non-STEM majors, male/female students, and students of different ethnicities. The research is funded by an education research grant received from the National Science Foundation's Historically Black Colleges and Universities Program (HBCU-UP).
Astrobiology in the Secondary Classroom
Principal Investigator – Leigh S. Ariño de la Rubia, Ed.D.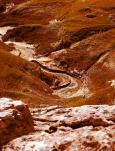 Astrobiology in the Secondary Classroom (ASC) was developed by university professors from the Minority Institution Astrobiology Collaborative (MIAC), classroom teachers, and through partnership with scientists from NASA Goddard. This research is a three-year exploratory study focused on the content, cultural significance, and recommendations for increasing scientific literacy among African American, Hispanic, and Native American students living in either urban communities or on tribal reservations. The study is currently in the analysis phase, but has completed the NASA review process to become a NASA education project beginning September of 2012.  This project is funded by the National Science Foundation, Division of Learning in Formal and Informal Settings.  
Targeted Infusion Project: Vertical Integration of Concepts, Laboratory Experiences and Research Training in Cyber Security
Principal Investigator – Dr. Tamara Rogers

This project is a joint initiative between the Tennessee State University Departments of Computer Science (CS) and Electrical and Computer Engineering (ECE). The project vertically integrates concepts, laboratory experiences and research training in cyber security across the undergraduate CS and ECE programs, thus enhancing the CS and ECE curricula and increasing research opportunities for undergraduate students. This project addresses the under-representation of African Americans in the cyber security workforce and in competitive cyber security graduate programs by training future system designers in cyber security technologies. Dr. Leigh S. Ariño de la Rubia is working as the external evaluator and educational researcher in the implementation of the grant. This project is funded through a Targeted Infusion Grant from the National Science Foundation. 
---
webpage contact:
Center of Excellence for Learning Sciences