Transfer Student Scholarships
Enhancing Your Ability to Further Your Education


The scholarships reflected on this page are available for interested applicants.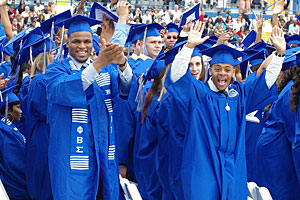 Community College Graduate Scholarship
The Tennessee State University (TSU) Community College Graduate Scholarship program is available to undergraduate students who transfer to TSU from one of the thirteen (13) Tennessee Board of Regents community colleges.  The criteria stated below outlines the minimum requirements for this award. For full academic year award consideration, students must apply by April 1st for fall admissions and November 1st for spring admissions. Consideration for awards is based on fund availability.
Minimum Requirements:
Graduation within the previous 12-month period from a TBR community college with an AA or AS degree.
3.00 minimum Community College grade point average.
Enrolled in a minimum of 15 credit hours each semester the scholarship is awarded.
For a one-year renewal, recipients must maintain a 3.0 cumulative GPA and be continuously enrolled full-time at TSU.
Award Benefit:
Up to $4,000 per year ($2,000 per semester), excluding summer and mini-sessions, for four consecutive semesters or two consecutive academic years. This scholarship will cover costs of tuition, mandatory fees and room/board not met by Pell, other federal grants, supplemental funds added to HOPE, TSAA programs or other scholarships.
Application Information:
Awards are competitive and the number of awards is based on available funds.
Completion of all application information is required for consideration.
The scholarship committee will accept a preliminary transcript in order to determine eligibility. However, the official transcript verifying eligibility and graduation must be received by the University before funds will be disbursed.
Students must apply for scholarship consideration prior to attending the University and prior to the application deadline .
Students must be fully admitted to the University by the application deadline.
To request an application contact Community College Initiatives. 
Application Deadlines:
April 1st for fall admissions 
November 1st for spring admissions 
Cumulative GPA                 Award per Academic Year          
3.76 - 4.00                                     $4,000                                                                  
3.50 - 3.75                                     $3,500                                                                  
3.0 - 3.49                                       $3,000                                                                  
-- back to top --
University & Foundation Scholarships
Details (Academic Works)


--  back to top  --
Scholarships By College
 --  back to top  --
Research Program
The MARC*U-STAR program provides research experience and financial support for 10 students from underrepresented groups who intend to pursue a Ph.D. degree in Biomedical Sciences (biology, chemistry, biochemistry, psychology, epidemiology). Students participate in the program for two years. Students must have 60 or more credit hours by the time they begin the MARC program (June 1 of each year) and a grade point of 3.0 or higher.
Students who participate in the program must also be able to participate in Academic Year Research (about 15 hours a week) and full-time summer research at another institution (i.e. any University that provides summer research opportunities) for a minimum of eight (8) weeks of the summer. Contact: Dr. Whalen, mwhalen@tnstate.edu.
 --  back to top  --
---