Mr. Heh Miao
Assistant Professor of Computer Science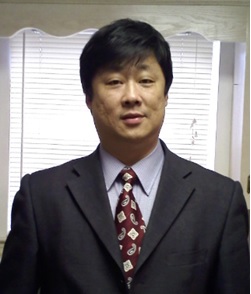 Department of Computer Science
Tennessee State University
3500 John A Merritt Blvd
Nashville, TN 37209
Office : McCord Hall 005C (Main Campus)
Email : hmiao[at]tnstate[dot]edu
Phone : (615) 963-1521
Homepage :
Areas of Interest
Wireless Sensor Network Modeling, Bioinformatics, Computer Simulation and Data Visualization, Cloud Computing.
Education
MS in Computer Science, University of Arkansas, 1997.
MS in Mathematics, University of Arkansas, 1995.
BS in Mathematics/Mechanics, Zhongshan University. China, 1982.
Teaching Interests/Courses Taught
Introduction to Computer Science, Programming I and II, Programming in VB.NET, Programming in C++, Event Driven Programming, Data Structures, Programming Languages, Advanced Programming in Java, Intro to Bio-Computing.
Grants
PI: 2009-2010 National Institutes of Health (NIH): Developing Bioinformatics Programs ($43,046.00).
Co-PI: 2010-2015 National Institutes of Health (NIH): Developing Interdisciplinary Bioinformatics Programs ($193,575.00).
Senior Personnel: Targeted Infusion Grant: Development of an Undergraduate Bioinformatics Program for Enhancing Research and Education at Tennessee State University, funded by National Science Foundation, ($300,000).
Technical Support: Cross-Layer Design of MAC and Routing Protocols with Adaptive and Cognitive MIMO Transceivers," U.S. Air Force (May.2007 – Aug. 2008).
Technical Support: Heterogeneous Cognitive MIMO Networks: From Spectral Efficiency to Global Optimization" U.S. Air Force (Oct.2008 – Sep. 2009).
Technical Support: Center of Excellence for Battle Field Sensor Fusion," Army Research Office (May. 2008 - Sep. 2009).
Computer Specialist: Tennessee Department of Transportation (TDOT), 2010-1011: Evaluation of Poor Access Management Practices Through Micro-simulations In Tennessee.
ICT Specialist: 2010-2013 Higher Education for Development (HED): Senegal Community Service Learning Partnership (SCSLP).
Selected Publications
Wei Chen, Heh Miao, Liang Hong "Cooperative Communication Approach Based Cross-layer Design for Wireless Sensor Networks with Multiple Optimizations", International Journal of Networking and Computing. ISSN 2185-2839, Volume I, PP. 63–81, January 2011
Wei Chen, Heh Miao, Liang Hong, Samuel Hargrove, "Market-Based Approach for Dynamic Resource Allocation In Virtualized Data Centers", Journal of the Tennessee Academy of Science, June 8, 2011.
Wei Chen, Samuel Hargrove, Heh Miao, Liang Hong, "Decentralized, Adaptive Approach for the Allocation of Multiple Resources in Virtualized Data Centers" Proceedings of WorldComp2011 International Conference, PDPTA 2011, Vol. II, pp207-213, July 18-21
Heh Miao, Dana Madison "Energy Efficient Data Gathering in Mobile Cloud Environment", Proceedings of International Academic Conference on Cloud Computing And Virtualization , CCV2010, ISBN: 978-981-08-5837-7, pp.133-140. May 17-18, 2010.
Wei Chen, Heh Miao, Liang Hong, Jim Savage, Husam Adas "Cross Layer Design of Heterogeneous Virtual MIMO Wireless Sensor Networks with Multi-Optimization", Proceedings of 12th APDCM in conjunction with 24th IEEE International Parallel and Distributed Processing Symposium, April 19-23, 2010.
---
webpage contact:
Computer Science