Home >
> Service Opportunities
Benefits of Service and Service-Learning
Service Opportunities
Enter to learn… ....Go forth to serve.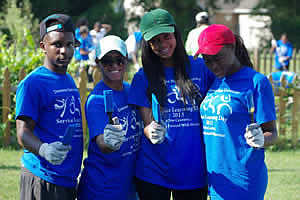 The TSU Center for Service Learning and Civic Engagement is open to all students of Tennessee State University.  We focus on getting students involved in the local community through volunteering (community service), service-learning classes, and other unique opportunities.  And - check out the many benefits to you, as a student, for participating in community service, service-learning, and/or civic engagement by clicking on Student Benefits! 
If you are interested in being a mentor, you may be interested in reviewing the Guide for Mentors.
We also collaborate with the TSU faculty to assist in developing service-learning classes and, with more than 200 Nashville nonprofit organizations, to develop volunteer and service-learning opportunities for our students!  Faculty are invited to access resources through the "Faculty Resources" tab.
Service-Learning Courses
Over 150 service-learning courses are taught each academic year, giving students the opportunity to apply classroom knowledge to everyday life. Our UNIV1000 Freshman Orientation: Service to Leadership, introduces freshmen to our local community by involving them in eight hours of service during the first semester.  Additionally, service-learning at TSU exists at all levels, in all disciplines, and makes a difference in the lives of our students as well as in our community!
SERVICE OPPORTUNITIES:
February 13th, Saturday - The Hot Chocolate Run 15K/5K Nashville Bicentennial Mall State Park - Volunteers needs from approximately 5:30 a.m.-11:30 a.m. on race morning.  Of course you may participate in the run if you wish!  The Hot Chocolate Run benefits an organization addressing domestic violence.  You may register through REGISTER TODAY! for individuals.
February 20 - J.U.M.P. North Nashville Community Clean-Up - 8:00 a.m. - 11 a.m.
1215 9th Avenue North, Nashville
You may sign-up to volunteer at www.Coca-ColaServiceYourCity.com
Should you want additional information, please either call J. U. M. P. at 615-726-5867 or email jumpnow@bellsouth.net.
Dental Hygiene Initiative - Earn up to 4 hours of service  right here on the main campus!  Call Ms. Irene Holt 615-963-5791 to schedule an appointment. A one time fee of $5.00 covers all of your appointments and services.  Bring your TSU ID!  You must complete treatment to earn service credit.  Do not wait until after mid-term to sign up as you may need several appointments.
Appointments are available as follows:
Monday       9:00 a.m. - 11:30 a.m. and 1:00 p.m. - 4:00 p.m.
Tuesday      1:00 p.m. - 3:45 p.m.
Wednesday  9:00 a.m. - 11:30 a.m. and 1:00 p.m. - 4:00 p.m.
Thursday     9:35 a.m. - 11:30 a.m. and 1:00 p.m. - 3:45 p.m.
Students Improve through Tutoring - Tutors needed for all subjects - Grade Levels K-12
Temple Church, 3810 Kings Lane, Nashville    -    Mondays and Thursdays - 5:30 p.m. to 7:30 p.m.
TRANSPORTATION and DINNER provided!
Tutors will be picked up on campus at 4:30 p.m. and returned to dorms by 7:45 p.m.
You are served dinner before tutoring sessions and may select the day or days to participate.  You will earn 2.5 service hours for each visit. 
Contact Mary Cotten, Coordinator at 615-969-4946 or email:  educationalenrichmenttemple@gmail.com.
St. Jude Rock "n" Roll Nashville
April 27, 28 & 29 - Health & Fitness Expo
Times volunteers are needed:
Wednesday April 27 1:00 p.m. - 4:00 p.m.
Crucial times Thursday April 28 11:00 a.m. to 3:30 p.m. and 2:30 p.m. to 7:00 p.m.
Friday April 29 9:00 a.m. to 2:30 p.m. and 1:30 p.m. to 7:30 p.m.
April 30 - Race Day
"Race Crew" volunteers are needed to assist with nearly every aspect of the event!
Start line, Finish line, and Water Stations!!!
Sign up to volunteer at http://www.runrocknroll.com/nashville/the-weekend/volunteer/

Here's what students have said about their service-learning experience .....
"More service-learning project components need to be implemented because it helps students face real world problems and gives them a sense of 'real time' job performance."
"This course was amazing, and has truly helped me make the connection between the theory that I learned in class and the experience that I had in the community setting. This was one of the best classes that I have taken this semester. I will continue to explore more about nonprofit service in the community."
"Projects that involve service-learning are an amazing way to think outside of a student's personal environment, think about how they can make a difference in someone's community, and actually give students the inspiration and initiative they need to  become a role model for the community."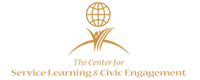 Gratitude of those served .....