Home >
> Service Opportunities
Benefits of Service and Service-Learning
Enter to learn… ....Go forth to serve.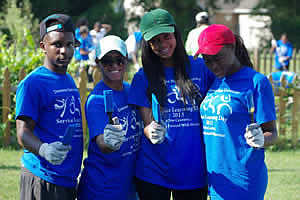 The TSU Center for Service Learning and Civic Engagement is open to all students of Tennessee State University.  We focus on getting students involved in the local community through volunteering (community service), service-learning classes, and other unique opportunities.  And - check out the many benefits to you, as a student, for participating in community service, service-learning, and/or civic engagement by clicking on Student Benefits! 
If you are interested in being a mentor, you may be interested in reviewing the Guide for Mentors.
We also collaborate with the TSU faculty to assist in developing service-learning classes and, with more than 200 Nashville nonprofit organizations, to develop volunteer and service-learning opportunities for our students!  Faculty are invited to access resources through the "Faculty Resources" tab.
Service-Learning Courses
Over 92 service-learning courses are taught each academic year, giving students the opportunity to apply classroom knowledge to everyday life. Our UNIV1000 Freshman Orientation: Service to Leadership, introduces freshmen to our local community by involving them in eight hours of service during the first semester.  Additionally, service-learning at TSU exists at all levels, in all disciplines, and makes a difference in the lives of our students as well as in our community!
Here's what students have said about their service-learning experience .....
"More service-learning project components need to be implemented because it helps students face real world problems and gives them a sense of 'real time' job performance."
"This course was amazing, and has truly helped me make the connection between the theory that I learned in class and the experience that I had in the community setting. This was one of the best classes that I have taken this semester. I will continue to explore more about nonprofit service in the community."
"Projects that involve service-learning are an amazing way to think outside of a student's personal environment, think about how they can make a difference in someone's community, and actually give students the inspiration and initiative they need to  become a role model for the community."