University Honors Program
"Maintaining Our Legacy of Excellence"
OVERVIEW
The University Honors Program (UHP) provides an especially rich and challenging set of academic offerings to talented and highly motivated students at Tennessee State University. Entering freshmen must have a high school cumulative grade point average (GPA) of 3.4 or higher, with an ACT score of 25 or a SAT score of 1130 (the sum of critical reading and math). Transfer or current freshman and sophomore students must have a cumulative GPA of 3.4 or higher. Interested students must complete an Application for Admission to the UHP. Through special courses, a vigorous intellectual community, and emphasis on undergraduate research, the Honors Program enables students to reach heights of excellence!
CURRICULUM
The Honors Program curriculum offers a wide range of challenging courses. We offer special seminars and courses that engage students in direct involvement with faculty from freshman to senior years. Students entering their freshman year are expected to elect 24 hours of their course work in Honors. A minimum of 18 hours of Honors course work is required for incoming sophomores; many do more.
To help students take the greatest advantage of the rich opportunities at TSU, our Honors advisors meet with them individually, beginning at Orientation and continuing throughout their college career.
COMMUNITY
The University Honors Office is located in Suite 119 of the Harold M. Love, Jr. Student Success Center. Here, students and staff come together for study, conversation, and a variety of intellectual and cultural events in truly beautiful surroundings. No single experience unites all Honors students, yet all are connected through a wide range of activities that enable students to choose what interests them.
HOUSING
Honors Program students are eligible to live in Hale Hall, a co-ed facility that is equipped with an an on-site laundry room,  barber/beauty salon, cable TV and Wi-Fi, and computer lab. Residents also enjoy a state-of-the-art lounge area for programmatic and recreational use.
Tennessee State University, in collaboration with Fisk University, is hosting the 24th Annual NAAAHP Conference!
The Audacity of Vision: Dare to Dream
Oct. 31 - Nov. 3 at Opryland Hotel!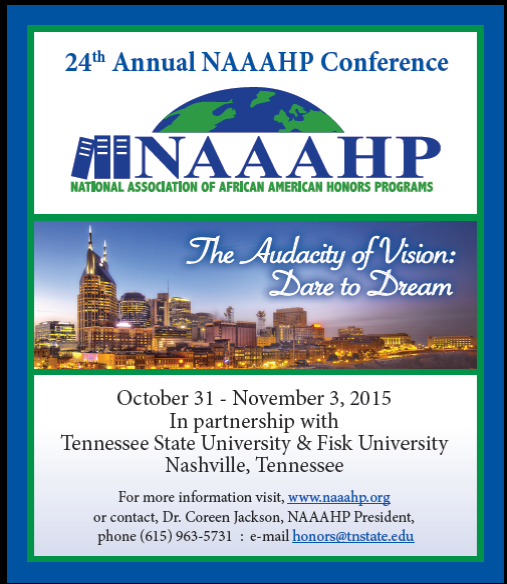 Submit your proposal, enter your team's competition, or register NOW! Visit www.naaahp.org for more information!
Read about Dr. Jackson's appointment to NAAAHP President!