Graduation Information
Graduation Information for Graduate Students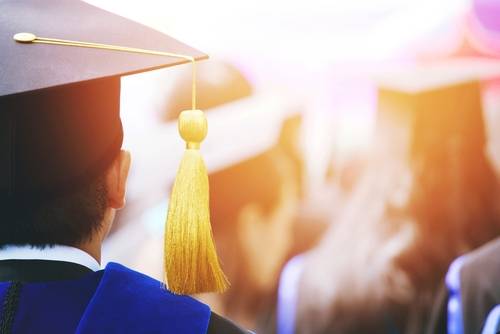 Graduation ceremonies are held in May and December. August graduates attend the December graduation ceremony. In order to participate in the Commencement Ceremony, you must be in compliance with your degree program.
Deadlines:
| | | |
| --- | --- | --- |
| Spring | Opens December 15th | Closes March15 |
| Summer | Opens May 15th | Closes July15 |
| Fall  | Opens August 15th | Closes October 15th |
Click here  to order Cap and Gown by March 19th for Spring Commencement.  
Note:
    If you graduated in the Summer (August), your name is on that list. Therefore, you do not need to submit another application.
FILING ELIGIBILITY RULES:
You must be enrolled in final courses. 
You must have a cumulative graduate GPA of 3.00 or better ("C's are not allowed in some programs)
The Program of Study must be on file in the School of Graduate & Professional Studies Department
You must be scheduled to complete comps or scheduled to defend thesis/dissertation, if your program requires it, the semester you are graduating
You must be fully admitted to a graduate degree and/or graduate certificate program before filing your graduation application.
Non-Degree Students are NOT eligible to file for graduation.
You must apply no later than the deadline
Students participating in  Commencement must have completed all requirements for the degree with no outstanding courses/credits to be completed beyond the academic semester. 
Contact your advisor concerning your degree program process.
Commencement Book Information:
In order for your information (hometown, previous degrees, etc.) to be added into the commencement program, you will need to click on the link and submit the information. You have possibly already sent some information to us, but we need our book to be consistent so that this event will be special for you.
The deadline to send this information is March 15th. Also, please complete the address information so that your diploma will be mailed to the correct address.
The commencement ceremony will be held on Friday, May 4, 2018 in the Howard Gentry Complex
Regardless of date of ceremony, all Degrees will have the conferred date of May 5, 2018
Congratulations on completing your degree!


---