Required Exams
Requirements for Acceptance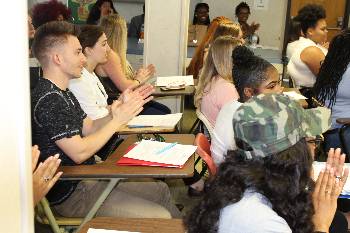 The following is a list of exams students are required to complete with a passing score prior to submitting their Dental Hygiene Application.
Any questions should be directed to the Dental Hygiene Faculty Advisers or the Office of the Department Chair .
ACT  -  Minimum Score of 19

SAT  -  Minimum Score of 910

TOEFL
DHAE / HESI  -  Minimum Score of 70%



**  DHAE / HESI Scores can only be used for a period of three (3) years after completion.  After that time, the test MUST BE RETAKEN. **

What is the ACT?

The ACT is a national college admissions examination that consists of subject area tests in:
English                       Mathematics                  Reading                       Science
The ACT Plus Writing includes the four subject area tests plus a 30-minute writing test.  ACT results are accepted by all four-year colleges and universities in the US. The ACT includes 215 multiple-choice questions and takes approximately 3 hours and 30 minutes to complete, including a short break (or just over four hours if you are taking the ACT Plus Writing). Actual testing time is 2 hours and 55 minutes (plus 30 minutes if you are taking the ACT Plus Writing).

The ACT is administered on several test dates within the US, US territories, Puerto Rico, and Canada.  The basic registration fee includes score reports for up to four college choices if you list valid codes when you register.  The ACT tests are prepared according to the:
Standards for Educational and Psychological Testing, American Educational Research Association, American Psychological Association, and National Council on Measurement in Education (1999).
Code of Professional Responsibilities in Educational Measurement, National Council on Measurement in Education (1995).
Code of Fair Testing Practices in Education, the Joint Committee on Testing Practices (2004).
A minimum score of 19 is required on the ACT for acceptance.
What is the SAT?
The SAT is a globally recognized college admission test that lets you show colleges what you know and how well you can apply that knowledge. It tests your knowledge of reading, writing, and math — subjects that are taught every day in high school classrooms. Most students take the SAT during their junior or senior year of high school, and almost all colleges and universities use the SAT to make admission decisions.
Taking the SAT is the first step to finding the right college for you — the place where you can further develop your skills and pursue your passions. But SAT scores are just one of many factors that colleges consider when making their admission decisions. High school grades are also very important. In fact, the combination of high school grades and SAT scores is the best predictor of your academic success in college.
The SAT doesn't test logic or abstract reasoning. It tests the skills you're learning in school: reading, writing, and math. Your knowledge and skills in these subjects are important for success in college and throughout your life.
The critical reading section includes reading passages and sentence completions.
The writing section includes a short essay and multiple-choice questions on identifying errors and improving grammar and usage.
The mathematics section includes questions on arithmetic operations, algebra, geometry, statistics, and probability.
A minimum score of 910 is required for acceptance.
What is The TOEFL® exam

Test Of English as a Foreign Language.   
The essential exam for entry to universities in the United States.
Who is it for?
The Test of English as a Foreign Language (TOEFL) measures the ability of non-native speakers of English to use and understand North American English as it is spoken, written and heard in college and university settings. Most people who take the TOEFL test are planning to study at colleges and universities where instruction is in English. In addition, many government agencies, scholarship programs, and licensing/certification agencies use TOEFL scores to evaluate English proficiency. This exam is for university classified international students.
Versions of the TOEFL® test
You can do the test on paper or on a computer, depending on where you live.  The test comes in two formats: paper-based test (PBT) and next-generation computer-based test (iBT).
The iBT is not yet available at every test center. If it is available at your local center then you will have to do it. If not you will do the PBT.  There is also an exam for younger students called TOEFL Junior.
Where do I take the test?
At a test center in your country. The test is organized by the Educational Testing Service. You can register for the TOEFL® iBT online.

How much does the TOEFL test cost to take?
Prices of the TOEFL iBT vary in each country ranging from $160 to $240.
The paper-based TOEFL is $160.
More Information & Registration
What is the DHAE? (The DHAE is a modified version of the HESI Exam)

The Dental Hygiene Assessment Exam (DHAE) is an admission requirement for all applicants to the Dental Hygiene programs. The (DHAE) is published by Evolve/Elsevier and is sometimes referred to as the HESI Entrance Test. All applicants are required to complete the DHAE prior to admission.
TSU Dental Hygiene Assessment Exam (DHAE)--required subtests:
Reading Comprehension
Vocabulary and General Knowledge
Biology 

Anatomy and Physiology 

Learning Style
Critical Thinking 

Individual parts of the Dental Hygiene Assessment Exam (DHAE) are not timed, however, the total test session is limited to three (3) hours and (45) minutes. Examinees are responsible for taking the correct parts of the DHAE and adhering to the admission requirements established by the programs and/or schools to which they are applying. 

For those students who may not be local, download the Distance Learning Information Sheet .
Download the DHAE/HESI Information Sheet
---