Dr. Dafeng Hui
Associate Professor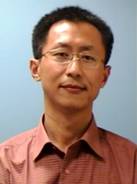 Director, NSF-URM Program
Department of Biological Sciences
College of Life & Physical Sciences
Contact Information:
Office Location: 320 Harned Hall
Telephone: 615-963-5777
FAX: 615-963-5786
Email: dhui@tnstate.edu
Faculty Website:  http://www.tnstate.edu/faculty/dhui?
Research Areas:
Plant ecology, Ecosystem ecology, Global change ecology, Environmental sciences, etc.
Publications:
Refereed journal Articles: 41
Books/Bulletins: 3

Most Significant Publications:
Moore, C.V., Dzantor, E.K., D. Hui.  2015.  Mycorrhizal Enhancement of Biomass Productivity of Big Bluestem and Switchgrass in Neutral and Acidic Substrate.  J. of Applied Biosciences 89: 8263-8271.  Published online at www.m.elewa.org; http//dx.doi.org/10.4314/jab.v89i1.2.
Hui D., H.Q. Tian, Y. Luo. 2011. Impacts of Climatic Changes on Biogeochemical Cycling in Terrestrial Ecosystems. Chen, W.-Y.; Seiner, J.; Suzuki, T.; Lackner, M. (Eds.) Handbook of Climate Change Mitigation.
Shen, W., J.F. Reynolds,  D.  Hui. 2009. Responses of dryland soil respiration and soil carbon pool size to abrupt versus gradual and individual versus combined changes in soil temperature, precipitation, and atmospheric [CO2]: a simulation analysis. Global Change Biology 15: 2274 - 2294. 
Hui, D., and R.B. Jackson. 2009. Assessing interactive responses in litter decomposition in mixed species litter. Plant and Soil 314, 263-271 (evaluated by Faculty of 1000 Biology).
Hui, D., R.B. Jackson. 2007. Uncertainty in allometric exponent estimation: a case study in scaling metabolic rate with body mass. Journal of Theoretical Biology doi:10.1016/j.jtbi.2007.07.003.
Luo, Y., D. Hui, D. Zhang. 2006. Carbon dioxide stimulates net ecosystem carbon and nitrogen accumulations. Ecology 87, 53-63.
Hui, D., R.B. Jackson. 2006. Geographic and interannual variability in biomass partitioning in grassland ecosystems: a synthesis of field data. New Phytologist 169, 85-93.
Hui, D., Y. Luo,and G. Katul. 2003. Partitioning interannual variability in net ecosystem exchange into climatic variability and functional change. Tree Physiology, 23:433-442.
Luo, Y., S. Wan, D. Hui, L. Wallace. 2001. Acclimatization of soil respiration to warming in a tall grass prairie. Nature 413: 622-625. 
Hui, D., C. Jiang, 1996, Practical SAS Usage, Beijing University of Aeronautics & Astronautics Press, Beijing, China.
Teaching:
BIOL 4120 – Principles of Ecology
Education:
M.Sc (Ag). – Yangzhou University, China
Ph.D. – University of Oklahoma, Norman, OK
Date joined staff:  2007
Click here for full Resume of Dr. Hui
---
webpage contact:
Biology