Air Force ROTC
Developing Citizens of Character, Dedicated to Service
Welcome to Detachment 790!
Our mission, like all Air Force ROTC units, is to Develop the best Air Force leaders and citizens of character, dedicated to serving in the United States Air Force!
It takes something unique to succeed in Air Force ROTC. It takes dedication. Drive. Discipline. Do you have what it takes? View requirements...

---
The Airman's Creed
I am an American Airman.
I am a warrior.
I have answered my nation's call.
I am an American Airman.
My mission is to fly, fight, and win.
I am faithful to a proud heritage,
a tradition of honor,
and a legacy of valor.
I am an American Airman,
guardian of freedom and justice,
my nation's sword and shield,
its sentry and avenger.
I defend my country with my life.
I am an American Airman:
wingman, leader, warrior.
I will never leave an Airman behind,
I will never falter,
and I will not fail.
---
We are the United States Air Force.  Our creed, the Airman's Creed, is near and dear to all who wear the blue uniform.  It tells who we are, what we do, and why we do it.  If you are considering joining the Air Force, think about what the Airman's Creed says...

Are you up to the challenge?

Email gsmith27@tnstate.edu
Please read this Privacy and Security Notice

 
---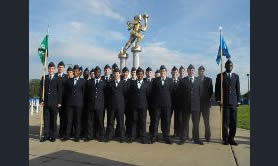 View more pics
---
What's It Like in AFROTC?