Air Force ROTC
Developing Citizens of Character, Dedicated to Service
Welcome to Detachment 790!
Our mission, like all Air Force ROTC units, is to develop leaders of character for tomorrow's Air Force and Space Force!
Detachment 790 is located in Nashville, Tennessee at historic Tennessee State University.
The State of Tennessee Historical Commission established a historical marker at Tennessee State University to document the roots of Reserve Officer Training at the university. Since its founding in 1919, the unit has evolved into a diversity rich organization whose members are dedicated to being military officers. In February of 1951, the United States Air Force established a Senior Reserve Officer Training Corps detachment at the university under the instruction of two of the first Tuskegee Airman, Colonel Howard Baugh and Lt Col Hannibal Cox. The purpose of the program was to recruit and train Air Force officers, and expand the community of black aviators.
| | |
| --- | --- |
| | |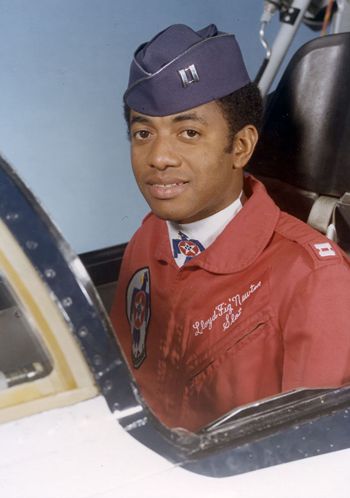 In January 1993, the Air Force Detachment moved its operations from the Hale Field House to the north end of the Floyd Payne Campus center. A predominant feature in front of the entrance to the AFROTC unit is the USAF T-38 Talon static display. This fighter aircraft has the name of the highest ranking officer to graduate from the detachment, General Lloyd W. "Fig" Newton, emblazoned below the cockpit. He began his career in the T-38 and flew over 4k hours in the F-4 PHANTOM. Most notably, Gen Newton was the first African-American selected to fly in the world-famous United States Air Force Thunderbirds. Gen Newton achieved the rank of four-star general and commanded the USAF Air Education Training Command before his retirement in 2000.
The Department of Aerospace Studies is administratively placed under the Vice President for Academic Affairs.
The unit is supported by the current Commander, Lt Col Nick D. Callaway; Assistant Professors of Aerospace Studies, Capt Christan White and Capt Kellie Miller; NCOIC, Personnel, TSgt Brandon Robinson; as well as NCOIC, Administration Management SSgt Keshawn Lipscomb. The cadet wing gathers its members from Tennessee State University, as well as students from Austin Peay State University, Belmont University, David Lipscomb University, Fisk University, Middle Tennessee State University, Nashville State Technical College, Tennessee Technological University, Vanderbilt University, Volunteer State Community College, Western Kentucky University and Columbia State Community College.
Air Force ROTC is a program structured like a college course that focuses on developing leaders. ROTC courses are considered electives for which a student receives academic credit. Air Force ROTC's program is structured to foster the work ethic and principles that will help students not only succeed in school but also prepare them for life as exceptional citizens and members of the U.S. Air Force.
Do You Have What It Takes?
It takes something unique to succeed in Air Force ROTC. It takes dedication. Drive. Discipline. Do you have what it takes? View requirements...

---
The Airman's Creed
I am an American Airman.
I am a warrior.
I have answered my nation's call.
I am an American Airman.
My mission is to fly, fight, and win.
I am faithful to a proud heritage,
a tradition of honor,
and a legacy of valor.
I am an American Airman,
guardian of freedom and justice,
my nation's sword and shield,
its sentry and avenger.
I defend my country with my life.
I am an American Airman:
wingman, leader, warrior.
I will never leave an Airman behind,
I will never falter,
and I will not fail.
Helpful Links/Information
---
We are the United States Air Force.  Our creed, the Airman's Creed, is near and dear to all who wear the blue uniform.  It tells who we are, what we do, and why we do it.  If you are considering joining the Air Force, think about what the Airman's Creed says...

Are you up to the challenge?

Email  AFROTC@tnstate.edu 
Office Phone: 615-963-5931
Please read this Privacy and Security Notice
Information Access Policy & Compliance Branch

 

All information Current as of 4 March 2020 
---