Home >
> General Education
General Education Core
Preparing the Student for the Junior Year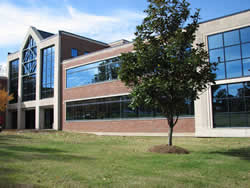 The General Education Core is a series of freshman and sophomore courses that prepare students for work in the major at the junior and senior level (the "upper division"). Upon completion of the General Education Core, students take the Rising Junior Examination, which tests their freshman and sophomore learning, and apply for admission to the upper division.

Students take a range of courses in the following areas:
Communications (9 hours)
Humanities and/or Fine Arts (9 hours)
Natural Sciences (8 hours)
History (6 hours)
Social and Behavioral Sciences (6 hours)
Mathematics (3 hours)
For more information on the General Education Core at TSU, see Learning Outcomes and Courses. Faculty can download forms relating to General Education at Faculty Resources.
---
webpage contact:
Academic Affairs