Commencement
Details for Planning
 

 Summer Degree Completion

Since Summer 2012 no commencement ceremony has been held in August. However, students who are cleared for graduation will have a degree conferred date of August 12, 2017. August graduates needing transcripts with their degree(s) posted can start requesting transcripts on August 25, 2017. Diplomas will be mailed September 8, 2017.

Additionally, students completing degree requirements in August may participate in the December Commencement Ceremony.

 

 
Student Details
Spring  2017 Graduation
All Diplomas for Spring have been mailed.
---
Fall 2017 Graduation
December 9, 2017
Saturday, December 9, 2017
9:00 a.m. Gentry Center
---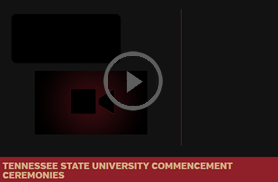 TSU's Undergraduate Commencement Service may be viewed LIVE via the above player on the day of the event.