Commencement
Details for Planning
 

Spring 2017 Commencement

 

Graduate Students

May 5, 2017 - 5:00 p.m.

Gentry Complex

 

Undergraduate Students




May 6, 2017 - 8:00 a.m.

Hale Stadium

 

 
Student Details
Spring  2017 Graduation
Cap & Gowns can be picked up starting May 1, 2017. The University Bookstore will be closed Saturday, May 6, 2017.
Graduate Students (Receiving a Masters, Specialist or Doctoral Degree).
Undergraduate Students (Receiving an Associate or Bachelors Degree).
---
Spring 2017 Diploma Pick-up Locations:
Degrees may be picked up immediately following each ceremony:
Gentry Center Complex, Room 223 (Graduate Students)
Kean Hall Gymnasium (Undergraduate Students)
---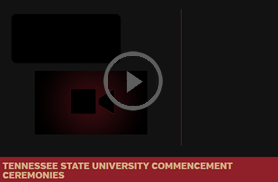 TSU's Undergraduate Commencement Service may be viewed LIVE via the above player on the day of the event.