Commencement
Posting of Degrees and Mailing of Diplomas
All Undergraduate level degrees will be mailed certified beginning June 1, 2016 to the address you have provided on your graduation application unless you requested otherwise before June 1, 2016. USPS tracking information will be available June 6, 2016 by e-mailing the Records Office at records@tnstate.edu. Include your T number on all e-mails to the Records Office.
All Graduate level degrees can be picked up starting June 2, 2016 until June 8, 2016 from the Graduate School at the Avon Williams Campus. Any diplomas not picked up by June 8, 2016 will be mailed. You can contact the Graduate School by e-mailing gradschool@tnstate.edu.
---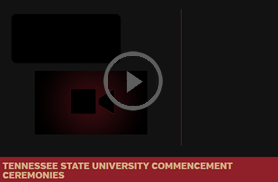 TSU's Spring 2016 Undergraduate Commencement Service may be viewed via the player above.