Commencement
Details for Planning
Student Details
Fall 2016 Graduation
Cap and Gowns can be picked up starting Tuesday, December 6, 2016 at 8:00 a.m.
Name Card Distribution is December 9, 2016 from 2:00p until 4:30p in the Gentry Center Track Level.
Graduation Rehearsal is December 9, 2016 at 5:00p in the Gentry Center.
** Prominent Civil Rights Attorney Benjamin Crump to Speak at TSU's Fall Commencement
---
Spring 2017
The online application opens on Monday, December 19, 2016.
Student's applying for graduation must complete all requirements by May 6, 2017 and take Early Exams April 24-26, 2017.
Students participating in May 2017 Commencement must have completed all requirements for the degree with no outstanding courses/credits to be completed beyond the Spring 2017 academic semester. 
---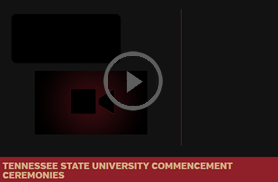 TSU's Spring 2016 Undergraduate Commencement Service may be viewed via the player above.