Commencement
Details for Planning
 

Spring 2017 Commencement

   May 5, 2017 - 5:00 p.m.

(Graduate Level Students)  Gentry Complex

May 6, 2017 - 8:00 a.m.

(Undergraduate  Students) Hale Stadium

 

  

 

 

 
Student Details
Spring  2017 Graduation
Jostens will be on campus March 27 from 10:00a. until 6:00p. in the Women's Building and March 28 from 10:00a. until 4:00p. in the Women's Building. Order you Cap & Gown and invitations. 
Graduate Students (Receiving a Masters, Specialist or Doctoral Degree).
Undergraduate Students (Receiving an Associate or Bachelors Degree).
** Speaker to be announced **
---
Spring 2017 Diploma Pick-up Locations:
Degrees may be picked up immediately following each ceremony:
Gentry Center Complex, Room 223 (Graduate students)
Hale Stadium, Ticket Booth, John A. Merritt Blvd.
---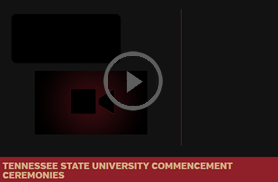 TSU's Spring 2016 Undergraduate Commencement Service may be viewed via the player above.