News
CARES Current Events & News
College of Public Service and Urban Affairs leads Footprint Collaborative through C.A.R.E.S. 
- Read about the TSU Footprint Collaborative, announced at a press conference (shown) December 4, 2014.  This is an exciting new relationship and commitment for the University, CPSUA students, faculty and our neighbors in the community: "In an agreement signed Thursday between TSU and the neighborhood groups, the University, through its Center on Aging Research and Education Services in the College of Public Service and Urban Affairs, will develop lifelong learning programs that include classes on civic education and duties, oral history, technology and community gardening" (from the press release).
http://tnstatenewsroom.com/archives/16583?utm_source=feedburner&utm_medium=feed&utm_campaign=Feed%3A+TennesseeStateUniversityNewsroom+(Tennessee+State+University+Newsroom)
College of Public Service and Urban Affairs 
CALL FOR PAPERS
The Center on Aging Research and Education Services (CARES) at Tennessee State University along with the Department of Human Services (DHS) Adult Protective Services (APS) Program presents the CARES annual conference. The conference will be held May 27th-28th, 2015, at the Tennessee State University's Avon Williams Campus in downtown Nashville.   
TSU CARES Annual Conference
"Bridging the Gap Between Resources and Services for Vulnerable Populations"
Nashville, TN
 May 27- 28, 2015
The Center on Aging Research and Education Services (CARES) Conference will be hosted by Tennessee State University's College of Public Service and Urban Affairs and the Department of Human Services Adult Protective Services Program on May 27-28 in Nashville, TN. The Annual CARES conferences are focused on understanding and addressing the needs of vulnerable populations (i.e. disabled, aging, cognitively impaired, etc.) through community outreach and preventative activities to improve the quality of life, safety, and well-being for vulnerable and aging communities. The Program Chair for the 2015 meeting is Dr. Nia Cantey from Tennessee State University. All submissions should be submitted via the  online submission form.
Faculty members, researchers, practitioners and graduate/undergraduate students are strongly encouraged to participate at the meeting. The theme of the 2015 Annual Meeting is Bridging the gap between resources and services for Vulnerable Populations. We are asking for abstracts of up to 300 words to be submitted by January 15, 2015. All submissions should be submitted via https://tnstateu.az1.qualtrics.com/SE/?SID=SV_8o8NjE5ecniOP7n  
The conference is inter-disciplinary and papers should address promoting awareness, creating access to, and educating vulnerable populations. These include (but are not limited to):
Assessing Vulnerability: Climate Change and Older Adults

Staying Connected: Technology and Older Adults

Safety and Protection of Vulnerable Adults: Legal Services and/or Medication Management

Food Deserts and Healthy Living

Social and Economic Outlook: Rural Communities and Health Care Access
TSU-15-0058(A)15-13113- Tennessee State University is an AA/EEO employer.
 RESEARCH & COMMUNITY-BASED INITIATIVES
On Saturday, 16 November 2013, the College of Public Service and Urban Affairs' Center on Aging conducted a focus group to ascertain community needs with the goal of developing a lifelong learning program for older citizens.  Faculty and students from the Social Work Program conducted the focus group which included sixteen 55-77 year old residents from surrounding neighborhoods, including long-time Nashville community leader, Inez Crutchfield.   This project originated from a meeting between President Baskin-Glover, Dean Michael Harris, Dr. Nia Cantey and representatives from local neighborhood associations on the University's community engagement efforts in which Dr. Glover appointed Dr. Harris to lead the effort between this group of community partners and the Center on Aging.  Dr. Nia Cantey, Director of the Center on Aging, conducted the focus group and is currently organizing results.  One outcome of the focus group is a workshop in partnership with Tennessee Primary Care Association for older adults on the Affordable Care Act, tentatively scheduled for Saturday, 7 December 2013, 11:00am-2:00pm, in Elliott Hall.
UAB GERIATRIC EDUCATION CENTER FACULTY SCHOLARS PROGRAM 2013-2014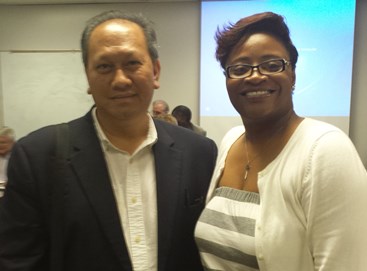 Drs. Ronald Barredo, Department Head of Physical Therapy and Nia Cantey attended the 2013-2014 UAB Geriatric Education Center Faculty Scholars Program Orientation in Birmingham, Alabama.  The Faculty Scholars Program is a 1 year program which provides training necessary to incorporate culturally and linguistically sensitive geriatric principles into the scholar's coursework and clinical programs. 
Program Key Points:
Recognize and manage geriatric syndromes associated with advanced illness or frailty
Utilize behavioral interventions and pharmacology treatments to minimize disabling symptoms
Arrange care so that older adults facing advanced illness will be able to participate in treatment preferences and experience optimal quality life
Develop a patient-centered plan of care that is characterized by integrated clinical environment and proactive delivery of evidence-based care and follow up (adopted from Faculty Scholars Program Overview)
____________________________________________________________
---
webpage contact:
sociology social work and urban professions