Dr. Xiaofei Wang
Professsor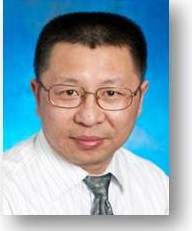 Department of Biological Sciences
College of Life & Physical Sciences
Contact information:
Office: 308 Harned Hall
Telephone: 615-963-2541
Fax: 615-963-5747
Email: xwang@tnstate.edu
Research Areas:
Endocrinology, Genomics, Adipocytes Development, Circadian Rhythms
Publications:
Refereed journal articles:  21
Book chapters: 2
Research abstracts (latest) 23
Conference Presentations and Invited Lectures (latest) 24
Most significant publications:
Wang X., Nahashon S., Feaster T. K., Bohannon-Stewart A., and Adefope N., 2010. An initial map of chromosomal segmental copy number variations in the chicken. BMC Genomics 11:351
Wang X., Newkirk R. F., Carre W., Ghose P., Igobudia B., Townsel J. G., Cogburn L. A., 2009. Regulation of ANKRD9 expression by lipid metabolic perturbations. BMB Reports 42: 568-573
Wang X., Carre W., Saxton A. M., Cogburn L. A., 2007. Manipulation of thyroid status and/or GH injection alters hepatic gene expression in the juvenile chicken. Cytogenet Genom Res 117:174-188.
Carre, W., Wang X., Porter T. E., Nys Y., Tang J., Bernberg E., Morgan R., Burnside J., Aggrey S. E., Simon J. and Cogburn L. A., 2006. Chicken genomic resources: sequencing and annotation of 37,557 ESTs from single and multiple Tissue cDNA libraries and CAP3 assembly of a chicken gene index. Physiol Genom 25:514-24.
Wang, X ., Carre W., Zhou H., Lamont S. J. and Cogburn L. A., 2004. Duplicated Spot 14 Genes in the Chicken: Characterization and identification of polymorphisms associated with abdominal fat deposition. Gene 332:79-88. 
Cogburn, L.A., Wang X. , Carre W., Rejto L., Porter T. E., Aggrey S. E. and Simon J., 2003. Systems-wide chicken DNA microarrays, gene expression profiling and discovery of functional genes. Poult Sci 82: 939-951. 
Teaching:
BIOL-2120               Principles of Genetics
BIOL-3112               Introduction to Bioinformatics
BIOL-3113               Introduction to Bioinformatics Laboratory
BIOL-5110               Research in Biology
BIOL-6110               Individual Research
BIOL-6150               Genomics
Education:
B. Sc. Sichuan University
M. Sc. Sichuan University
Ph.D. University of Hong Kong
Date Joined Staff: 2004
Click here for full Resume of Dr. Wang
---
webpage contact:
Biology