Dr. Terrance L. Johnson
Professor, Chair and TSU Research Integrity Officer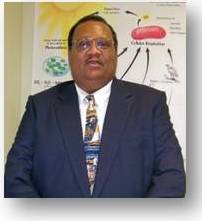 Department of Biological Sciences
College of Life & Physical Sciences
Contact Information:
Office Location: 110 McCord Hall
Telephone: 615-963-5748
FAX: 615-963-5749
Email: tjohnson@tnstate.edu
Research Areas:
Microbial Physiology, Genetics and Ecology
Publications:
Refereed journal Articles 13
Research abstracts 32
Conference Presentations and Invited Lectures 22
Most Significant Publications:
Amara, S., Lopez, K., Banan, B., Brown, S-K., Whalen, M., Myles, E., Ivy, M.T. , Johnson, T., Schey, K.L., and V. Tiriveedhi. 2015. Synergistic effect of pro-inflammatory TNFa and IL-17 in periostin mediated collagen deposition:  Potential role in liver fibrosis.  Molec. Immunol.  64:  26-35.
Mehta, T., Vercruysse, K., Johnson, T., Ejiofor, A.O., Myles, E., and Q.A. Quick.  2015. Violacein induces p44/42 mitogen-activated protein kinase-mediated solid tumor cell death and inhibits tumor cell migration.  Mol. Med. Rep.  12(1): 1443-8. E. pub 2015 Mar 20.

Platt, Derek, Amara, S.,  Mehta, T., Vercuyssee, K., Myles, E.L., Johnson, T., and V. Tiriveedhi.  2014.  Violacein inhibits matrix metalloproteinase mediated CXCR4 expression: Potential anti-tumor effect in cancer invasion and metastasis.  Biochemical and Biophysical Research Communications (Impact Factor: 2.28). 10/2014; DOI: 10.1016/j.bbrc.2014.10.124
Solaiman, D. K. Y., Somkuti, G. A., Johnson, T. L. and Steinberg, D. H. 1991. Transfer and expression of a Streptomyces cholesterol oxidase gene in Streptococcus thermophilus. Biotechnol. and Appl. Biochem. 13:238-245. Awarded "Best Manuscript" by the USDA ARS NAA July 1991.
Johnson, T. L. and Somkuti, G. A. 1991. Isolation of the cholesterol oxidases from Rhodococcus equi ATCC 33706. Biotechnol. and Appl. Biochem. 13:194-204. Awarded Certificate of Merit for Superior Performance by the USDA ARS December 1989.
Teaching:
BIOL 7410 Advanced Microbiology
BIOL 7170 Selected Topics in Molecular Genetics
BIOL 5400 Microbial Genetics
BIOL 5100 Literature and Methods of Research
BIOL 4400 Pathogenic Microorganisms
BIOL 3410 General Microbiology
BIOL 3400 Introduction to Microbial Physiology
Recent Honors, Awards and Service Activities:
May 20, 2003 – Recognition of Outstanding Service as Chairperson of the Committee on Minority Education July 1, 2000 to June 30, 2003 by the American Society for Microbiology at the 103rd General Meeting, Washington, DC.
April 30, 2008 – Recognition for 15 years of service to TSU as Chair of the Department of Biological Sciences
June 11-13, 2008 – Appointed as member of the Division of Molecular and Cellular Biosciences, Directorate for Biological Sciences, National Science Foundation, Committee of Visitors. (Purpose: The National Science Foundation has a long-standing practice of reviewing all programs on a three-year cycle. The review is performed by a Committee of Visitors (COV), which serves as a subcommittee of the Advisory Committee for the Directorate for Biological Sciences. The COV members form an independent group of external experts. NSF uses COVs to assess the review process as well as the scientific portfolio.)
November 3-4, 2008 – appointed as member of the NSF Advisory Panel for the Research Experiences for Undergraduates FY09 Panel 1
March 2009-2011 – appointed as member Ford Foundation Diversity Program Science Panel Review and served on the Ecology and Environmental Science Panel
Education:
B.S. (Biology and Chemistry) – Texas A&M University at Commerce
M.S. (Microbiology and Biochemistry) – Texas A&M University at Commerce
Ph.D. (Microbiology) – University of North Texas
Date joined staff:  1992
Click here for full Resume of Dr. Johnson  
---
webpage contact:
Professor,Tennessee, state, university, nashville, tn, university, universities, college, colleges, public, school, hbcu, southeast, tennessee state university, tsu, nashville, tennessee, state, public, TN, hbcu, black, international, program, tennessee state, nashville, state, public, african-american, tennessee, tennesee, tennesse, microbiology, chair, biology, biological