Home >
> Nontraditional Student Information Portal
Nontraditional Student Information Portal
The Nontraditional Student Information Portal is a great place to learn about upcoming events held at TSU's Downtown Campus, the Avon Williams Campus! If you've been out of school for a while, or maybe never attended college after high school...TSU can assist you in making a successful transition into college life. Maybe you're just looking for career guidance before you enroll in a degree program...whatever your situation or circumstance the Office of Student Support Services for Adult and Distance Learners.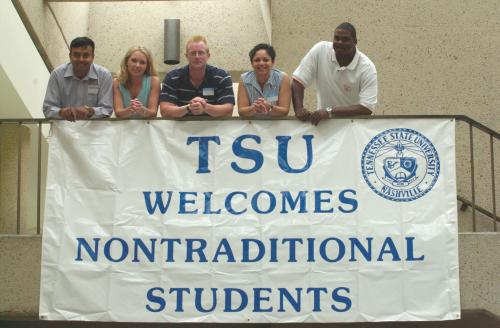 ---
Step-By-Step Guide to Registration on the AWC
---
On Registration Day at the Avon Williams Campus you will...
Step 1. Students report to schools and colleges for academic advisement.
Step 2. Proceed to Course Entry.
Step 3. Check Financial Aid.
Step 4. Payment of Fees.
Step 5. Obtain ID Card (for New cards or Replacement cards)
Step 6. Pick up Parking Decal (new students may experience a slight delay)


---
Pre-Registration Checklist
---
Before you come to register, check:
Your admission status

Your health and immunization records

My TSU for any holds

Your financial Aid status or payment arrangements

That you have your drivers' license and auto registration information, if you are in need handicapped driver's access, bring your tag.
---
Need help choosing a Degree Program?
---
If you've been out of school for a while? or Maybe you have never attended college after high school...
We CAN HELP you make a successful transition to college life!
Need academic guidance BEFORE you enroll in a degree program?
Counselors are available during normal business hours and extended hours for your convenience. In this office you will be able to discuss your career goals and decide on the best program for you. Contact us for details at (615) 963-7001.


---
Other Helpful Information for Nontraditional Students
---
TSU offers a wide variety of programs for adult students. Follow the links below more information:
Health Insurance- TSU offers health insurance benefits to its students

Health Care Services- The Queen Washington Health Center located on the main campus is available to all TSU students

Veteran Affairs- Provides assistance to former member's of our nation's armed forces

Child Care Services- TSU offers on-campus child care services at no additional charge

TSU Meter- Campus Newspaper

TSU TV- Tennessee State University's Student Television Resource
---
How YOU Can Get Ready for Success!
---
Have some great ideas for our portal? We want to hear about them, contact us:
Office of Student Support Services for Adult and Distance Learners
Phone: (615) 963-7001  Fax: (615) 963-7007
Office Hours: Mon-Thurs, 8:00 am to 7:00 pm
Fri, 8:00 am to 6:00 pm
Sat, 9:00 am to 12 noon
or send an email to adultstudentsupport@tnstate.edu
---
webpage contact:
Academic Affairs