All About TSU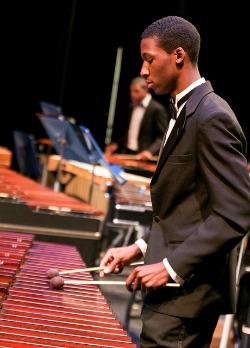 THE UNIVERSITY
Comprehensive, urban, coeducational, land-grant university offering undergraduate, graduate, and doctoral degrees; founded in 1912 after its organization in 1909 as the Agricultural and Industrial State Normal School; became four-year teachers' college in 1922; elevated to full land-grant university in 1958; absorbed University of Tennessee at Nashville in 1979
LOCATION
Nashville, Tennessee: state capital and second-largest city in the state, population 600,000; known as "Music City USA" and "The Athens of the South"; center of government, banking, insurance, publishing, healthcare, transportation, art, culture, and education; beautiful main campus sits on 500 acres near the Cumberland River in a residential neighborhood just 10 minutes northwest of downtown; Avon Williams Campus, in the heart of the city, is within easy walking distance of central business and government district
ACADEMIC PROGRAMS
77 majors in eight undergraduate and graduate colleges and schools; arts and sciences; business; education; engineering, technology, and computer science; health sciences; public service and urban affairs; agriculture and consumer sciences; nursing; Tennessee State University graduates the highest number of African American bachelor degree holders in agriculture, agriculture operations, and agriculture-related sciences; University's sponsored research budget exceeds $32 million
DEGREES
Undergraduate: Bachelor of Arts; Bachelor of Science; Bachelor of Business Administration; Bachelor of Interdisciplinary Studies; Bachelor of Professional Studies; Bachelor of Science in Nursing; Associate in Applied Science; Teacher Certification

Graduate: Master of Arts; Master of Science; Master of Business Administration; Master of Criminal Justice; Master of Education; Master of Engineering; Master of Public Administration; Master of Science in Nursing; Master of Social Work; Certificate in Health Administration and Planning; Certificate in Nonprofit Management; Specialist in Education; MPS, Masters of Professional Studies; Certificate in Public Administration Executive Leadership; Certificate in Public Policy
Doctoral: Doctor of Education, Doctor of Philosophy, Doctor of Physical Therapy, Ph.D. in Public Administration

ENROLLMENT
Fall 2014 semester enrollment:  7,073 undergraduate and 1,954 graduate students

FACULTY
405 full-time academic faculty; 72.7% of faculty have terminal degrees; undergraduate student-faculty ratio: 17 to 1

ATHLETICS
NCAA Division I Ohio Valley Conference; men's basketball, football (Division I-AA), golf, tennis, track and field; women's basketball, softball, tennis, golf, volleyball, track and field


CAMPUS COMMUNITY
More than 100 student clubs, organizations, club sports and intramural teams; service learning; Student Government association; NPHC fraternities and sororities; Floyd-Payne Campus Center with cafeteria and cafés, bookstore, Kean Hall athletic areas, climbing wall, Wellness Center, student organization offices, meeting rooms and study lounges, 350-seat auditorium; Gentry Center health, physical education, athletic, and convocation complex with 10,000 seat arena, stadium, indoor and outdoor tracks, Olympic-size indoor pool, baseball and softball diamonds, courts for basketball, handball, tennis; academic support services; peer tutors; honors program; Career Development Center; Women's Center; Leadership TSU; Goodwill Manor alumni house; Brown/Daniel Library with more than 420,000 books, 1,500 microforms, 1,775 periodicals, numerous online databases; vocal and instrumental music, performing arts, Hiram Van Gordon Memorial Gallery, exhibitions, lectures, film and concert series; annual African Street Festival open to the community
ACCREDITATION

Tennessee State University is accredited by the Southern Association of Colleges and Schools Commission on Colleges to award the Associate, Bachelor's, Master's, Specialist in Education, and Doctoral degrees. Contact the Commission on Colleges at 1866 Southern Lane,  Decatur, Georgia 30033-4097 or call 404-679-4500 for questions about the accreditation of Tennessee State University.

Tennessee State University has received national program recognition or approval from the following associations:
Accreditation Board for Engineering and Technology

Accreditation Council for Occupational Therapy Education

Accreditation in Physical Therapy Education

Accreditation of Allied Health Education Programs

American

Chemical

Society

American Psychological Association (APA)

Association of University Programs in Health Administration

Association to Advance Collegiate Schools of Business (AACSB)

Commission on Accreditation of Allied Health Education Programs in collaboration with the Council on Education of the American Health Information Management Association

Commission on Dental Accreditation

Council for Accreditation of the American Association of Family and Consumer Sciences

Council of Academic Accreditation of the American Speech-Language-Hearing Association

Council on Social Work Education

National Accrediting Agency for Clinical Laboratory Sciences

National Association of Industrial Technology

National Association of Schools of Art & Design

National Association of Schools of Music

National Council for Accreditation of Teacher Education (NCATE)

National League for Nursing Accreditation Commission

National Association of Schools of Public Affairs and Administration (NASPAA)

. 
---