BlueNotes | Spring 2016
Tennessee State University's Dental Hygiene Clinic is helping to provide needed care in the Nashville community.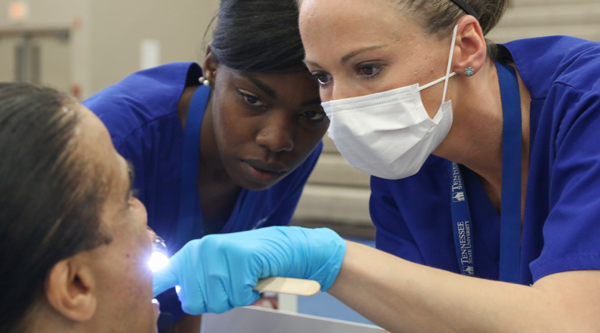 In conjunction with its associate degree program, the clinic, located in Clement Hall on the main TSU campus, provides a wide range of dental services to nearly 600 patients a year at reduced cost. This includes the campus as well as the greater Nashville community.
The TSU clinic services include comprehensive oral examinations, X-rays, dental cleanings, radiography, oral health education, nutritional counseling, oral cancer screening, and tobacco assessment and cessation.
Graduates of the highly accredited program receive an Associate of Applied Science degree, which prepares them for diverse options in the health care environment.
The outreach initiatives of the program are not limited to services offered in the clinic, according to Brenda J. Kibbel, assistant professor of Dental Hygiene. Under the supervision of faculty, students are stationed in various areas in the community where they provide care.
Students and professors have also completed services at Baby U and Hope Smiles at St. Thomas Medical Mobile Mission in Rutherford County, she said.
Besides dental screenings, the health and wellness fair will also provide fitness demonstrations and other health screenings including hypertension, glucose, and cholesterol. An educational component will offer information on weight loss management, nutrition, and HIV.
Tennessee State University is using funding it was awarded to help facilitate a national service initiative involving 10 other higher education institutions in the southeast region. Following a competitive grant process, TSU received $447,000 in June from the Corporation for National and Community Service (CNCS), the agency that leads the national Martin Luther King, Jr. Day of Service.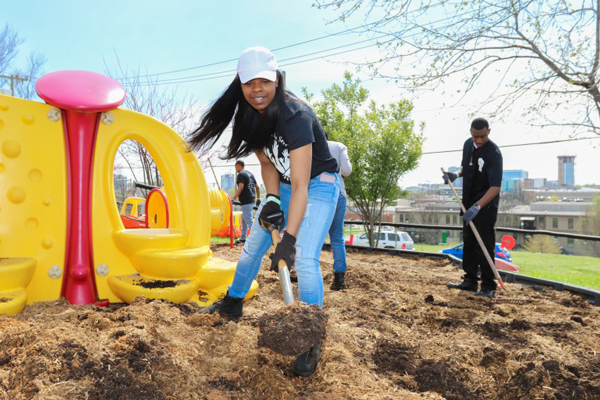 TSU's Center for Service Learning and Civic Engagement was one of six organizations to receive federal and matching funds from CNCS to mobilize volunteers to honor King's memory through service projects. TSU then provided the 10 regional HBCUs with mini-grants up to $4,400.
Some of the institutions used the grants for activities in January, while others are doing theirs through August. The activities include community beautification, disaster relief initiatives, and financial literacy and on-site education events.
Specifically at TSU, which performed its activities the first weekend in April, students and community volunteers packed disaster relief boxes, helped workers at Second Harvest Food Bank of Middle Tennessee, and partnered with the Nashville Area American Red Cross to help install smoke detectors in homes.
Established in 1993, CNCS engages more than five million Americans in service through different programs each year. The funding is intended to get more Americans to observe the MLK federal holiday as a day of service in communities, and encourage them to make a long-term commitment to community service.
The colleges and universities that received mini-grants from TSU are Albany State University, American Baptist College, Benedict College, Clinton College, Dillard University, Huston-Tillotson University, Jackson State University, Morehouse College, Southern University and A&M College, and Talladega College.
Tennessee State University has joined a national organization that focuses on best practices for adult students. Higher education institutions that are part of the Coalition of Adult Learning Focused Institutions (ALFI) strive to advance programs and services for adult students, evaluate their adult degree programs and share "best practices."
Tennessee State University President Glenda Glover recently announced the formation of a Transition Advisory Committee to assist the university with implementing the new FOCUS Act. The committee will provide thoughtful leadership, and assist in determining how the institution will advance from the current Tennessee Board of Regents structure to the new state university board governing structure. The major role of this external committee will be advisory in nature with the ultimate goal of developing the strategy for implementation of the FOCUS bill.
More than 100 middle and high school students recently participated in research and demonstrations at Tennessee State University's 13th annual Chemistry Day. The April 7 event provides a platform for students to showcase their talent and knowledge in the field of chemistry as it seeks to expose students to one of many STEM (science, technology, engineering and mathematics) disciplines. TSU students, faculty and staff also participated in the event, which was held in the Alger V. Boswell Science Complex. Chemistry Day featured a career fair with a host of exhibitors, along with the organization of a departmental tour for Hillsboro High School and J.T. Moore Middle School students in Nashville, who also participated in chemistry lab demonstrations and a Chemistry Challenge Quiz Bowl.
Tennessee State University partnered with the Vanderbilt University's HIV Vaccine Program and the DP Thomas Foundation for Obesity to host a Community Health and Wellness Fair on April 22 in Kean Hall. The outreach event, which was free and open to the public, attracted more than 30 vendors with some connection to health care and wellness, along with nearly 100 students, faculty, staff and community guests. The fair provided information on weight loss management, nutrition, HIV, and offered wellness and fitness demonstrations. A number of health screenings were provided, including hypertension, glucose, and cholesterol. The dental hygiene component included oral examinations, dental cleanings, and oral health education.
The Tennessee Board of Regents and the Tennessee Commission for Higher Education officially approved Tennessee State University's 52-year-old Honors program in January to be an Honors College. Representatives from the National Collegiate Honors Council's Assessment and Evaluation Committee were at the university April 13-14 to follow up on a self-study summited to the council a month ago, as well as to ensure the program is consistent with the university's mission and goals. In a statement, the reviewers congratulated TSU for investing in the council's program review process. More than 400 "high-ability" students are enrolled in the TSU Honors College.
New Hires
Frances Williams
Kristopher Logan Cole
Tiffanie M. Harris
Cordalero R. Stuckey
Angela Kelly Stone
Christina Blair Carroll
Dwight Edward Gordon
Tracy Annette Farmer
Rebecca Rose Miller
Sara Kathryn Sparks
Ahmad W. Ashari
Noor M. Latif
Lydia M. Springer
Charles Edward Mosley, Jr.
Kevin Wayne Jacobs
Paula T. Roberts
Harriet Coraetta Callier
Gregory Robinson
Riki J. Shye
Cameshia L. Beard
Montina Nelson
Eddie Charles Paramore, Jr.
Thomas A. Tate
Donisia Latorius Ward
Marilynn Ann Andrews
Jocelyn Fernandez
Precious K. Bailey
Uylondia C. Gordon
Jovon Dannielle Jones
Sidney Rionte Powell
Pierre Washingont
Jarvis Bernard Sheffield
Promotions
Ashley L. Boleyjack
William J. Fain
Erica L. Lewis
Stacey A. Nieman
Julius Proctor
Kimberly Smith
Transfers
Lacey Lane Al Atraqchie
Audie B. Black
Marguerite Mai Black
Keyatta N. Butler
Sammy L. Davis
Hosam Hagib Gawargi
Linda I. Goodman
Kathy Gretton
Linda F. Hambrick
Antonio Lomont Harris
Darrell Heard
Danny Hobdy
Tiera M. Pigg
William Larry Starnes
Joyce Anita Stringer
Romona Sweatt
Joy S. Williams
April 26, 2016, 11:30 a.m. – Employee Recognition Luncheon at Jane Elliott Hall
April 27, 2016 – Administrative Professionals' Day
May 6, 2016, 5 p.m. – Graduate Commencement Ceremony at Howard C. Gentry Complex
May 7, 2016, 9 a.m. – Undergraduate Commencement Ceremony at William Jasper Hale Stadium
June 30, 2016 – Annual Non-Faculty Employee Performance Evaluations due