Student Life
Top 10 Ways to Get Involved at TSU!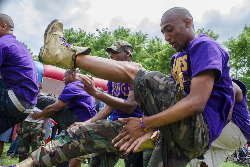 Tennessee State University students go by the motto: "Think. Work. Serve." But we also realize a little fun should be part of the collegiate experience to create a holistic approach to learning. With a variety of social, professional and civic clubs for students to participate in, there are many opportunities for you to share your time and talents and enjoy connecting with your fellow students to create the work/life balance needed for success in college and beyond:
Join one or more of our 100 student organizations, including 9 NPHC fraternities and sororities or service and honorary societies.

Develop or refine your leadership skills through Leadership TSU, or prepare to serve your country through TSU's Air Force ROTC Detachment 790.

Help your Nashville neighbors and give back to the local community through service-learning and civic engagement, or participate in one of many student organization community service projects.

Engage in policy development and represent the entire student body by holding an office in the Student Government Association (SGA).

Sharpen your academic sights in the Honors program, or make important discoveries by conducting research.

Perform in theatre productions, music ensembles, dance troupes, or our famous marching band, known as the Aristocrat of Bands.

Work out in the Wellness Center, swim in our Olympic-size indoor pool, sign up for intramural sports, or challenge your friends to card games, billiards, ping-pong, or bowling in the Student Recreation Center.

Write for our award-winning student newspaper The Meter or participate on our internationally recognized forensic debate team.

Share your excitement about TSU with prospective students as a campus ambassador.

Compete at the NCAA Division I level on our many men's and women's Ohio Valley Conference varsity athletic teams.
Check out the university calendar of upcoming events, and get the straight scoop on life as a Tennessee State University Tiger.
Discover many more things to do — contact TSU today.
---