Home >
> Biotechnology Impact
Additional Bioinformatics Research
Program Affiliation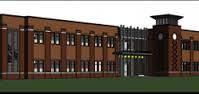 TSU Received 7.2 million to increase facilities supporting Agriculture Biotechnology Research.  
The Agriculture Biotechnology Building occupies 30,000 sq. ft. 
Researchers moved in January 2014.  
It has average 800 sq. ft. labs
Faculty Research

Dr. Suping Zhou focuses on the identification of molecular controls that allow plants to develop tolerance to drought, salt and toxic ions in the soil, and using this knowledge to develop plant lines that will perform well under stress conditions. Dr. Zhou's approach identifies gene sequences involved in salt tolerance to develop markers for selection of tolerant traits. Her research also targets identifying proteins that have an altered expression as a result of stress.   


Dr. Korsi Dumenyo is performing research focused on two important plant diseases by developing molecular tools to enhance the study of these organisms, examining the DNA of the pathogens to
identify the genetic constituents that enable them to cause disease, and identifying plant components that make them vulnerable to attack by specific pathogens.    


Student Internships

Carl Darris graduated with Ph.D. degree is continuing as postdoc at Vanderbilt University. He is providing training workshops at TSU for students to carry out Next Gen Sequencing and data analysis.

Sydnee Trabue graduated with Ph.D. in May 2013 and is currently seeking ASCP certification. 

Christie Howard continues matriculating in PhD program will complete degree August 2014, and she will start postdoc at University of Kansas Medical Center under Dr. Reena Rao.

Rhia Nelson Graduated with B.S. in Biology December 2013 Magna Cum Laude and started M.S. in Chemistry (Biochemistry Concentration) at TSU
---
  Research

  Seminars 

Social Events

Follow us on social networks or email us about

upcoming our programs

 

 

  
  
  
  
             
 
---
---
webpage contact:
Computer Science