Murdo J. Macleod Book Prize
Prize & Past Winners
2018 Contest
The Latin American and Caribbean Studies Section (LACS) of the Southern Historical Association (SHA) invites submissions for the 2018 Murdo J. MacLeod Book prize. The prize will be awarded to the best book in Latin American and Caribbean, Borderlands or Atlantic World History published in 2017. The prize will be delivered at the 2018 meeting in Birmingham, AL, which will be held from November 8-11, 2018. Please send a copy of the book to each of the committee members listed below. Deadline for submission: May 15, 2018.
Authors must be or become LACS members at the time of submission. See the membership page.
DEADLINE MAY 15, 2018
Send one copy of the book to each to the following four prize committee members:
Gerry Cadava (Committee Chair)
History Department
Northwestern University 
1881 Sheridan Road
Evanston, IL 60208
Ashli White
1252 Memorial Drive; Ashe 627A
Department of History
University of Miami
Coral Gables, FL 33146
Colleen Vasconcellos
Department of History
University of West Georgia
1600 Maple Street 
Carrollton, GA 30118
Tamara Spike (ex officio)
University of North Georgia
Department of History, Anthropology, & Philosophy
82 College Circle
Dahlonega, GA 30597
Past Winners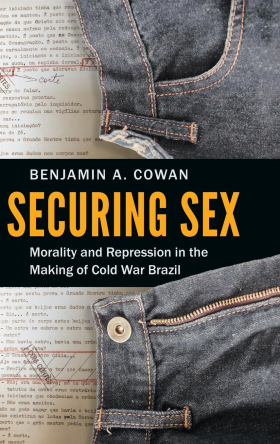 2017 Winner: Benjamin A. Cowan. Securing Sex. Morality and Repression in the Making of Cold War Brazil (University of North Carolina Press, 2016). 
This is a study where conservative ideology and politics take central stage and are uncovered through a fine and nuanced narrative. Using creatively the concept of "moral panic", the book has the particular merit of highlighting gender and sexuality, and connecting right-wing intolerance and moralism to authoritarians' understanding of the alleged cultural crisis facing Brazil and the dangers embedded in modernity more broadly. The book relies on a wide variety of sources and enhances our understanding of Cold War politics in the region. Some of us liked in particular about Cowan's book things such as the following: many books like this could easily just provide discursive analysis, but instead the author thoroughly demonstrated how ideas about moral panic pervaded the military and security apparatus. The book offers an analysis of change over a long period of time, from the early twentieth century forward. It is deeply engaged with several historiographies, on sexuality, morality, security. The narrative builds in an impressive manner and it contributes insightful arguments about the hemispheric Right, providing comparative views linking Brazil with Mexico, Argentina, and the United States.
2017 Honorable Mentions: 
Camilo D. Trumper. Ephemeral Histories: Public Art, Politics and the Struggle for the Streets in Chile (University of California Press, 2016). This is a complex study of street politics and urban history able to push persuasively for a re-conceptualization of our understanding of the public sphere. This study relies on evidence from architecture, urban planning, visual culture (public art, photography, documentary films), archival evidence of political protests, and oral history. It is a challenging narrative of democratic practices and repression, inaugurating a veritable field of research for Latin American historians. 
Matthew Crawford. The Andean Wonder Drug: Chinchona Bark and Imperial Science in the Spanish Atlantic, 1630-1800 (University of Pittsburgh Press, 2016).This is a fascinating study of the influence and limitations of European science in Spanish America. The work addresses the tensions between royal experts and local knowledge, crown interests and local economic interests. The study considers the crown's efforts to assert control over quina as part of a larger project to reinvigorate Spanish empire through commerce, science, and the control of nature and maps a "geography of knowledge" as chinchona moved throughout the Andes and across the Atlantic. Crawford shows that the reliance on chinchona producers, bark collectors and local officials undermined attempts to assert the "superiority and universality of European science." This study makes an important contribution to the histories of science, medicine, and the environment. The book is beautifully written and deeply researched, and has a solid point to make about an inoculation that we all continue to benefit from today.
2016 Winner: Victor Uribe-Uran. Fatal Love: Spousal Killers, Law, and Punishment in the Late Colonial Spanish Atlantic (Stanford, 2015). 
2015 Winner: Alan McPherson, The Invaded: How Latin Americans and Their Allies Fought and Ended U.S. Occupations (Oxford University Press, 2014).
2014: Gregory T. Cushman, Guano and the Opening of the Pacific World: A Global Ecological History (Cambridge University Press, 2014).
2013: Laura Matthew, Marquette University, Memories of Conquest: Becoming Mexicano in Colonial Guatemala (Chapel Hill: University of North Carolina Press, 2012). 
2012: Melina Pappademos, University of Connecticut. Black Political Activism and the Cuban Republic (Chapel Hill: University of North Carolina Press, 2011)2011: Richard Graham, University of Texas at Austin (Emeritus). Feeding the City: From Street Market to Liberal Reform in Salvador, Brazil, 1780-1860 (University of Texas Press, 2010)
Honorable mention: Virginia Garrard-Burnett, University of Texas at Austin. Terror in the Land of the Holy Spirit: Guatemala under General Efraín Ríos Montt 1982-1983(Oxford University Press, 2010)
2010: Edward Wright Rios, Vanderbilt University, Revolutions in Mexican Catholicism: Reform and Revelation in Oaxaca, 1887-1934 (Duke University Press, 2009)
2009: Brian Owensby, Empire's Law and Indian Justice in Colonial Mexico. Stanford: Stanford University Press, 2008
2008: Juliana Barr, University of Florida, Peace Came in the Form of a Woman (University of North Carolina Press, 2007)
Honorable Mention: Noble David Cook and Alexandra Parma Cook, Florida International University, PPeople of the Volcano: Andean Counterpoint in the Colca Valley of Peru (Duke University Press, 2007)/span>
2007: Bianca Premo, Children of the Father King:  Youth, Authority, and Legal Minority in Colonial Lima (University of North Carolina Press, 2005)
2005: Babara Ganson. The Guarani Under Spanish Rule in the Rio de la Plata  (Stanford University Press, 2003)
2003: Alejandro de la Fuente. A Nation for All: Race, Inequality, and Politics in Twentieth-Century Cuba (Chapel Hill: University of North Carolina Press, 2001)
Contact
See the Officer's page.
Established 1998
Additional Resources
The Southern Historical Association
---