Abram Musinguzi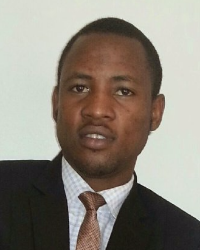 Abram combines a cutting-edge science of Civil Engineering and Computer Information and Systems Engineering to develop solutions to complex problems of an ever-changing engineering environment. I am currently working on a research under the advisory of Dr. Mahammad Akbar, that focuses on developing and testing a fully coupled atmosphere-wave-ocean model for hurricane storm surge forecasting. We are evaluating the potential of Weather Research and Forecasting (WRF) model to generate raw meteorological data to drive hurricane storm surge models. The wave and ocean models will be SWAN and ADCIRC respectively. Our research team has already published some work using SWAN+ADCIRC to predict hurricane storm surge.
EDUCATION
Doctor of Philosophy, Ph.D., Computer and Information Systems Engineering, Tennessee State University, expected graduation 2019.
Master of Engineering [Civil Engineering] Tennessee State University,2016
BSc in Civil and Transportation Engineering University of Dar es Salaam, Tanzania 2012
PROFESSIONAL EXPERIENCE
Graduate Research Assistant, Tennessee State University, (August 2014 -current)
Intern, Pillars Development III, Nashville, TN, (February 2016 -December 2016)
Civil Engineer, Uganda National Roads Authority, Kampala, Uganda (July 2013 – July 2014)
JOURNAL PUBLICATIONS
Akbar, Muhammad K., Simbarashe Kanjanda, and Abram Musinguzi. "Effect of Bottom Friction, Wind Drag Coefficient, and Meteorological Forcing in Hindcast of Hurricane Rita Storm Surge Using SWAN+ ADCIRC Model." Journal of Marine Science and Engineering 5.3 (2017): 38.
CONFERENCE PAPERS AND PRESENTATIONS
Kidando, E., Chimba, D., Onyango, M., & Musinguzi, A. (2016). Probabilistic Forecasting of Service Life of Thermoplastic Pavement Markings. Transportation Research Board. Washington, DC (No. 16-2167).
Musinguzi, A., & Chimba, D. (2015, July). Spatial variation in local road pedestrian and bicycle crashes. In Presented and published in proceedings of ESRI International User Annual Conference, San Diego, CA (Vol. 7, p. 21).
Musinguzi, A and Akbar, M. "A Coupled Atmospheric and Circulation Model for Accurate Hurricane Storm Surge Forecasting". Presented at "TSU 39th Annual University-Wide Research Symposium, 2017.
Kidando, E, Musinguzi, A and Chimba, D. "Bayesian hierarchical analysis of pedestrian crashes and socio-demographic factors" Presented at the 2nd Summer Conference on Livable Communities, Kalamazoo, MI, 2015. Award of best Student poster presentation.
Musinguzi, A and Chimba, D. "An Access-Based Decision Support Tool for assessing Bicycle and Pedestrian Safety". Presented at "TSU 38th Annual University-Wide Research Symposium, 2016. Award of first place graduate oral presentation.
Musinguzi, A and Chimba, D. "Bayesian logistic regression analysis of socioeconomic and demographic factors and pedestrian crash counts". Presented at "Southern District ITE Annual Meeting, MS, 2015".
Musinguzi, A and Chimba, D. "Using Spatial Statistical Tools to correlate Bicycle and Pedestrian Crashes with Socio- demographics". Presented at "TSU 37th Annual University-Wide Research Symposium, 2015
PROFESSIONAL MEMBERSHIP

| | |
| --- | --- |
| Member of Institute of Transportation Engineers (ITE)  | 04/ 2015-Present |
| Member of American Society of Civil Engineers (ASCE) | 12/ 2014-Present |
| Member of Uganda Institution of Professional Engineers (UIPE) | 10/ 2013 –Present |