Home >
> Master Beekeeping
BEE in the Know! Master Beekeeping Course
Considering Beekeeping? Do you want to learn more about honey bees and pollinators?...Then this class is for you! 
Introduction to Bees and Beekeeping
Saturday, July 6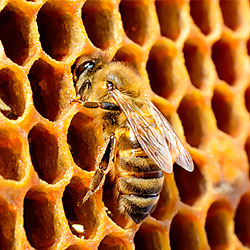 Introduction to Bees and Beekeeping  will focus on the principles of beekeeping. Learn the history of beekeeping, honeybee biology, plant and pollinator relationships, and essential equipment & requirements. By the end of this class, you will be ready to work your own colony the first year and
be able to help experienced beekeepers with their hives.
Apprentice Beekeeper
Saturday, August 10
Apprentice Beekeeper will focus on hive health and management. These include information on how to check the health of your hive, how to monitor for pests and diseases, honeybee biology, swarm management, queen replacement, and other IPM recommendations.
Classes are held from 8:00 a.m. to 12:30 p.m.
$79 Individuals/$139 Couples per class*  
Registrations are due one week prior to class. To submit payment by check, complete the online registration form and mail your check to: Tennessee State University, Office of Continuing Education, ATTN: Beekeeping Course, 330 10th Avenue North, Box 138, Nashville, TN  37203.
This course is part of the Midwest Master Beekeeper Program.
*Only one book is included in the couples price. 
Please note, this class has a minimum enrollment number and may be canceled due to low enrollment, inclement weather, or emergencies.  We will make every effort to contact you by email or phone prior to the start date. Refunds will be issued if the course is canceled.