Home >
> Undergraduate Program
Bachelor of Science in Interdisciplinary Studies,
Elementary Education  (B.S.)
Majoring in Interdisciplinary Studies, Elementary Education Program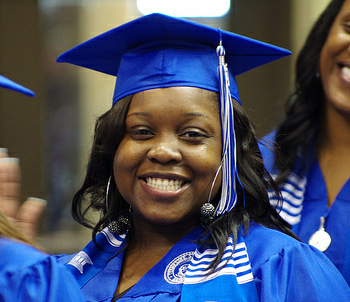 General Statement
The Department of Teaching and Learning is designed primarily for providing professional education for teachers. Although the degree is grant through the College of Liberal Arts, the advanced coursework, taken in the junior and senior years, are offered within the department. Undergraduate certification areas include:
Art Education K–12 
Biology 7–12 
Chemistry 7–12 
Early Childhood Pre K–4 
English 7–12 
Family and Consumer Sciences 7–12 
French 7–12 
Geography 7–12 
Government 7–12 
History 7–12 
Interdisciplinary Studies, Elementary Education (K-6) 
Mathematics 7–12 
Music K–12
Physical Education K-12
Spanish 7–12 
Speech 7–12 
Theatre 7–12
*Note: 7-12 licensure areas should contact the Teacher Certification office for licensure & program requirements.
Specifically, the Interdisciplinary Studies, Elementary Education program offers the student the opportunity to prepare for a license to teach in grades Kindergarten through sixth grade. This means that the Tennessee Department of Education certifies that the individual is qualified to teach at those levels and thus is eligible to be hired by public school systems in the state. An endorsement for a given grade level means that the student is especially well prepared for those grades, but is also eligible to teach at whatever level the license includes. The concentration is child development and learning, with licensure for grades K-6.
Degree Requirements:
accumulation of 120-credit hours and minimum 2.00 GPA, including...
the general education core
26 credit hours or content and knowledge courses
37 credit hours of professional education courses
12 hours (one full semester) of residency/student teaching, included in the professional education hours
completion of the Senior Exit Exam
Eligibility for admission to the teacher certification program:
at least a 2.75 cumulative quality point average at the time of application
an acceptable scores on the Pre-Professional Skills Test (PPST) or the Computer-Based Academic Skills Assessment Test (CBT)
Students who have previously earned a 21 on the ACT, 22 on the Enhanced ACT, or a combined 990 on the verbal and mathematics portions of the SAT are exempt from the PPST. 
Students must also make a written application through the College  of Education before being formally admitted to the program, usually during the sophomore year.
For More Information
---
webpage contact:
Teaching & Learning