Dr. Patricia Reeves
Coordinator of Music Education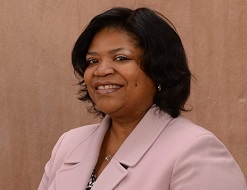 Patricia L. Reeves is Associate Professor and Coordinator of Music Education at Tennessee State University. A member of the TSU faculty since 2006, she teaches a variety of undergraduate and graduate courses in music education including Introduction to Music Education, Elementary and Secondary General Music Methods, Foundations and Philosophy of Music Education, and Praxis Review Seminar. Previous to her appointment at TSU, Dr. Reeves served as director of music education at Bethune-Cookman University (Daytona Beach, FL) and Florida International University (Miami, FL). She received the B.M. in Piano Performance from Jackson State University, M.S. in Music Education from Florida International University, and Ph.D. in Music Education (secondary area in Ethnomusicology) from Florida State University, where she was a recipient of the McKnight Doctoral Fellowship. She is certified in Orff-Schulwerk, Levels I and II, and has previously taught elementary and choral music in the Miami-Dade Public Schools and in Broward County Schools (Ft. Lauderdale, FL). Her academic interests include elementary music pedagogy, multicultural and world music studies, historical research in music education, and piano pedagogy.

Dr. Reeves is actively engaged in professional conferences, workshops, clinics and seminars. In 2006, she presented "A Musicological Examination of The New Century Hymnal": Implications for Multiculturalism in Music and Education" at the CMS Southern Regional Conference, Conservatorio de Musica de Puerto Rico (San Juan, Puerto Rico), and in 2005, "Abraham A. Schwadron (1925-1987): A Scholar's Life in Music Education," at the CMS Southern Regional Conference, University of Florida (Gainesville, FL). She has served as board member of the Tennessee Alliance for Arts Administration, grants panelist/adjudicator for the Florida Alliance for Arts Education and the Tennessee Arts Commission, and consultant for Big Brothers Big Sisters of Nashville. Dr. Reeves' professional affiliations include NAfME, CMS, TnMEA (Tennessee Music Educators Association), and TACTE (Tennessee Association of Colleges for Teacher Education). She is currently advisor of Collegiate NAfME at Tennessee State University.
At TSU, Dr. Reeves teaches graduate and undergraduate courses in music education, is faculty advisor to the student chapter of MENC, and serves as faculty director of the Center for Music Learning and Technology.  
Contact Dr. Reeves
PA 265, (615) 963-7785
---
webpage contact:
Music