Lynn Lewis

Associate Professor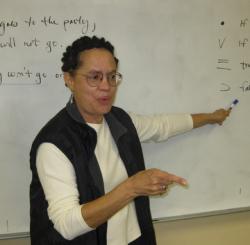 304 Humanities
615-963-5923
llewis@tnstate.edu
Associate Professor Lynn C. Lewis teaches courses in first-year composition, African American literature, American literature, Caribbean literature, African literature, and oral traditions.
Her other research interests are slave narratives, Black expressive style, and genealogy. She joined the TSU faculty in 1996, after having been an instructor of English at the University of Memphis (then Memphis State Univ.) from 1988 to 1993. She is currently completing an instructional DVD program on Black family history research.
Dr. Lewis is co-author of two chapters in the MLA textbook Teaching Oral Traditions (1998) edited by John Miles Foley, and also contributed the preface to the book Not All Okies Are White: Black Migrant Workers in Arizona (Univ. of Missouri Press, 2000) by Geta LeSeur.Two of her poems were published in the Fall 2010 issue of Sanctuary, "Blues Résumé" and "Shankar on Sitar." Prof. Lewis has also published poems, including one entitled "The Enlightened Continent Recognized and Reclaimed" chosen by the Middle Atlantic Writers Association for inclusion in its 1996 Creative Writing Issue, many original songs published by ASCAP, and a musical play entitled Dig the Gold which won a drama writing contest sponsored by Blues City Cultural Center in Memphis, Tennessee.
Lewis' education includes a Ph.D. degree in English from the University of Missouri-Columbia, M.A. in English from Tennessee State University, and M.B.A. from Columbia University in New York City.
She earned her B.A. with Honors from Earlham College where she double-majored in English Education and Political Science/Philosophy.
---
August 2011
---
webpage contact:
Languages, Literature, and Philosophy