Home >
> Dr. Junming Wang's Group
Dr. Junming Wang's Group
Geospatial Information System Laboratory
Our group is recruiting Graduate Assistants /Post-doc's for the following research.  If you are interested in, please contact me.
We are conducting research in Geospatial Information Systems, Agricultural Meteorology, and Environment Sensing.  The work includes online decision tool development (for agriculture, natural resources, and environment), plant water and fertilizer use, plant stress, plant health, plant biomass growth, plant restoration after pest infestation (fire and insects), greenhouse gasses emissions, air quality, gene flow from transgenic plants, pesticide spray scheduling based on weather, forest thinning, and climate change.
Instruments utilized in this research include satellite, airplane, LIDAR (laser radar), balloons, weather stations, air quality samplers, agriculture-meteorology systems (20 Hz), greenhouse gases systems (20 Hz), 3-D computers, and facilities also include GIS/Remote Sensing, Statistics, Agricultural Meteorology, and Environment Analysis software packages.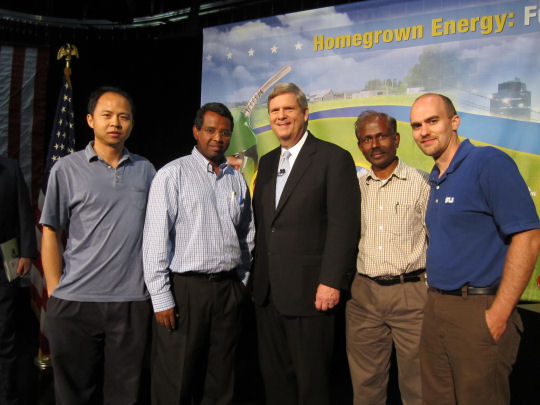 Photo: SACS Faculty members attended a television broadcast by USDA Secretary Tom Vilsack on May 23, 2011. 
Pictured are (L-R) Dr. Junming Wang, Dr. Solomon Haile, Secratary Vilsack, Dr. Dharma Pitchay and Dr. Jason de Koff.
---
webpage contact:
Agricultural Sciences