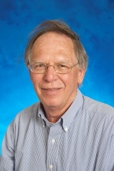 Roger J. Sauve
Research Professor
Superintendent Agricultural Research and Education Center
Department of Agricultural and Environmental Sciences
College of Agriculture

Contact Information:
Office Location: 202C Farrell-Westbrook
Telephone:  615-963-5828
FAX: 615-963-1557
Email: rsauve@tnstate.edu
Most Recent Publications:
1. Suping Zhou, Roger Sauve, Tara Fish, Theodore W. Thannhauser.  2009.  Salt Induced and Suppressed Proteins in Tomato Leaves.  Journal of American Horticulture Society.  In press.
2. Mmbaga, R.J. and R. J. Sauve.  2009.  Epiphetic microbial communities on foliage of fungicide treated and non-treated Cornus florida.  Biological Control: 44:In press.
3. Zhou, S., R.J. Sauve, B. Boone, and S. Levy.  2009.  Identification of genes associated with aluminum toxicity in tomato roots using cDNA microarrays.  Plant Stress 2:113-120.
4. Mmbaga, M.T., R.J. Sauve and F.A. Mrema.  2008.  Identification of microorganisms for biological control of powdery mildew in Cornus florida.  Biological Control 44:67-72.
5. Aziz, A. N., R.J. Sauve.  2008.  Genetic mapping of Echinacea purpurea via individual pollen DNA fingerprinting.  Molecular Breeding 21:227-232.
6. Aziz, A. N., R.J. Sauve and F. Tegegne.  2007.  Cost of AFLP-based-fingerprinting for phylo-genetic and genetic-linkage analyses for the purple coneflower and several St. John's wort and goldenseal accessions.  Acta Horticulturae 756:85-93.
7. Zhou, S. and R.J. Sauve.  2007.  Structure and temperature regulated expression of a cysteirne proteinase gene in Pachysandra terminalis Sieb. & Zucc.  Journal of the American Society for Horticulture Science 132:97-101.
8. Mmbaga, M. and R.J. Sauve. 2007.  Analysis of powdery mildew resistant dogwood accessions using AFLP.  HortScience 42:28-30.
Teaching:
AGSC 5230 Advance Plant Propagation
AGSC 5220 Plant Growth Substance
AGSC 5340 Advance Pomology
AGSC 3300 Plant Pathology
AGSC 3260 Plant Physiology
BIOL 3320/3321 General /botany and Laboratory
BIOL 2401/2401 Principles of Microbiology and laboratory
BIOL 3400/3411 Introduction to Microbial Physiology and Laboratory
ENY 3050 Genera Entomology
ENY 3201 Apiculture
BOT 3653 Mycology
Extension:
Nursery and greenhouse crop disease specialist, 12 years
Plant Disease Diagnostician, 12 years
Awards and Honors:
Alpha Zeta, University of Florida Chapter
Gama Sigma Delta, University of Florida Chapter
Sigma Xi Scientific Honor Society, University of Florida Chapter
Listed in Who's Who in Men of Science, Annually since 2000
Supervised 11 M.S. Theses at TSU 
Education:
A.Sc. (Biology)-Miami Dade Junior College
B.S. (Zoology, Education) University of Florida
M.S. (Plant Pathology, Botany) University of Florida
Ph.D. (Plant Pathology, Mycology) University of Florida
Date Joined Staff: 1987
---
webpage contact: