Home >
> Leslie Speller- Henderson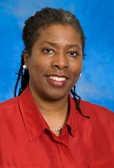 Leslie Speller- Henderson
Extension Assistant Professor
Department of Human Sciences
College of Agriculture

Contact Information:
Office Location: C.E. McGruder Family Resource Center
Telephone:  615-254-7277
FAX: 615-963-1840
Email: lspeller@tnstate.edu
Most Significant Publications:
1.   Godwin, S., L. Speller-Henderson, and C. Thompson. 2006. Evaluating the nutrition label: Its use in and impact on purchasing decisions by consumers. Journal of Food Distribution Research. 37(1):76-80.
 2.   Speller-Henderson, L. and S. Godwin. 2006. Food choices of limited resource individuals: How healthy are they? Journal of Nutrition Education and Behavior. 38(4 Suppl 1):S63.
 3.   Godwin, S., R. Coppings, L. Speller-Henderson, and L. Pearson. 2005. Study finds consumer food safety knowledge lacking. Journal of Family and Consumer Sciences 97(2):40-44.
Teaching: 
Nutrition
Elementary Nutrition
Basic Nutrition
Food Principal and Meal Management
Principles of Nutrition and application in menu planning – Nashville State Community College
Education:
B.S., Home Economics-Tennessee State University
M.S., Family and Consumer Sciences-Alabama A&M University
---
webpage contact: