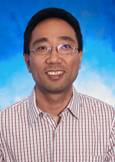 Guorong Zhang
Research Assistant Professor
Department of Agricultural and Environmental Sciences
College of Agriculture, Human and Natural Sciences
Contact Information:
Office Location: 202N Farrell-Westbrook
Telephone:  615-963-5824
FAX: 615-963-5436
Email:  gzhang@tnstate.edu
Research Areas:
Bioenergy crop breeding & genetics
Publications:
Referred Journal Articles: 25
Books/Bulletins: 2
Conference presentation/Invited Lectures: 12
Most Significant Publications:
Zhang G., C. Gu, and D. Wang. 2010. A novel gene for soybean aphid resistance in PI 567543C. Theor. Appl. Genet. 120:1183-1191.
Zhang G., A.M. Sebolt, S.S. Sooriyapathirana, D. Wang, M.C.A.M. Bink, J.W. Olmstead, and A. Iezzoni. 2009. Fruit size QTL analysis of an F1 population derived from a cross between a domesticated sweet cherry cultivar and a wild forest sweet cherry. Tree Genet. Genomes. 6:25-26.
Zhang G., M. Mergoum S. Kianian, D.W. Meyer, S. Simsek and P.K. Singh. 2009. Genetic relationship and QTL association between kernel shattering and agronomic traits in wheat. Crop Sci. 49:451-458.
Zhang G., C. Gu, and D. Wang. 2009. Molecular mapping of soybean aphid resistance genes in PI 567541B. Theor. Appl. Genet. 118:473-481.  
Zhang G., and M. Mergoum. 2007. Molecular mapping of kernel shattering and its association with Fusarium head blight resistance in a Sumai3 derived population. Theor. Appl. Genet. 115:757-766. 
Zhang G., and M. Mergoum. 2007. Developing evaluation methods for kernel shattering in spring wheat. Crop Sci. 47:1841-1850.
Teaching:
AGSC5190 Plant breeding
Education:
B.Sc (Agronomy). – Zhejiang Agricultural University
M.Sc (Genetics). – Zhejiang University
Ph.D. (Plant breeding & genetics) – North Dakota State University
Date joined staff:  2010
---
webpage contact: