Home >
> Centennial Celebration
Centennial Celebration
The College of Agriculture, Human and Natural Sciences Celebrates Big!
The College of Agriculture, Human and Natural Sciences celebrated the TSU Centennial with four days of events highlighting each of our departments: Agricultural and Environmental Science, Biology, Chemistry and Family and Consumer Sciences.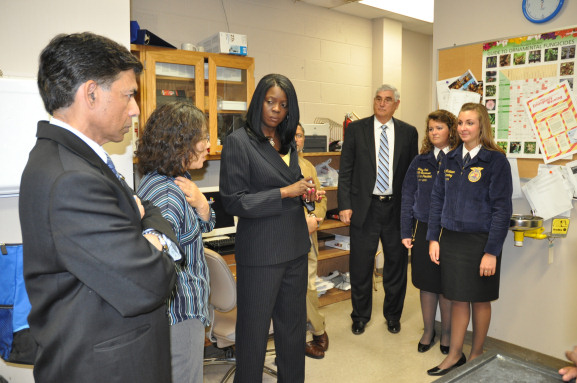 Monday, April 16
The College and its friends celebrated Agriculture and Environmental Science Day by dedicating two research and teaching laboratories, hearing from the Director of the National Institute of Food and Agriculture (NIFA), and interacting with the director and guests via research posters and a cookout. With representatives from partners, including Farm Credit Services, Middle Tennessee State University, the Tennessee Department of Agriculture, the Tennessee Future Farmers of America (FFA), and the President of the Tennessee Farm Bureau (Mr. Lacy Upchurch), festivities began as faculty, staff, and guests joined Dean Reddy and Dr. Chavonda Jacobs-Young in the ribbon cutting and dedication ceremony of six new greenhouses. The new $800,000, 18,000 ft2 structures includes teaching and research areas equipped with state-of-the-art environmental controls and innovative plant production systems. Following the Greenhouse Complex dedication, a State of Agriculture Forum was held. The forum brought about positive discussion from a packed audience as participants responded to presentations by Dean Chandra Reddy, Provost Millicent Lownes-Jackson, and Dr. Jacobs-Young, Director of NIFA. The forum was held in the AITC, with live streaming delivered in the Farrell Westbrook Complex and over the Internet. The NIFA Director, Dean Reddy, and Provost also cut a ribbon dedicating our new Landscape Studio. Dr. George Smith and his students explained the form and function of the state-of-the-art facility, again to a packed crowd. The day culminated in students sharing their research with the Director and guests in attendance as they enjoyed a cookout of grilled burgers and hot dogs. What a great way to celebrate the industry that feeds the world!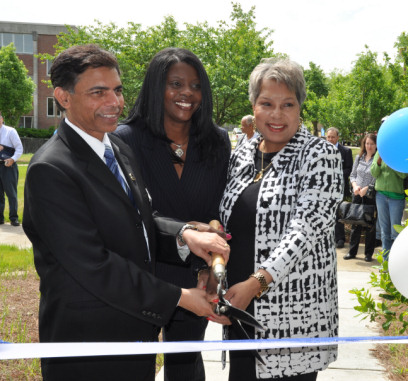 Tuesday, April 17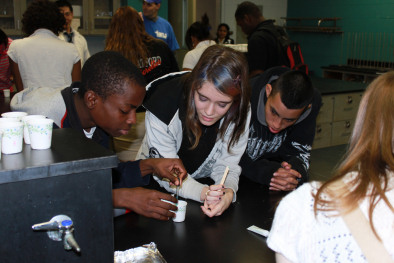 Chemistry Day featured a number of events for students, faculty and staff. A career fair allowed students to meet with potential employers and learn about employment possibilities in chemistry. High schools students from Stratford High School, Gallatin High School and Warren County High School were treated to tours of the chemistry department, followed by hands-on chemistry demonstrations led by Dr. Koen Vercruysse. Dr. Josh Moore hosted a rousing game of Chemistry Jeopardy for the TSU and high school students present. A luncheon honoring Dr. Barry Sharpless, Nobel Laureate in Chemistry, was held to provide an opportunity for the students and faculty to meet and interact with Dr. Sharpless. The day was concluded with a special lecture by Dr. Sharpless, "Experiences in Useful Chemistry".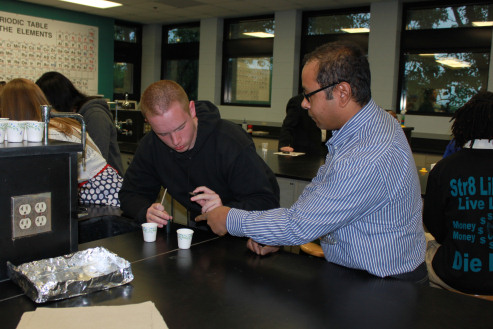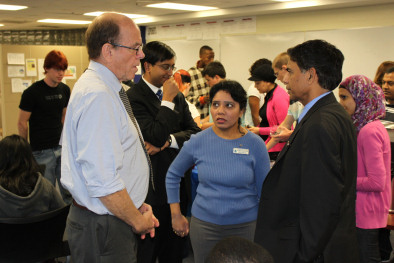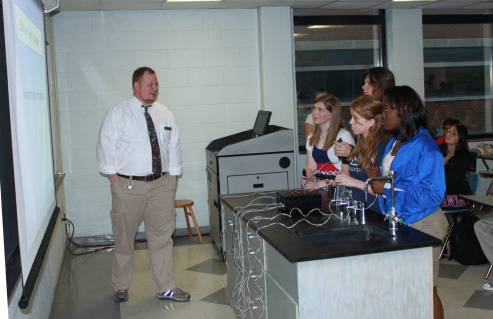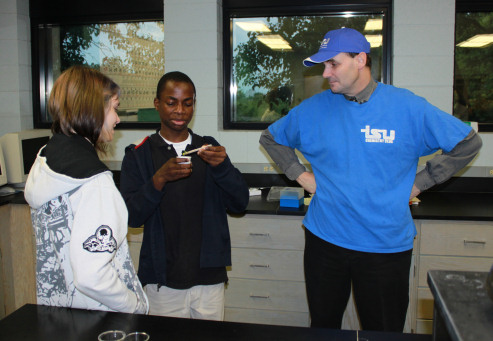 Wednesday, April 18
Nashville Mayor Karl Dean addressed Tennessee State University administrators, faculty, staff, students, and community partners concerning the impact of environmental sustainability on communities. The Mayor was invited to speak as part of Family and Consumer Sciences Day on Wednesday, April 18. Guests included Senator Thelma Harper, community partners from state and local agencies, including the Department of Environment and Conservation, General Services Administration, and Hands on Nashville, as well as partners from other universities and businesses involved in environmental sustainability. Mayor Dean discussed the progress his administration has made in improving the health of Metro residents by improving the health of the environment through greenways, storm water improvements, and programs that assists residents in improving energy efficiency.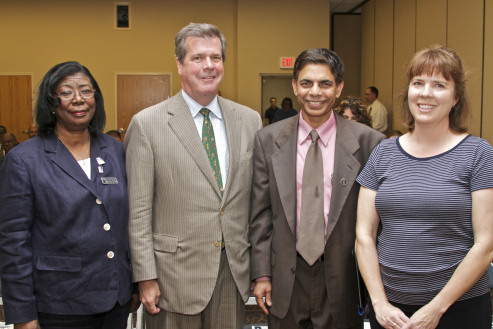 FCS Professors Sue Ballard de Ruiz and Margaret Machara have been working with the Mayor's office to provide Sustainable Living Workshops throughout Nashville in an effort to reduce the environmental footprint of individuals and families in the area, as well as demonstrate the economic benefits of "living green".   Ballard de Ruiz is also working with the Mayor's Office of Environment and Sustainability as part of "Go Green North Nashville", a $789,031.00 HUD grant administered through the Tennessee State University Center for Service Learning and Civic Engagement. This grant, along with assistance from NES/TVA and Hands on Nashville, will assist in providing energy retrofits and sustainable living workshops to 100 families in the North Nashville area.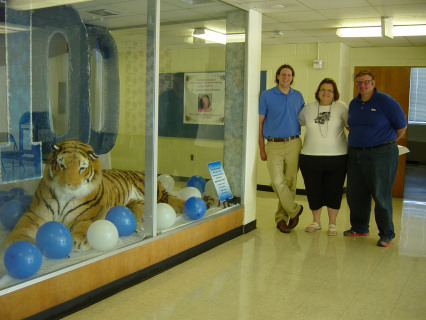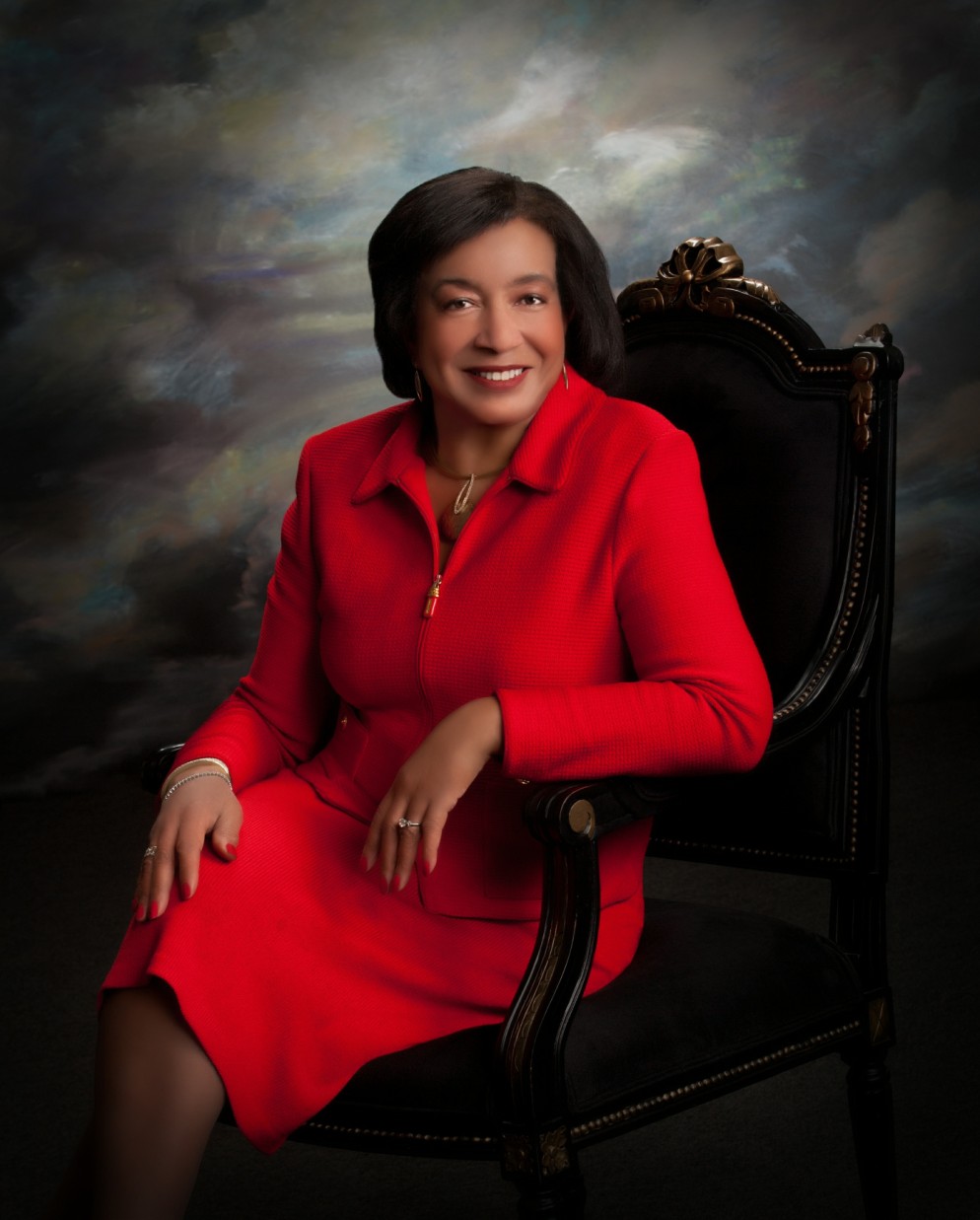 A century of biological excellence was observed with presentations of student research in a poster session, and a special seminar by Edith Peterson Mitchell, MD., FAC, Clinical Professor of Medicine and Oncology in the Department of Medical Oncology at the Kimmel Cancer Center at Thomas Jefferson University, Philadelphia, PA. Dr. Peterson Mitchell described new advances in personalized medicine, with particular attention to the treatment of cancer. Following the lecture Dr. Peterson Mitchell answered questions from students and faculty.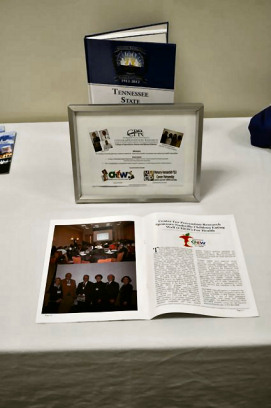 Center for Prevention Research (CPR) participated in a TSU Centennial Open House on Wednesday, April 24. CPR grant and student posters highlighting current research activities were displayed and Center staff and students discussed research with visitors. Additionally, handouts of current research projects' summaries and CAHNS brochures were distributed to each visitor.




Thursday, April 20

The College of Agriculture, Human and Natural Sciences capped off our Centennial Celebration with recognition of excellence in the College.  An awards luncheon was held to recognize outstanding students and faculty in the college. With awards presented by Dean Reddy, we celebrated our best.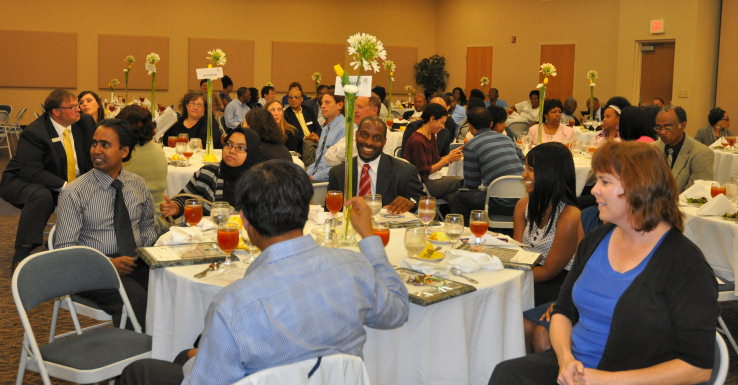 Outstanding Undergraduate Student, Agricultural and Environmental Sciences: Ms. Racheal Gregory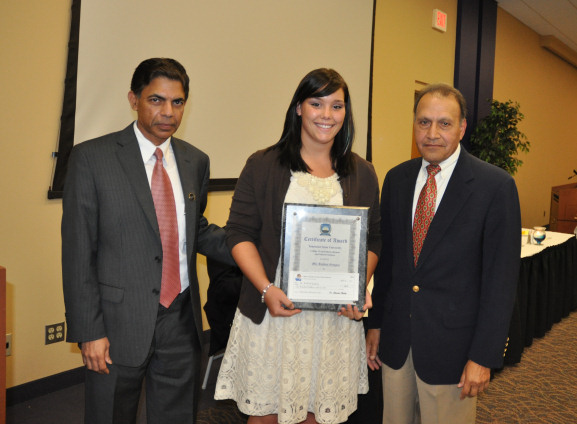 Outstanding Undergraduate Student, Chemistry: Ms. Yeasmin Sharia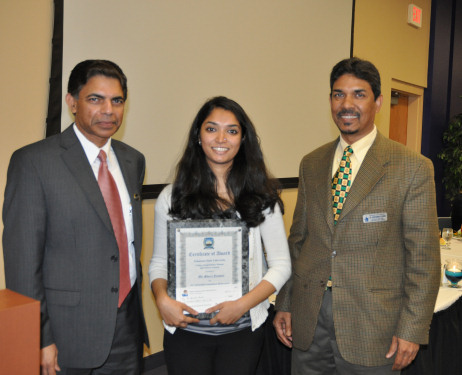 Outstanding Undergraduate Student, Family and Consumer Sciences: Ms. Ebony Arnett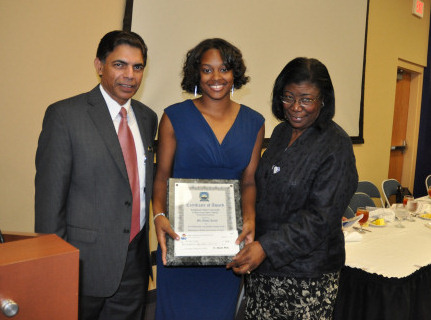 Outstanding Graduate Student, MS: Mr. Abdul Goni, Chemsitry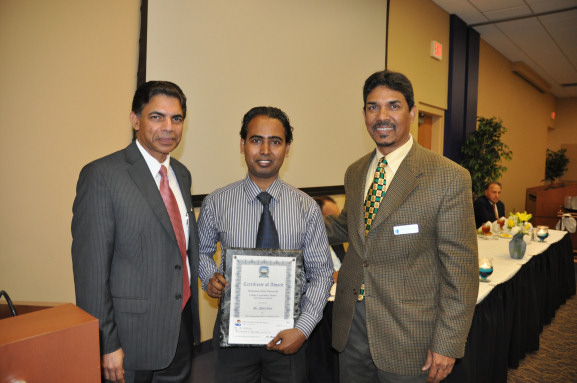 Outstanding Graduate Student, PhD: Mr. Carl E. Darris, Agricultural And Environmental Sciences/ Biology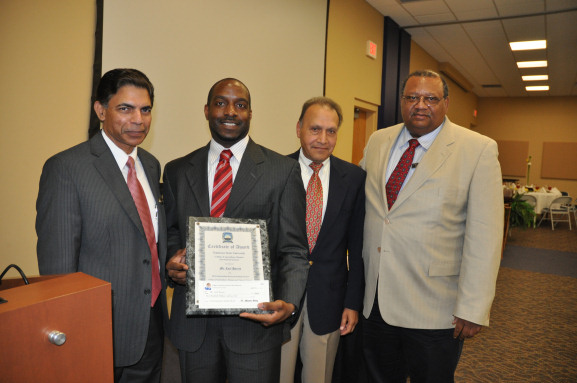 Outstanding Administrative Support: Mrs. Barbara D. Watkins, Family and Consumer Sciences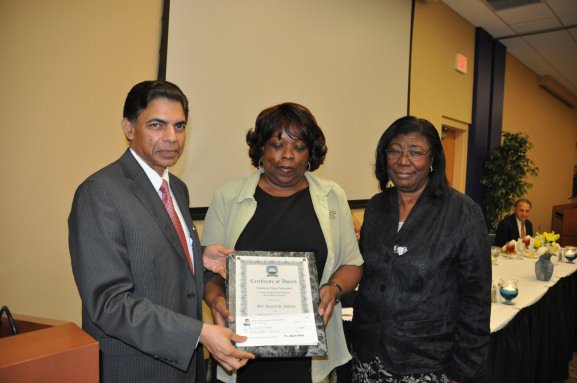 Outstanding Technical Support: Mr. Richard Stone, Family and Consumer Sciences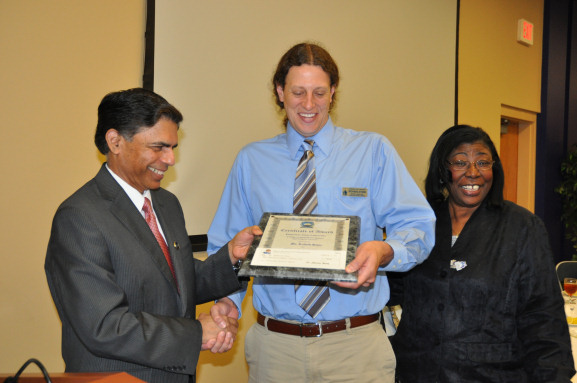 Outstanding Teacher: Mrs. Aleta Sue Ballard de Ruiz, Family and Consumer Sciences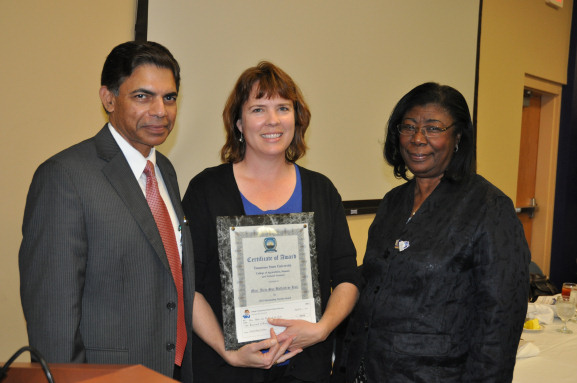 Outstanding Researcher: Dr. Suping Zhou, Agricultural and Environmental Sciences

Outstanding New Scientist: Dr. Junming Wang, Agricultural and Environmental Sciences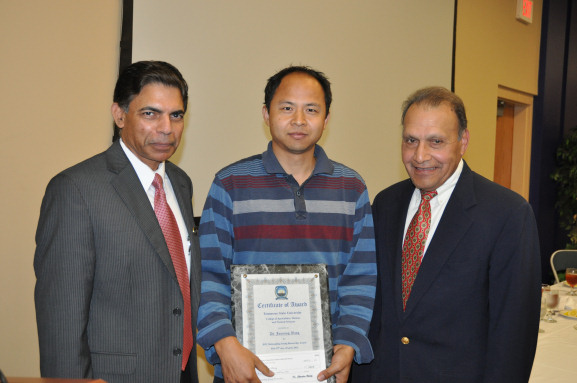 Outstanding Extension Agent: Mr. Michael Shirley (Photo not available)


---
webpage contact:
CAHNS