Rachel Hinkle-Payne
Admissions Counselor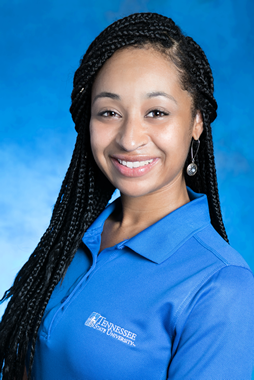 TN Counties 
Cheatham, Clay, Cumberland, Davidson, DeKalb, Dickson, Fentress, Houston, Humphreys, Jackson, Macon, Montgomery, Overton, Pickett,
Putnam, Robertson, Smith, Stewart, Sumner, Trousdale, White, Williamson, Wilson
Email 
Connecticut, Delaware, Indiana, Kentucky, Maine, Maryland, Massachusetts, Michigan, New Hampshire, New Jersey, New York, Ohio, Pennsylvania, Rhode Island, Vermont, Washington D. C.    
About Me
Hello, prospective Tiger! As one of the Admissions Counselors, my goal is to assist you with all of your questions and needs to ensure Tennessee State University is your top choice!
For answers about our admissions process or to find out when I will be in your area, please email me directly at recruitment@tnstate.edu. I can't wait to hear from you!
When I'll be In Your Area
| | | | |
| --- | --- | --- | --- |
| Date | Event | Location | Time |
| 8/25/2017 | Antioch High School Visit | Antioch, TN | 8:34-9:19 am (CT) |
| 9/5/2017 | Collierville High School College Fair | Collierville, TN | 6:30-8:00 pm (CT) |
| 9/6/2017 | Obion County Central High School College Fair | Troy, TN | 8:30-11:00 am (CT) |
| 9/6/2017 | Union County High School College Fair | Union City, TN | 12:45-2:00 pm (CT) |
| 9/8/2017 | Southern Heritage Classic College Fair | Memphis, TN | 9:00-2:00 pm (CT) |
| 9/11/2017 | Cheatham County Central High School College Fair | Ashland City, TN | 8:45-10:25 am (CT) |
| 9/11/2017 | Sycamore High School College Fair | Pleasant View, TN | 11:30-1:00 pm (CT) |
| 9/11/2017 | Friendship Christian College Fair | Lebanon, TN | 6:00-7:00 pm (CT) |
| 9/12/2017 | 9th Grade College and Career Fair @ McGavock High School | Nashville, TN | 9:30-11:05 am (CT) |
| 9/13/2017 | Houston County High School College Fair | Erin, TN | 9:30-10:30 am (CT) |
| 9/13/2017 | Stewart County High School College Fair | Dover, TN | 1:00-2:30 pm (CT) |
| 9/13/2017 | Robertson County College Fair | Springfield, TN | 5:00-7:00 pm (CT) |
| 9/14/2017 | Dickson County High School College Fair | Dickson, TN | 8:30-9:30 am (CT) |
| 9/14/2017 | Humphreys Countywide @ McEwen High School | McEwen, TN | 10:30-12:00 pm (CT) |
| 9/14/2017 | Creekwood High School College Fair | Charlotte, TN | 1:00-2:30 pm (CT) |
| 9/14/2017 | Harpeth High School College Fair | Kingston Springs, TN | 6:00-7:30 pm (CT) |
| 9/15/2017 | Wilson Countywide College Fair @ Cumberland University | Lebanon, TN | 8:00-12:00 pm (CT) |
| 9/18/2017 | Clarksville/Montgomery County College Fair @ Austin Peay State University | Clarksville, TN | 5:00-7:00 pm (CT) |
| 9/19/2017 | Merrol Hyde Magnet School Mini Fair | Hendersonville, TN | 1:00-1:30pm (CT) |
| 9/20/2017 | Harpeth High School Mini College Fair | Kingston Springs, TN | 10:45-11:45 am (CT) |
| 9/20/2017 | MLK Academic Magnet 6th Annual College and Career Fair | Nashville, TN | 1:15-2:45 pm (CT) |
| 9/20/2017 | Williamson Countywide College Fair @ Cool Springs Galleria | Franklin, TN | 5:30-8:00 pm (CT) |
| 9/21/2017 | Davidson County/MNPS College Fair @ TSU Gentry Center | Nashville, TN | 3:30-7:00 pm (CT) |
| 9/28/2017 | Pike High School KnowHow2Go College Day | Indianapolis, IN | 8:30-10:00 pm (ET) |
| 9/28/2017 | 38th Annual HBCU College Fair @ Crispus Attucks High School | Indianapolis, IN | 6:00-9:00 pm (ET) |
| 9/29/2017 | HBCU Scholarship Opportunity Network @ Crispus Attucks High School | Indianapolis, IN | 8:00-12:00 pm (ET) |
| 9/30/2017 | TSU Fall Preview Day | Nashville, TN | 8:30-1:00 pm (CT) |
| 10/3/2017 | Ft. Campbell High School Visit | Ft. Campbell, KY | 10:35-12:50 pm (CT) |
| 10/7/2017 | ASCEND HBCU/STEM Workshop @ St. Peter AME Church | Clarksville, TN | 12:00-2:00 pm (CT) |
| 10/10/2017 | Renaissance High School Visit | Franklin, TN | 11:30-12:45 pm (CT) |
| 10/17/2017 | Stratford High School Visit | Nashville, TN | 11:30-1:00 pm (CT) |
| 10/18/2017 | Nashville School of the Arts High School Visit | Nashville, TN | 11:30-12:30 pm (CT) |
| 10/19/2017 | Hillwood High School Visit | Nashville, TN | 9:00-10:30 am (CT) |
| 10/24/2017 | Upper Cumberland College Fair @ Tennessee Tech University | Cookeville, TN | 8:30-12:30 pm (CT) |
| 10/25/2017 | Cane Ridge High School Visit | Antioch, TN | 8:30-10:30 am (CT) |
| 10/25/2017 | Sumner Countywide College Fair @ Volunteer State Community College | Gallatin, TN | 6:30-8:00 pm (CT) |
| 11/2/2017 | Hunters Lane High School Latino Achievers Visit | Nashville, TN | 3:00-4:00pm (CT) |
| 11/3/2017 | Hume-Fogg Academic Magnet School Visit | Nashville, TN | 11:30am-12:30 pm (CT) |
| 11/4/2017 | Aristocrat of Bands Fall Preview Day | Nashville, TN | 8:30-1:00 pm (CT) |
| 11/11/2017 | TRIO College and Career Fair @ University of Louisville | Louisville, KY | 12:00-2:00 pm (ET) |
| 11/21/2017 | Portland High School College and Industry Showcase | Portland, TN | 11:25-1:30 pm (CT) |
| 11/30/2017 | Antioch High School Mini College Fair | Antioch, TN | 9:00-12:00 pm (CT) |
| 11/30/2017 | John Overton High School Visit | Nashville, TN | 12:00-1:30pm (CT) |
| 12/4/2017 | Maplewood High School Visit | Nashville, TN | 8:30-9:30 am (CT) |
| 12/5/2017 | East Literature Magnet School Visit | Nashville, TN | 9:20-11:20 am (CT) |
| 12/5/2017 | Nashville Recruitment Reception @ The Barn | Nashville, TN | 6:00-8:00 pm (CT) |
| 12/6/2017 | Middle College High School Visit | Nashville, TN | 11:30-12:30 pm (CT) |
| 1/22/2018 | Glencliff High School Visit | Nashville, TN | 10:47-12:47 pm (CT) |
| 1/23/2018 | Pearl-Cohn High School Visit | Nashville, TN | 12:30-1:00 pm (CT) |
| 1/24/2018 | Martin Luther King Jr High School Visit | Nashville, TN | 11:30-12:30 pm (CT) |
| 1/29/2018 | Hunters Lane High School Visit | Nashville, TN | 10:00-11:00 am (CT) |
| 2/1/2018 | South Cobb High School Visit | Austell, GA | 11:30-12:30 pm (ET) |
| 2/1/2018 | McEachern High School Visit | Powder Springs, GA | 1:00-2:00 pm (ET) |
| 2/2/2018 | Booker T. Washington High School Visit | Atlanta, GA | 10:00-11:00 am (ET) |
| 2/2/2018 | Benjamin Mays High School Visit | Atlanta, GA | 1:00-3:00 pm (ET) |
| 2/3/2018 | 14th Annual Atlanta Black College Expo | Atlanta, GA | 9:00-5:00 pm (ET) |
| 2/7/2018 | Hillsboro High School Visit | Nashville, TN | 10:00-10:45 am (CT) |
| 2/12/2018 | Hume-Fogg High School Visit | Nashville, TN | 11:00-12:00 pm (CT) |
| 2/15/2018 | Kenwood High School College Planning Night | Clarksville, TN | 5:00-7:30 pm (CT) |
| 3/1/2018 | LaVergne High School 2nd Annual College Night | LaVergne, TN | 5:30-8:00 pm (CT) |
| 3/7/2018 | Big Picture High School College Fair | Nashville, TN | 9:00-11:00 am (CT) |
| 3/15/2018 | Maplewood High School College Fair | Nashville, TN | 8:00-11:00 am (CT) |
| 3/20/2018 | West Creek High School College and Career Fair | Clarksville, TN | 8:00-10:00 am (CT) |
| 3/20/2018 | Ravenwood and Centennial High School Spring College Fair | Brentwood, TN | 5:00-7:00 pm (CT) |
| 3/21/2018 | Fairview High School Mini Fair | Fairview, TN | 5:00-6:30 pm (CT) |
| 3/22/2018 | Hillsboro High School Mini Fair | Nashville, TN | 8:00-10:00 am (CT) |
| 3/22/2018 | Brentwood High School College Fair | Brentwood, TN | 11:15-12:20 pm (CT) |
| 3/22/2018 | Franklin High School Mini Fair | Franklin, TN | 5:00-6:30 pm (CT) |
| 3/23/2018 | John Overton High School Mini Fair | Nashville, TN | 8:00-10:00 am (CT) |
| 3/23/2018 | Mt. Juliet Higher Education Fair | Mt. Juliet, TN | 11:24-1:39 pm (CT) |
| 3/27/2018 | Antioch High School Meet and Greet | Antioch, TN | 8:30-9:30 am (CT) |
| 3/28/2018 | Cohn Learning Center College and Career Fair | Nashville, TN | 10:00-1:00 pm (CT) |
| 3/29/2018 | Stratford High School College Fair | Nashville, TN | 10:00-1:30 pm (CT) |
| 4/4/2018 | Northwest High School ECMC College Night | Clarksville, TN | 5:00-7:00 pm (CT) |
| 4/7/2018 | Meharry Medical College Impressions Day | Nashville, TN | 10:00-12:00 pm (CT) |
| 4/10/2018 | Santa Fe Unit School Mini Fair | Santa Fe, TN | 9:00-10:00 am (CT) |
| 4/10/2018 | Spring Hill High School Mini Fair | Spring Hill, TN | 11:00-12:30 pm (CT) |
| 4/10/2018 | Columbia Academy Mini Fair | Columbia, TN | 2:00-3:00 pm (CT) |
| 4/24/2018 | Whites Creek College Fair | Whites Creek, TN | 8:30-1:00 pm (CT) |
| 4/25/2018 | Fort Campbell Education Fair @ Education Center | Ft. Campbell, KY | 9:00-2:00 pm (CT) |
| 5/9/2018 | McGavock High School College Fair | Nashville, TN | 8:00-10:00 am (CT) |
| 5/9/2018 | Pearl Cohn High School College Fair | Nashville, TN | 11:30-1:30 pm (CT) |
| 6/11/2018 | Active Learning Center Our Town Presentation | Nashville, TN | 11:00-12:00 pm (CT) |
- back to top -