Home >
> Dr. James Stephens
Mr. James Stephens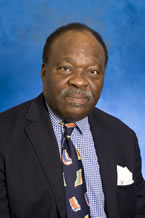 E-mail: jstephe1@tnstate.edu

Office: PAC 270

Phone: (615) 963-4992
Education:
MA in Journalism from Michigan State University
BAA in Journalism and Advertising from Central Michigan University
James M. Stephens joins the Department of Communications as an associate journalism professor, a position he held at Huston-Tillotson University in Austin, Texas where he wrote the journalism curriculum and a strategic plan for the establishment of student media.
Stephens brings a wealth of experience to the department, both as a professional journalist, academician, and consultant. He says proudly that he is a graduate of the Chicago School of Journalism, having worked as a general assignment reporter and editor for: Muhammad Speaks, Chicago Tribune, Chicago Daily Defender, and the Black X-Press newspapers and Jet and Ebony magazines.
His award-winning reportage included coverage of the major social, political, and economic issues of the city: the end of the Daley Machine, desegregation of the Chicago Public Schools, the assassination of Black Panther Party members Fred Hampton and Mark Clark by the Chicago Police Department, the establishment of Operation PUSH and CBUC (Chicago Black United Communities), two grass-roots community organizations established in the late 1970s that would play a major role in the election of Harold Washington in 1983 as Chicago's first African American mayor -- and the election of Barack Obama as the nation's first African American president.
On the national front, Stephens specialized in reporting on marginalized groups: the Black Muslims and the Black Panthers. For Jet magazine, he wrote cover stories on Muhammad Ali and Huey P. Newton, founder of the Black Panther Party.
The author of numerous peer-reviewed conference presentations and three scholarly journal articles, Stephens has won a number of fellowships from such organizations as The Poynter Institute, the American Press Institute, and the Amercan Society of Newspaper Editors. He has consulted with such organizations as varied as Blackman and Kallick and LaRabia Children's Hospital on media product development and message design and delivery for niche audiences.
At TSU, Stephens will incorporate the concept of convergence into the print journalism courses he teaches, as well as advise the student newspaper, The Meter.
---
webpage contact:
Communications