Home >
> Grow Your Own Grant
Grow Your Own Grant
What is the Grow Your Own Competitive Grant?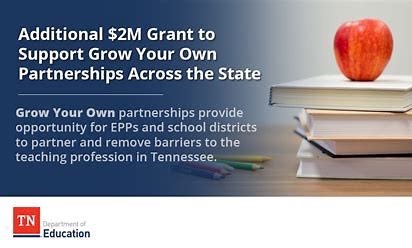 In October 2020, the Tennessee Department of Education (TDOE) announced the award of $2 million in grant funding to seven Educator Preparation Programs (EPPs) in Tennessee for the purpose of forming or expanding state recognized Grow Your Own partnerships to increase access and remove barriers to the teaching profession. 
The Grow Your Own (GYO) competitive grant supports partnerships between EPPs and Local Education Agencies (LEAs) to provide innovative, no-cost pathways to the teaching profession by increasing EPP enrollment and growing the supply of qualified teachers. 
With these awards, TDOE was able to establish additional Grow Your Own partnerships in 37 districts, enabling 250+   individuals to become teachers for free and get paid to do so via unique residency models.
---
Tennessee State University has two (2) partnering cohorts in our GYO program:
Cohort 1:
Bedford County Schools
Fayetteville City Schools
Haywood County Schools
Metro Nashville Public Schools
Moore County Schools
Shelby County Schools
Tipton County Schools
Tullahoma City Schools
Wayne County Schools
Williamson County Schools
Wilson County Schools
Cohort 2: 
Bedford County Schools
Cheatham County Schools
Clay County Schools
Decatur County Schools
Fayetteville City Schools
Frayser Community Schools
Germantown Municipal Schools
Greeneville City Schools
Marshall County Schools
Metropolitan Nashville Public Schools
Moore County Schools
Purpose Prep Academy
Rutherford County Schools
Shelby County Schools
Sumner County Schools
Tipton County Schools
Williamson County Schools
Wilson County Schools