Home >
> TSU Host's 2018 Emergency Management Conference
2018 
Best Practices in Emergency Management Conference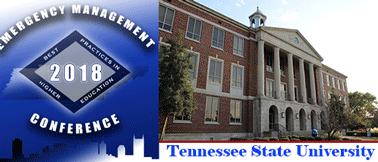 Tennessee State University's Office of Emergency Management
is pleased to host the


Sixth Annual Best Practices in Higher Education Emergency Management Conference
May  22-24, 2018.
WELCOME
Welcome to Nashville, Music City USA , and Tennessee State University!
  On behalf of our President, Dr. Glenda Baskin Glover, we are glad you have decided to join us at Tennessee State University for the 6 th Annual Best Practices in Higher Education Emergency Management Conference. From the moment you step foot in Nashville, we hope you experience great southern hospitality and embrace the charm and beauty of the Music City .
  This conference will bring together campus emergency managers, law enforcement, safety officers and officials to share best practices to generate innovative solutions to campus emergency management. On Monday afternoon, we will open with an emergency management boot camp to identify resources, relationships, and opportunities for institutions with limited resources.
  We are looking forward to a very productive time as we explore ways to make and keep our campuses prepared for disasters and emergencies. Your individual presence will provide a different perspective for each of us, and your input will be extremely valuable to the success of the conference. This is the time to ask questions, challenge decisions, and foster new partnerships.
Thank you for attending the conference and bringing your expertise to the table. As our conference theme states, we are Preparing the Educators of Today for the Hazards of Tomorrow. It is our hope that as you learn, you will pass your knowledge on to future emergency managers and safety officers so we will always be prepared for the hazards and disasters that will occur.
Host Hotel
2555 West End Avenue
Nashville, Tennessee 37203
We look forward to seeing you in May 2018.
Dr. Curtis Johnson
Chief of Staff
Tennessee State University

Thomas Graham
Director of Emergency Management
Tennessee State University


For more information contact:
Patricia Jones
Office Manager
Office of Emergency Management
Tennessee State University
615.963.1489