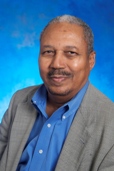 Fisseha Tegegne
Research Professor
Department of Agricultural and Environmental Sciences
College of Agriculture
Contact Information:
Office Location: 202E Farrell-Westbrook
Telephone:  615-963-5830
FAX: 615-963-1557
Email: ftegegne@tnstate.edu
Research Areas:
Resource and Environmental Economics and Management
Small Farms and Alternative Enterprises
Community Economic Development
Food and Fiber Economics and Policy
Most Significant Publications:
Tegegne, F., A. Aziz and R. Wiemers. 2008. "Impact of Biotechnology Training and Delivery of Biotechnology Kits and Equipment on School Curriculum and Students in Tennessee," Journal of Interdisciplinary Education, Volume 8, Number 1.
Tegegne, F., E. Ekanem, S. Muhammad and S. P. Singh. 2007. "Forest Management: a case study from Michigan." Journal of Environmental Monitoring and Restoration, 3:142-151.
Tegegne F., S. Muhammad, E. Ekanem, S. Singh and E. Eyisi. "What Are the Factors Affecting Export of Nursery Products from the United States?"   Proceeding of SNA Research Conference, Vol. 52, 2007.
Tegegne, F., A. Ahmad, R. Sauve, S. Muhammad and E. Ekanem. 2005. "Agricultural Biotechnology for Underserved Communities" TSU publication for distribution to various stakeholders.
Tegegne, F, E. Ekanem and S. Muhammad. 2004. "Challenges and Opportunities for Small Farmers in an Era of Growing Competition," The Southern Business and Economic Journal. Vol. 27, No 1 and 2.
Tegegne, F., S. Singh, E. Ekanem and S. Muhammad. 2001. "Labor Use by Small-Scale Conventional and Sustainable Farmers in Tennessee," Southern Rural Sociology. Vol.17. No.1, pp. 66-80
Teaching:
AGSC-5100—Environmental, Resource Economics and Management
AGSC-5090—Food and Fiber: Economics and Policy
AGSC-3030—Natural Resource Economics
AGSC-3020—Food Economics
AGSC-5330—Agibusiness Strategy
Selected Current Projects:
Developing Pigeonpea as a Viable Cash Crop on Small Farms through Research and Outreach, $500,000, USDA, CSREES, 2008–2011, Principal Investigator.
Will Small and Medium-Sized Farmers Benefit from Cellulosic Energy Industrial Complex? $124,916, USDA, CSREES, 2009–2011, Co-Principal Investigator.
Survival Strategies for Small and Minority Farms through Education and Outreach, $200,000, USDA, CSREES, 2007-2009, Principal Investigator.
Assessing Food Consumption Pattern of Low Income Households, $15,000, USDA, ERS, 2008-2009, Principal Investigator.
Awards and Honors:
Excellence in Research Award, Southern Rural Sociological Association, 2004.
Editorial Board member Review of Agricultural Economics, a peer reviewed Journal of Agricultural and Applied Economics Association. 2004–present.
Visiting Scholar, Institute for Research on Poverty, University of Wisconsin, Madison, 2002.
Recipient, Certificate of Appreciation from CSREES, USDA for presentation made at the First National Small Farm Conference in 1996.
Sage Foundation Research Fellow, 1989.
Rockefeller Foundation Fellow, 1983–1988
Ford Foundation Research Fellow, 1981–1982
Head and Graduate Committee Chair, Department of Economics, Addis Ababa University (Ethiopia), 1981–1983
International Development Research Center (IDRC-Canada) research grant recipient, 1982
British Council Fellow, 1974–1976
Member:
Agricultural and Applied Economics Association
Association of Environmental and Resource Economists
Southern Rural Sociology
Southern Agricultural Economics Association
International Agribusiness Management Association
Education:
Ph.D., Resource Economics and Policy, Michigan State University (USA), 1990
M. Sc. Development Economics, University of Strathclyde (United Kingdom), 1977
B.A., Economics, Addis Ababa (formerly Haile Selassie I) University (Ethiopia), 1973
Date joined staff:  1992
---
webpage contact: