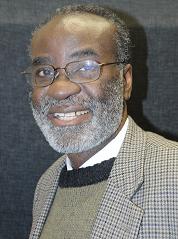 Enefiok Ekanem
Research Professor
Department of Agricultural and Environmental Sciences
College of Agriculture

Contact Information
Office Location: 202 Farrell-Westbrook Complex
Telephone:  615-963-5823
FAX:  615-963-1557
Email:  eekanem@tnstate.edu
Research Areas
Agribusiness, computer statistical applications, Food Safety, Rural Development, Small Farms, Marketing, Nursery Crops and Agricultural Biotechnology.
Extramural Funding Acquired
32 Grants worth $4,250,906 as PD, Co-PD (1994 to 2010)
Publications
Refereed Journal/Peer reviewed Articles: 75
Bulletins/Industry and other Publications: 15
Intl. Conference Proceedings: 40
Extension publications: 8
Technical reports: 21
Research abstracts: 44
Conference Presentations and Invited Lectures: 123
Posters: 26
Most Significant Publications
Ekanem, E., M. Mafuyai-Ekanem, F. Tegegne and S. Singh. 2008. Trust in Food Safety Information Sources: Examining Differences in Respondents' Opinions from a Three-State Survey. Journal of Food Distribution Research. Volume 39, 1.

Ekanem, Enefiok, M. Mafuyai-Ekanem, Fisseha Tegegne, Safdar Muhammad, and Surendra Singh. "Consumer Trust in Extension as a Source of Biotech Food Information." February 2006 Journal of Extension,Volume 44, Number 1. 10pp.

Ekanem, Enefiok, Surendra P. Singh, Safdar Muhammad, Fisseha Tegegne and Anonya Akuley-Amenyenu. 2001. "Differences in District Extension Leaders' Perceptions of the Problems and Needs of Tennessee Small Farmers" Journal of Extension Volume 39, Number 4 (August).
Teaching Experience
5 undergraduate courses and 1 graduate course, (18 hours: 9 to 12 hours yearly) 1995 to 2011:
AST 200/AGSC 2040 "Computer and Statistical Application in Agriculture"
AST 311/AGSC 312/AGSC 3120 "Introduction to Applied Statistics"
AGSC 531 "International Agricultural Trade and Marketing" (graduate)
AGSC 422 Undergraduate Seminar
AST 313/AGSC 3130 Survey Sampling Theory and Techniques
AGSC 408/AGSC 4080 Experimental Design
Extension/Community Service
Conducts integrated research and outreach
Recent Honors and Awards
Members making a Difference. The Exchange Newsletter of the AAEA
Quality of Communication (QoC) Committee, (AAEA), 2004.
Editorial Council Review of Agricultural Economics (RAE), 2002-2004.
Editorial Board, Southern Rural Sociology.  February 2006 - 2008.
Board, Food Distribution Research Society. 2006-2010.
President, Southern Rural Sociological Association, 2007.
Program Chair, Southern Rural Sociological Association, 2005•Poster Chair, Southern Agricultural Economics Association, 2002 - 2005.
Topic Leader, Agribusiness Economics and Management, American Agricultural Economics Association Selected Poster Committee, 2005.
Team leader, Economics & Policy Research, Food Safety, Nutrition and Family Well-Being, Institute of Agricultural and Environmental Research, Tennessee State University
Honorary Member, Golden Key International Honour Society, Tennessee State University, February 2002 – present•Women in Agriculture Supporter Award. Cooperative Extension Program, North Carolina A&T State University.  March 28, 2002.
Professional membership
Agricultural and Applied Economics Association (AAEA)
Food Distribution Research Society (FDRS)
International Association of Agricultural Economists (IAAE)
Southern Agricultural Economics Association (SAEA)
Southern Rural Sociological Association (SRSA)
Education
Ph.D. December, 1992. Agricultural and Applied Economics, The University of Minnesota-Twin Cities
Master of Science degree, June, 1987  Environmental Studies (Environmental Planning & Design), College of Arts and Sciences, Environmental Studies Program, Ohio  University
M.A. degree, November, 1986. Economics, Ohio University
M.A. degree, August, 1983  International Affairs (International Administrative Studies), Ohio University
Bachelor of Science degree, June, 1981 Industrial and Systems Engineering, Ohio University
---
webpage contact: