Home >
> Md Sultan Mahmud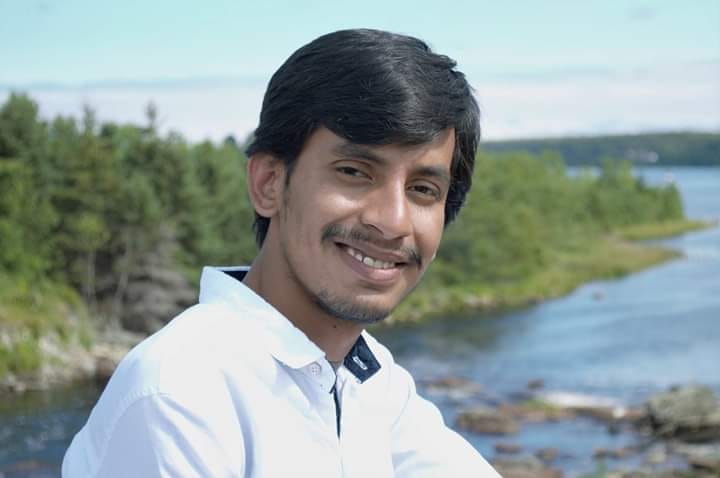 Md Sultan Mahmud, Ph.D.
Assistant Professor, Precision Agriculture
Department of Agricultural and Environmental Sciences
Otis L. Floyd Nursery Research Center
College of Agriculture
Tennessee State University
Contact Information:
Office: 472 Cadillac Lane, McMinnville, TN
Telephone: (931) 259-4824
FAX: (931) 668-3134
Email: mmahmud1@tnstate.edu
Overview and Research Interests:
Dr. Mahmud, an assistant professor in the area of precision agriculture, joined the Department of Agricultural and Environmental Sciences in the College of Agriculture at Tennessee State University in August 2022 after completing his doctoral degree in agricultural and biological engineering with a focus on sensing, artificial intelligence and robotics for specialty crops at The Pennsylvania State University.
Dr. Mahmud's lab's mission is to provide engineering solutions for Nursery Crop Production. Current research focuses on precision agriculture technologies including sensing, computer vision, artificial intelligence, internet of things (IoT) and robotics, applied towards the autonomy of the Nursery Crop Management.
Selected Refereed Publications: 
• Mahmud, M. S., Zahid, A., and He, L., Choi, D., Krawczyk, G., Zhu, H., and Heinemann, P. (2021). Development of a LiDAR-guided section-based tree canopy density measurement system for precision spraying. Computers and Electronics in Agriculture, 182, 106053

• Mahmud, M. S., Zahid, A., He, L., and Martin, P. (2021). Opportunities and possibilities of developing an advanced precision spraying system for tree fruits. Sensors, 21, 3262

• Mahmud, M. S., Zahid, A., He, L., Choi, D., Krawczyk, G., & Zhu, H. (2021). LiDAR-sensed tree canopy correction in uneven terrain conditions using a sensor fusion approach for precision sprayers. Computers and Electronics in Agriculture, 191, 106565

• Mahmud, M. S., Zahid, A., and He, L., Zhu, H., Choi, D., Krawczyk, G., and Heinemann, P. (2021) Development of an automatic airflow control system for precision sprayers based on tree canopy density. Journal of the ASABE (formerly, Transections of the ASABE) [Revision Submitted]

• Mahmud, M. S., Zahid, A., Das, A. k., Muzammil, M., and Khan, M. U. (2021). A systematic literature review on deep learning applications for precision cattle farming. Computers and Electronics in Agriculture, 187, 106313

• Zahid, A., Mahmud, M. S., He, L., Heinemann, P., Choi, D., & Schupp, J. (2021). Technological advancements towards developing a robotic pruner for apple trees: A review. Computers and Electronics in Agriculture, 189, 106383

• Zahid, A., Mahmud, M. S., He, L., Schupp, J., Choi, D., & Heinemann, P. (2021). An apple tree branch pruning analysis. HortTechnology, 32(2), 90-98

• Mahmud, M. S., Zaman, Q. U., Esau, T. J., Chang, Y. K., Price, G. W., & Prithiviraj, B. (2020). Real-time detection of strawberry powdery mildew disease using a mobile machine vision system. Agronomy, 10(7), 1027

• Zahid, A., Mahmud, M. S., He, L., Choi, D., Heinemann, P., and Schupp, J. (2020). Development of an integrated 3R end-effector with a cartesian manipulator for pruning apple trees. Computers and Electronics in Agriculture, 179, 105837

• Mahmud, M. S., Zaman, Q. U., Esau, T. J., Price, G. W., & Prithiviraj, B. (2019). Development of an artificial cloud lighting condition system using machine vision for strawberry powdery mildew disease detection. Computers and Electronics in Agriculture, 158, 219-225

• Rehman, T. U., *Mahmud, M. S., Chang, Y. K., Jin, J., & Shin, J. (2019). Current and future applications of statistical machine learning algorithms for agricultural machine vision systems. Computers and electronics in agriculture, 156, 585-605

• Chang, Y. K., Mahmud, M. S., Shin, J., Nguyen-Quang, T., Price, G. W., & Prithiviraj, B. (2019). Comparison of image texture based supervised learning classifiers for strawberry powdery mildew detection. AgriEngineering, 1(3), 434-452

• Sarkar, S., Mahmud, M. S., Kabir, A. H., Sarker, M. K. U., & Munnaf, M. A. (2016). Selection of suitable tillage pattern for fuel economy. Research Journal of Agriculture and Forestry Sciences, Vol. 4(4), 1-4
Research Grants:
• Development of an automated precision spraying system for sustainable pest management in apple orchards. 2020 Northeast Sustainable Agriculture Research and Education (SARE) Graduate Student Grant, USDA. ($15,000)

• Unmanned aerial vehicle-based fire blight disease detection of apple trees for site-specific pruning. 2021 Penn State College of Agricultural Sciences Graduate Student Competitive Grant Program. ($3,000)
Major Honors and Awards:
• Outstanding Dissertation Award from College of Agricultural Sciences (2022), awarded by the Pennsylvania State University – Award

• Boyd-Scott Graduate Research Award (2022, Second Place), awarded by American Society of Agricultural and Biological Engineers – Award

• Paul Hand Award for Graduate Student Research Achievement from College of Agricultural Sciences (2021), awarded by the Pennsylvania State University – Award

• Harold V. and Velma B. Walton Doctoral Student Endowment in Agricultural and Biological Engineering (2021), awarded by the Pennsylvania State University – Scholarship

• Nova Scotia Research and Innovation Graduate Scholarship (2017), awarded by Dalhousie University, Canada – Scholarship

• Prime-Minister Gold Medal Award (2016), awarded by the University Grants Commission, Bangladesh – Award
Education and Training:
Ph.D. Agricultural and Biological Engineering (08/2019 – 07/2022)
The Pennsylvania State University, Pennsylvania, United States
M.Sc. Agriculture (Engineering) (05/2017 – 04/2019)   
Dalhousie University, Nova Scotia, Canada
B.Sc. Agricultural Engineering (03/2011 – 05/2016)
Hajee Mohammad Danesh Science & Technology University, Dinajpur, Bangladesh
Date Joined Staff:  August 2022