Advisement
Your Key To Success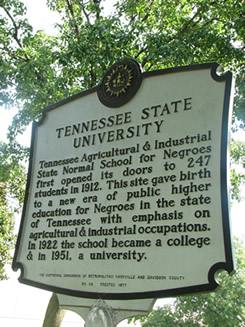 Advisors monitor the academic progress of students, assist in curriculum planning, and guide students through processes such as admission to the upper-division and application for graduation.
All students majoring in history or political science are advised by Dr. Elizabeth Dachowski or Dr. Andrew Patrick. Dr. Patrick advises students seeking teaching licensure in either discipline. Dr. Dachowski advises all other History majors.
Dr. Elizabeth Dachowski (History majors except Teacher Licensure)
Office: Crouch Hall 413-D
Phone: 615-963-5507
E-mail: edachowski@tnstate.edu
Please contact the department office for advisement in Political Science (all majors except Teacher Licensure)
Office: Crouch Hall 216
Phone: 615-963-5471
E-mail: TBD
Dr. Andrew Patrick (Teacher Licensure in History or Government)
Office: Crouch Hall 413-B
Phone: 615-963-5742
E-mail: apatric2@tnstate.edu
< back to top >
Declaring a Major and Initial Advisement
If you are a student applying for admission to TSU, you may simply indicate your choice of major on your application. If you are already enrolled at TSU either in another major or as an "undecided" student, you may declare a major in history or political science using the university's Notification/Change of Major Form, which you should print, complete, and bring with you to your initial advisement conference. A copy of the completed form submitted to your advisor will be filed by our department with the Office of Admissions and Records.
< back to top >
Scheduling Advisement Conferences
Majors in history and political science should schedule conferences with their advisor at least once each semester


Conferences during November and April are ideal for advisement related to early registration but students are encouraged to meet with their advisor at any time


Advisors are generally available either during their office hours or by appointment. Students can use the contact information listed above to schedule a conference

< back to top >
Your curriculum is the series of courses required for your anticipated undergraduate degree. The curriculum includes:
the general education core (normally completed during the freshman and sophomore years), major courses (completed for the most part during the junior and senior years), and electives (courses chosen by the student from a range of academic disciplines). You should plan your curriculum in consultation with your advisor to ensure that you take appropriate courses in the correct sequence.
In order to assist with curriculum planning, the department provides four-year curriculum plans:
History
History Licensure
Political Science
Government Licensure
Students must be admitted to the upper division of their major before attempting courses at the 3000 or 4000 level. In order to be admitted fully to the upper division, a student must complete all remedial and developmental requirements, remove all high school deficiencies, complete the General Education Core and introductory major courses. A student who wishes to take one or more upper-level courses but has not yet met these requirements can apply for tentative admission.
< back to top >
Students intending to graduate in May, August, or December should complete the graduation application online at www.tnstate.edu/records/commencement, by the deadline indicated.
Students intending to graduate should also report to their academic advisor for the purpose of confirming their senior standing and submitting a registration form for the appropriate senior exit examinations (see below).
< back to top >
Senior Exit Examinations

During the final semester of their senior year, prospective graduates must complete two exit examinations. The Major Field Test in either history or political science tests specialized learning in the major, and the ETS Academic Profile Short Form (or Senior Exit Exam) tests ongoing general learning during the junior and senior years.
The Major Field Test, which lasts approximately two hours, is offered in the university's Testing Center during each semester for graduating seniors. Test dates and times are scheduled at the discretion of the Department Chair and the Testing Center. Students are provided advance notice for test preparation from their advisor and the department office.

The university's Senior Exit Examination (Academic Profile) lasts approximately one hour and is offered in the Student Center Forum at dates and times scheduled by the university's Testing Center.
< back to top >
Forms and Documents (Quick Reference)
Degree Requirements (B.A. in History)
Degree Requirements (B.S. in Political Science)
Four Year Plan - History

Four Year Plan - History Licensure

Four Year Plan - Political Science

Four Year Plan - Government Licensure
Permission to Take a Course at Another Institution
Course Equivalency Form
Registration for Senior Exit Examination
< back to top >
_______________________
---
webpage contact:
History, Geography & Political Science