Explore. Create. Learn.
 Welcome to Your Future
Growing plants for fuel.
Helping children learn.
Making healthier foods.
Learning how cells develop and function.
Cleaning our environment.
Creating new medicines.
Keeping families together.

These are just some of the exciting careers you can pursue with a degree from the College of Agriculture, Human and Natural Sciences.
Allow us to open doors for you to exciting opportunities in the expanding realm of the life sciences and we will provide you with the knowledge, skills and training needed to excel in the career field of your choice.  Join our diverse student body to begin your future today.
Learn about the many
and varied
Degree Programs
in Agriculture, and Family & Consumer Sciences.
What is Special About Our College
LOW FACULTY-TO-STUDENT RATIO
The College's low faculty-to-student ratio assures you that you will receive individualized attention from dedicated faculty who are experts in their areas of specialization.  Career opportunities for graduates are excellent.
NETWORK OF RESEARCH FACILITIES
The uniqueness of our urban location coupled with our network of research facilities provides you with unique and marketable hands-on experience in research projects and industry internships.

Best of all, you can get your education for little or no out-of-pocket expense!  We have made financial assistance available through work-aid to undergraduate students receiving the Hope Scholarship to cover all tuition and on-campus living expenses. 
Graduate Assistantships are available to qualified graduate students who show promise for excellence in graduate work.
Find out about admission to our programs, or email or call us (615) 963-5438 to find out more!
---
---
Explore the College of Agriculture Human and Natural Sciences
on Facebook, Instagram, Pinterest and Twitter.

Explore TSU for yourself.
Visit us and see the campus,
learn more about life in Nashville,
and discover the heart of our exciting TSU Tiger community.
Apply for admission, request information, or contact Tennessee State University today.

For questions, suggestions, additions, etc. pertaining to the CAHNS website, contact Dr. Nick Gawel or Joan Kite.
News
The fall issue of our newsletter  CAHNS Link is on the virtual newsstand today. Enjoy! 

---
Master Gardeners honored for speakers program
The Knox County UT/TSU Extension Master Gardeners has won second place for the International Search for Excellence Awards for Master Gardeners. The organization was recognized for its excellent work with the Knox County Extension Master Gardeners Speakers Program, which offered about 12 presentations annually in 2014 and now offer up to 80 presentations a year. They expect that 1,500 residents will participate in the speakers program this year. Barbara Bunting and Marsha Lehman, the co-chairs of the program, will represent the UT/TSU Extension program at the 2017 International Master Gardeners conference July 10-14 in Portland, Oregon.
---
First black USDA Administrator, first women CSU president inducted to Hall of Fame
TSU CAHNS inducted two more members Thursday night at its 19th Annual Agriculture and Home Economic Hall of Fame and Induction Ceremony in the Magnolia Ballroom at the Gaylord Opryland Resort and Convention Center. TSU grads Dr. Evelyn Maria Thompson, the first woman to be appointed president of Coppin State University, and Hubert Hamer, the first black man to be appointed as a USDA director and administrator, were officially inducted into the Hall of Fame. Congratulations TSU graduates and now Hall-of-Famers! You make us Tiger Proud. View more
---
TSU CAHNS student places first in speech competition

Congratulations to Tariq Muhammad, a Dean's Scholar and CAHNS ambassador, who won first place in the MANRRS Regions 2 & 3 Cluster's Impromptu Speaking Contest during the first weekend of October. Muhammad had 20 minutes to pick a topic and prepare an oral presentation at the regional competition held during the MANRRS Cluster and Career Fair in Atlanta, Georgia. He will now move on to Nationals to compete this spring in Pittsburgh, Pennsylvania.
---
  Dean's Scholar awarded seat at the Monsanto 1890s Student Leadership Event

We are excited to announce that stellar student Angelina Bernardini has been selected to participate in the Monsanto 1890s Student Leadership Event. Bernardini, a Dean's Scholar at TSU CAHNS, will travel to Monsanto World Headquarters in St. Louis, Missouri on from Oct. 16-18 to participate in a leadership workshop and interview for internship and Co-op positions. Travel and accommodations are being provided by Monsanto. Good luck Angelina! We know you will make us Tiger proud. 
---
TSU CAHNS professor featured in agronomy book

Professor Jason de Koff, Ph.D., is featured in a new book about agronomy, which is the science of using plants for fuel, food, fiber and land reclamation. You can buy the book here: http://bit.ly/2d3tif8
---
Agribusiness major wins National Black Farmers Association Scholarship

Danielle Solomon has won a $5,000 scholarship from the National Black Farmers Association and the FCA Foundation. Solomon, a Dean's Scholar and Agribusiness major at TSU CAHNS, was one of 21 students in the United States to receive this honor. Congratulations, Danielle!
---
TSU project on best nursery practices selected for federal funding
NASHVILLE, Tenn. (TSU News Service) – A Tennessee State University project to promote best management practices in the nursery production system for the Mid-South region is one of 45 across the nation selected by the U.S. Department of Agriculture to share $26.6 million for innovative conservation initiatives.
---
TSU's Goat Producer Program recognized in USDA annual report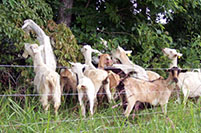 USDA's National Institute of Food and Agriculture recognized TSU CAHNS Master Meat Goat Producer Program, offered by TSU Cooperative Extension, in its 2015 Annual Report: "Over the last 10 years, the program has led Tennessee to become the second largest goat-producing state in the country with more than 5,000 producers," the report stated. 
---