Events
GSA News and Events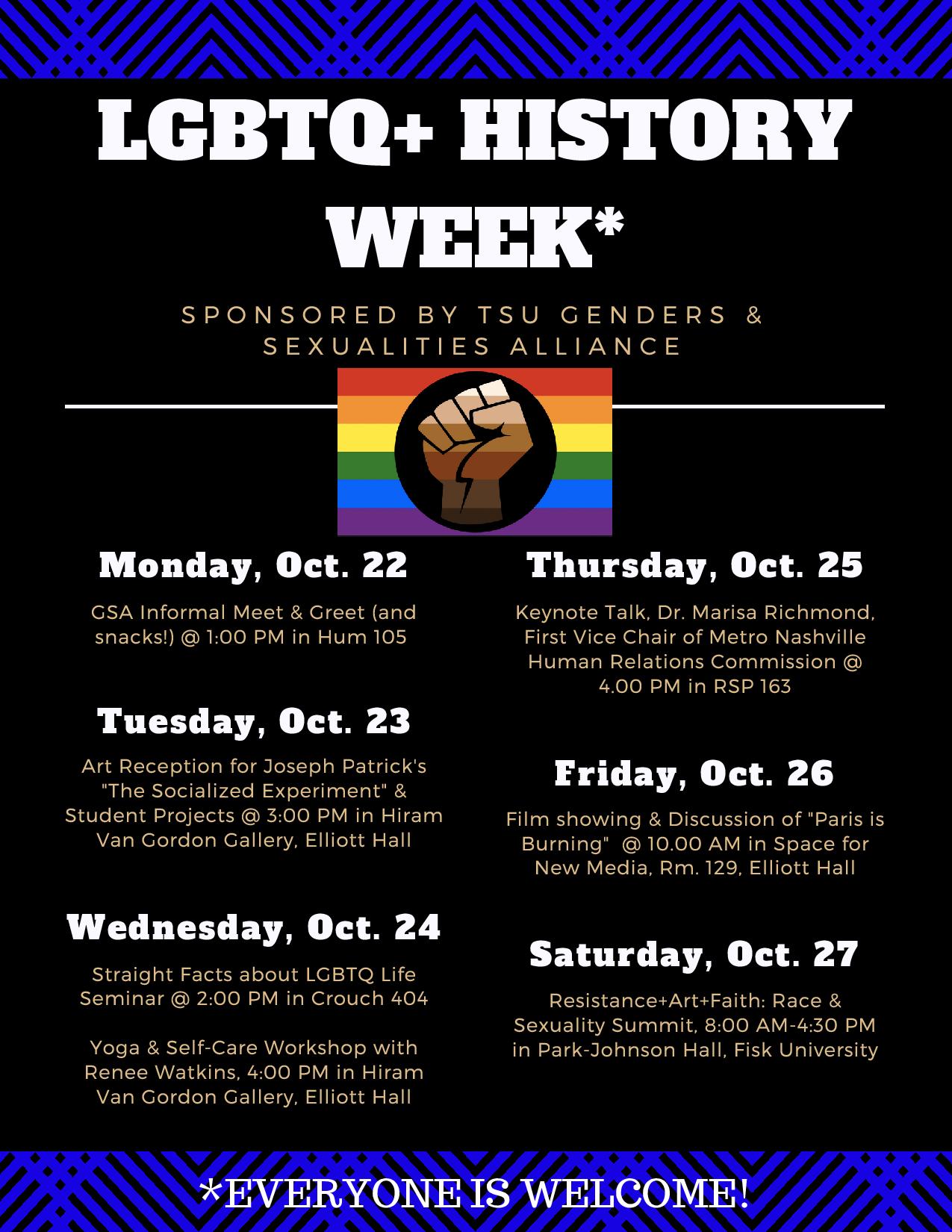 Friday, March 30, 2018
Film Screening:The Death and Life of Marsha P. Johnson

GSA will host a screening and discussion of this critically acclaimed and culturally significant film. Join us at 10a, Humanities Building, Room 113, March 30th.  Check out the Movie Trailer here: Marsha P. Johnson. For questions, contact Dr. Jill Anderson.
Wednesday, February 28, 2018
Gay-Straight Alliance Hosts Ally Training

The P.R.I.D.E. program is an effort to create a visible network of support for lesbian, gay, bisexual, transgender, queer, and intersex (LGBTQI) individuals and their allies. It is an avenue through which any member of the TSU Community can show their support. By participating in the P.R.I.D.E. Training, participants are showing their support for people of all genders and sexualities and are committing to develop allyship skills. Training will be held between 1-4p, Feb. 28, in the SSC119H. For more information, contact Dr. Jill Anderson. 
Saturday, February 24, 2018
Out in Front: Tigers will participate in Panel Discussion

Students from both TSU and Fisk's GSAs will participate in a collaborative workshop/roundtable panel at 2.30p on Saturday, Feb. 24 at Vanderbilt's Out in Front Conference, in Sarratt Center 210.  from the website: The OUT in Front College Conference is open to any currently enrolled undergraduate and graduate student at a two- or four- year institution, and to folks currently enrolled in both traditional and trade school programs. The conference is free to attend and allows you to meet peers from across the Southeast region to share resources, network, develop leadership skills, and foster a strong community of LGBTQIA+ and allied student leaders. OUT in Front will be held from 9:00am-5:00pm   at Sarratt/Rand Student Center is 2301 Vanderbilt Place Nashville, TN 37240.  For more information, visit: Out In Front.
Thursday, October 19, 2017 
Straight Facts about LGBTQI Life & Speak Out! Panel Discussion

3-5 PM, Student Success Center 119H at TSU
Sponsored by the Office of Equity & Inclusion
(formerly the Office of Equal Opportunity & Affirmative Action)
LEARN ABOUT:
·         Social justice ally development
·         Creating Trans inclusive communities
·         LGBTQI Life resources on campus and beyond
·         Creating a common language
EVERYONE IS WELCOME.
More info at  https://www.vanderbilt.edu/lgbtqi/get-educated/straight-facts-about-lgbtqi-life  or email  andersonwires@gmail.com
Wednesday, October 18, 2017
Story Booth Nashville , sponsored by Tennessee Equality Project

Lower gallery in Carl Van Vechten Gallery (1000 17 th  Ave. N) @ Fisk University Record your own coming out story to celebrate LGBT+ History Month.  For more info email  kburnett@fisk.edu